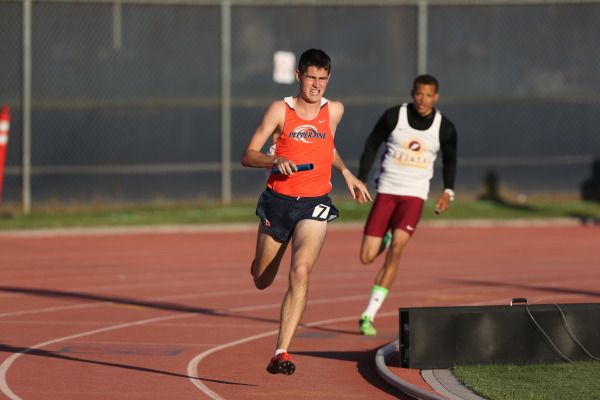 Photos courtesy of Robert Radnoti
A new team has been added to Pepperdine University's athletics program. The creation of the Pepperdine women's indoor track team is a significant addition for the university.
There are 16 members comprising the new team, according to Pepperdine cross-country and track captain, Stasia Demick, Sports editor for The Graphic. Men's track team co-captain, Torin Wile, along with fellow teammates and co-captains Nick Blanchard and Kevin Maeda, are responsible for drafting the bill that created the indoor women's track team.
Blanchard said that the three members collaborated together and revised the document several times throughout the course of the 2014 fall semester. They stated in the bill that the creation of an indoor women's track team would benefit Pepperdine financially and in terms of more athletic talent.
"Due to NCAA Title IX regulations, the guys' cross-country team was restricted to 10 members and our track team was held to five. That's because the athletic teams at Pepperdine have to proportionally reflect the gender ratio on campus and everybody knows that there are more women than men on this campus by a considerable amount," Wile said.
He said if more women were added to an athletic team or if an entirely new women's team was created, then Pepperdine would be allowed by the NCAA to add more men to athletics. Blanchard, a junior and co-captain, stated that the men's cross-country and track team has been looking for ways to expand the number of members over the past few years.
"We were on our way back from a meet and we were joking and talking about how we could add more guys to the roster," Wile said. "Nick had an idea and said, 'Hey, why don't we make a bill to expand the women's team and we'd be able to add more guys.'"
Wile said he, Blanchard and sophomore runner Maeda all collaborated and drafted a bill proposal in the fall of 2014. They passed it along to get checked by other teammates and when they were certain that it was what they wanted, they submitted it for approval.
It was then proposed to Director of Athletics Steve Potts, who approved of the idea after further deliberation with the creators of the bill. Potts notified the team of the bill's approval in August 2015. As a result of the bill, Pepperdine Athletics received $30,000 for the creation of a new team, 16 women were added to the indoor track team and seven additional roster spots were added to the men's track team.
Demick said that she was overjoyed when she heard the news.
"It's something I've dreamt of since I was a freshman," she said. "It's really exciting to witness and be a part of this extreme growth for both the men's and women's teams and to watch it all come together. This past weekend we had our first indoor track meet, and it was really inspiring to watch the team set new personal records."
Wile stated that he is ecstatic for the future of both teams and that this increase from five to 12 roster spots is very significant for the men's team in particular.
"We won't be winning track meets with just 12 guys because it's not possible with all of the different events," he said. "However, this sets us up for a very promising future to grow as a team substantially and attract talented recruits that otherwise would've been unable to run for Pepperdine."
________________
Follow John Lawlor on Twitter: @Lawlornothing