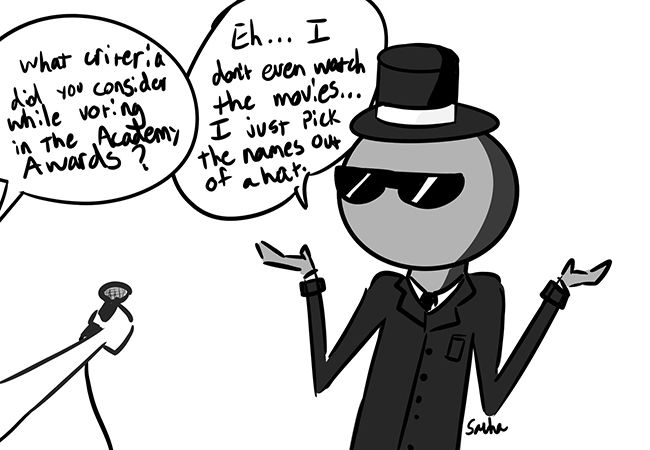 Art by Sacha Irick
What kind of person can truly claim to have never wondered what it would feel like to clasp that little statue of a golden man in their hands, what it would be like to finally give that acceptance speech, whether or not your tears would cause the mascara to run down your face, and whether you should thank God or your inspirational first grade teacher first.
OK, perhaps the answer to that rhetorical question would be the average bloke, but it was certainly a reoccurring fantasy for me. The glitz! The glamor! George Clooney in the front row! Swoon.
Even 86 years after the first Academy Awards show was held, it still remains one of the highest honors in cinematic arts. To be nominated would probably feel as good as Mulan did when she finally vanquished the Huns.
Like with most subjective awards, however, there is no shortage of controversy. This year saw Leonardo Di Caprio get passed over for yet another Oscar, as illustrated by the abundance of Internet jokes that I am sure must have popped up on many a Facebook newsfeeds. Lana Del Rey's heart-wrenching ballad, "Young and Beautiful" didn't even get a nomination for Best Original Song ("Great Gatsby" soundtrack).
Instead, Bruce Broughton's "Alone Yet Not Alone" received a nomination, one that many thought was supposed to have belonged to Del Rey. The controversy here is that Broughton is an executive committee member of the Academy's music division, and according to multiple media sources he sent an email to 70 Academy members, cordially asking them to consider his song for nomination.
"Alone Yet Not Alone" was pulled from the nominees list shortly proceeding the revelations, due to his questionable influence on voters. Yet it still illustrates that the Academy isn't impervious to bias. One should also note that the majority of Academy voters are white, male and old. According to a Los Angeles Times study conducted in 2012, the 6,000 members are 94 percent Caucasian, 77 percent male and have a median age of 62.
One would at least expect these fine folk at the Academy to watch the films they are supposed to vote on, correct? Unfortunately, this is not even the case. When asked by The Hollywood Reporter on how they voted for the Best Film Editing category, one anonymous voter said, "One of my dear friends is the editor of 'Captain Phillips,' so how do you think I voted?"
Another category that seems to display some disheartening voter apathy is that of the Best Animated Feature Film. Of course, "Frozen" was going to win. It was simply a major commercial success with all the formulaic classic Disney bits thrown in, but should it have won? There were, however, some Academy voters who did not even bother to give these entries a second glance — claiming them to be for children and thus, not worth their old white male time.
Perhaps one of the saddest things for me this Oscar year was the fact that a particular documentary detailing the genocide of my people in Indonesia lost to a documentary about backup singers.
While I understand that "20 Feet From Stardom" is a wonderfully made piece of art, it is almost insulting to think that Joshua Oppenheimer's exploration of mass murder and mass murderers lost to such a subject, which brings up a contentious issue for me, at least — substance or style? In film, certainly, the goal is to entertain. But when a largely overlooked part of history is shoved further back from recognition and scrutiny that it so deserves, one cannot help but be slightly saddened.
Now I do not wish to sound like the impassioned film hipsters who populate the tumblrverse, clutching a beloved Indie work to heart and crying blue, blue tears over a movie, proclaiming perfection and injustice. Although sometimes I do wish I could find space in my heart to care that much — perhaps this comes closest. Who am I kidding, I do care that much.
A quick overview: "The Act of Killing" is a documentary that has been nominated for numerous accolades by the film industry, including an Academy Award. It is a documentary that is close to my heart because it depicts the genocide of my people in Indonesia, by my people. It makes me wonder why Indonesians so fondly remember a dictatorship that made its entry in blood, and why we celebrate its murderers.
What happened in 1965 has benefitted from collective amnesia, marked off as a victory against communism and as a triumph for the greater good of the world, as many horrible deeds were when they were done for the "right side" of The Cold War. For 30 years our second president ruled with an iron fist, before being toppled in 1997, after the East Asian Financial Crisis exhausted his legitimacy. He was never held responsible for the mass killings of up to 1,000,000 "communist" Indonesians, and died of old age in a gated, residential compound.
That documentary gave a voice to all of that — and it was really, truly, drowned out … just 20 feet from Oscardom.
_____________________________________________________________________________

Follow the Graphic on Twitter: @PeppGraphic