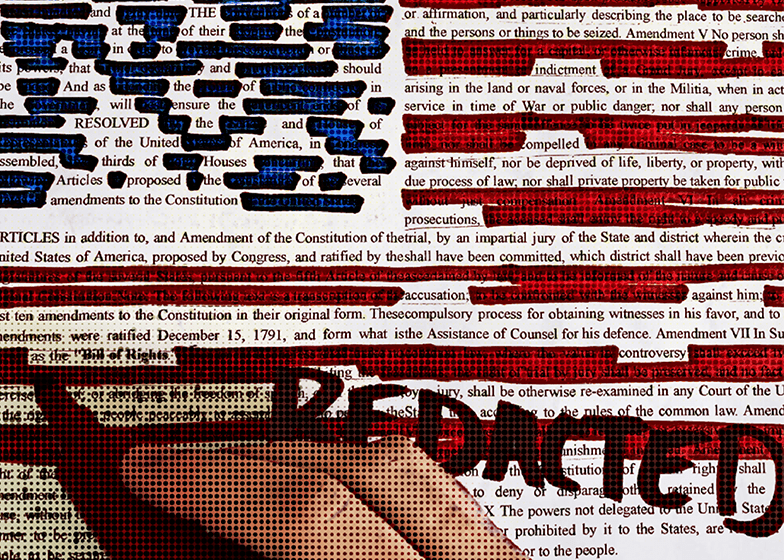 Art by Samantha Miller
Censorship is a weapon wielded by those in power to control the flow of information and ideas into the world. Censorship endangers the freedom of self-expression and diminishes the meaning behind it, particularly targeting journalists and artists.
Censorship is the restriction of expression that deems itself threatening to the social, moral and political orders in society, according to the 2001 Columbia Encyclopedia.
"It may be imposed by governmental authority, local or national, by a religious body, or occasionally by a powerful private group," according to the Columbia Encyclopedia.
This definition focuses less on the legalities of what censorship is and more on the societal repercussions, while other definitions hone in on the legal aspect of censorship.
"The term censorship, however, as commonly understood, connotes any examination of thought or expression in order to prevent publication of 'objectionable' material," according to the U.S. Supreme Court case Farmers Educational & Cooperative Union v. WDAY.
The two definitions provided describe censorship in two very different ways — one opinion-based, the other more legal-based.
Though censorship is legally permissible in limited and specific cases, it poses a threat to the freedom of expression, with the stifling of writing, art and even basic broadcasting. From 2018 to 2019, there was a 14% increase in censored materials including over 607 types of books, movies and newspapers, according to a 2019 American Library Association study.
As time goes on and society advances, censorship becomes more prevalent in everyday life. Given technology's imminent advances, there is more room for the government to gain more control over what is shown to consumers on social media, the internet and television on a daily basis. Society should be wary of censorship and understand its adverse effects.
The First Amendment of the U.S. Constitution provides the protection of freedom of speech, freedom of the press, freedom of religion, freedom of assembly and freedom to petition the government. How can a person under American democracy enact these inalienable rights with the government constantly putting checks on it?
The answer is they cannot. Under a democracy, a citizen cannot fully express their freedoms and cannot wholeheartedly pursue their life, liberty and property with the totalitarian power of censorship.
Major news organizations and journalists over the course of history saw censorship threaten the integrity of their work.
One particular example of this in action was in the 1971 Pentagon Papers case. The New York Times and The Washington Post wanted to publish documents from the Defense Department study on U.S. involvement in Vietnam. The Nixon Administration attempted to stop the publication of such documents and censor the content of these major news outlets. The court ruled justly on the side of the newspapers and deemed that such censorship would violate freedom of the press in the United States.
Yet, even today, journalists still feel the obstructive repercussions of censorship.
"The negative atmosphere for journalists is damaging for the public and their right to information," said Jodie Ginsberg, CEO at Index on Censorship in a 2017 report on censorship in media.
When thinking about censorship, one usually thinks of journalists and news, however, artists are also affected deeply by censorship. In March 2021, a coalition of artists came together to create a group called "Don't Delete Art," which works around the censorship rules of social media to display their art.
The group "gives artists the opportunity to maintain control over their work. When your livelihood is compromised it causes stress and anguish," co-founder of Don't Delete Art Savannah Spirit said to The Art Newspaper. Censorship jeopardizes the individual freedom of the artists and their ability to share and display their artwork.
There are not enough discussions about censorship destroying the livelihoods and passions of the people who create and view incredible works of art. There should be more attention brought to the issue of censorship.
Censorship should be about protection — not total dominancy of power. Even though censorship as a whole is bad, it can act as a way to manage and protect viewers from graphic content, indecent exposure to children and harmful language. Censorship is alright in moderation if the government is genuinely protecting the well-being of its citizens and not furthering its own agendas.
Expression through words, art, film, theatre, television and broadcasting is supposed to uplift, inform and entertain. Expression is a patchwork of the internal thoughts and feelings of artists. It is the exchange of information across media platforms. Self-expression is one of the most important instruments to add culture and depth to a society.
People in the entertainment, arts and media industries rely on their work to support themselves and their families. These people make themselves vulnerable to connect with audiences and create something beautiful and memorable. Censorship prohibits this from the beginning — and it needs to be minimized so expression can be magnified.
____________________

Follow the Graphic on Twitter: @PeppGraphic
Email Emily Chase: emily.chase@pepperdine.edu