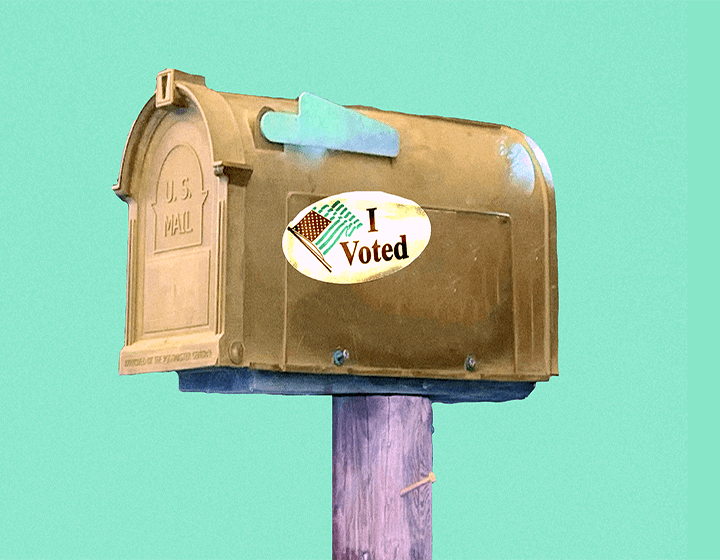 Art by Samantha Miller
For decades, the U.S. has proudly flaunted the title "Leader of the Free World." The single most important qualifier of this is the right to fair elections.
Between assaults on the Voting Rights Act, defunding of the U.S. Postal Service and Russian interference, our right to fair elections is in jeopardy.
Since the U.S. continues to navigate racial tensions, a deadly pandemic and questionable leadership, the 2020 presidential election is arguably the most critical election in generations.
There is substantial evidence that the Trump Administration is doing everything it can to rig the election. Despite many confirmations of President Donald Trump's voter manipulation, he insists it is the Democrats who are attempting to defraud the election with universal mail-in voting.
In general, there is little proof of mail-in voting fraud. Trump even refused to supply evidence of alleged fraud when a North Carolina judge asked it of him in court. If he genuinely believed mail-in voting was destructive, he wouldn't have requested his own mail-in ballot for the upcoming election.
Trump did, however, encourage supporters to defraud the election by voting twice, which is illegal.
The only fraud people should fear is Trump.
During an appearance on "Fox & Friends," Trump admitted that if voting were altered to make it easier for more citizens to participate — by expanding early voting, mail-in voting and voting rights — then Republican government officials would never be "elected in this country again."
On Aug. 13, Trump again stated his opposition to a fair election, saying he is intentionally blocking Post Office funds because money is necessary to deliver "millions and millions of ballots."
"They can't do the universal mail-in vote," Trump said in a Fox Business interview with Maria Bartiromo. "It's very simple. How are they going to do it if they don't have the money to do it?"
Since the U.S. has over 6,075,384 COVID-19 cases — far more than any other country — the ability to vote by mail is crucial.
In June 2020, Trump appointed Louis DeJoy as the new Republican Postmaster General. After implementing operational changes, at least 20 states sued USPS over an increase in delays.
The USPS reported a significant decrease in on-time mail performance following DeJoy's changes, according to documents recently submitted to Congress.
Though DeJoy said he would postpone any additional changes until after the election, the alterations already made will not be reversed.
The USPS also informed 46 states that their vote-by-mail requirements are "incongruous" with mail service, meaning millions of ballots are in danger of being late or lost.
Additionally, DeJoy did not comply in turning related documents over to Congress, which they will now subpoena him for.
DeJoy's administration sold expensive, fully-functioning mail sorting machines as scrap metal, removed mail drop-off boxes from neighborhoods and instructed postal workers to start their routes five minutes early — even if the trucks were empty. People even received messages stating they requested delays on their shipments when they did not.
These actions not only harm voting abilities but also keep people from receiving Social Security checks, medicine and even Holocaust reparations.
DeJoy is the first postmaster general in 20 years to be hired from outside USPS ranks; his prior job was an organizer and fundraiser for the Republican National Convention.
What qualified DeJoy for this essential position? Probably his close relationship with Trump; he has donated over $2 million to the Trump campaign and Republican causes since 2016 — much of which was in the first half of 2020 — according to the Federal Election Commission.
DeJoy is not the only USPS leader with suspicious financial links to the Republican party; the Head of the USPS Board of Governors also serves as director of Republican Senate Majority Leader Mitch McConnell's Super Political Action Committee. This means he is in charge of raising unlimited sums of money to help keep McConnell in office.
McConnell has blocked efforts to aid the USPS and improve the Voting Rights Act for months.
This is not a coincidence; it is yet another example of corruption under Trump.
Let's not forget that several of Trump's associates, including former White House Chief Strategist Steve Bannon, former Trump Campaign Official Roger Stone and former Trump Attorney Micheal Cohen, have all been charged with crimes like lying to Congress and U.S. intelligence agencies, colluding with Russia on behalf of the Trump campaign and defrauding donors. Several received lengthy sentences that Trump pardoned them from serving.
While it might be easy to forget considering the current global climate, Trump himself was impeached last December for his efforts to interfere with the 2020 election. Special Counsel for the U.S. Department of Justice Robert Mueller testified before the House Judiciary Committee saying he did not indict Trump because of a rule that forbids a sitting U.S. president from being indicted, therefore implying that Trump was indeed deserving of criminal charges.
Further, the Republican Party has a disturbing association with voter suppression techniques like gerrymandering, voter-ID laws and banning early voting.
Trump endorsed these harmful tactics yet attacked mail-in voting 70 times without supporting evidence, according to Washington state's lawsuit.
"MAIL-IN VOTING WILL LEAD TO MASSIVE FRAUD AND ABUSE," Trump wrote in a May 28 tweet. "IT WILL ALSO LEAD TO THE END OF OUR GREAT REPUBLICAN PARTY."
While Trump tweeted about — again, almost nonexistent — voter fraud, Americans faced unprecedented voting barriers. During local primary elections, some polling sites never opened, voting machines were never delivered or installed and people who applied for absentee ballots never received them.
It is important to note that these actions disproportionately affect marginalized communities, which are often composed of Democratic voters. For example, before Republican Georgia Gov. Brian Kemp was elected, he used his position as Secretary of State to place 53,000 voter registration applications "on hold." At least 70% of these applicants were Black. Additionally, Jim Crow era felony disenfranchisement laws prevent millions of Black and Hispanic citizens from voting.
Unfortunately, the only voting method conducive to social distancing without using the USPS — dropping absentee ballots in ballot drop boxes at polling sites — is also in danger. Trump unsurprisingly called these boxes "a big fraud," an allegation that Twitter labeled as false information, and his campaign filed lawsuits to remove them from certain areas. Since there is no validity in the "fraud" claim, states are rightly fighting to keep the boxes.
So, what is the safest way to vote?
It depends on the location. For those looking to avoid lines and COVID-19 risk, check to see which polling sites offer ballot drop boxes. Requesting an absentee or mail-in ballot and placing it in the box, rather than mailing it, should be the safest bet.
For individuals comfortable with wearing a mask and social distancing, attend early voting — if available — or arrive on Election day early and prepared to wait in line.
Otherwise, request a mail-in ballot today, and fill it out as soon as it arrives. In order to prevent fraud, ballots' signatures are compared with ID signatures, so make sure they match before mailing it back. Then, track it online to ensure it arrives on time.
Though the security of this election is not guaranteed, voting is more critical now than ever.
In the 2018 midterm elections, several states produced senate and governor results with margins around .2% and .3%, well under the 0.5% margin that automatically triggers machine recounts. In Florida, Republican Senator Rick Scott beat Democrat Incumbent Bill Nelson by approximately 10,000 votes. There are 6,096 precincts in Florida, so if just two more people had voted for Nelson at each location, he would have won. Similarly, in 2016, a few more votes in each precinct would have landed Hillary Clinton an electoral college win — on top of the popular vote win she secured — giving her the title of Madame President.
With a nation this divided, every vote makes a difference. Volunteering to work at local polling sites is a great way to help maximize the number of people who get a chance to vote.
Senior citizens typically operate polling sites, so pandemic-related health concerns have created an unprecedented shortage in volunteers. Organizations like Power the Polls and Civic Alliance aim to recruit 250,000 volunteers, urging young people to rise to the occasion since they are less likely to die from COVID-19. Without volunteers, some sites may not open.
Attacks on our democracy should not be partisan; whether you support Trump or not, his hand in suppressing voters is undeniable.
Don't forget about this when filling out the ballot. Should someone who wants to cheat their way to the top be trusted with leading the "free world?"
This is an attack on both the institution of democracy and the United States Constitution. Make noise about this issue and vote because the more votes there are against Trump, the harder it will be for him to get away with rigging the 2020 election.
____________________
Follow the Graphic on Twitter: @PeppGraphic
Email Caroline Sharpless: caroline.sharpless@pepperdine.edu