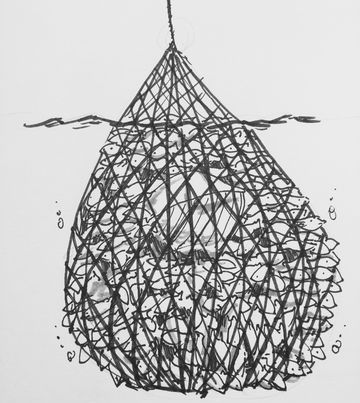 Art by Peau Porotesano
When people think of ocean conservation, they probably think of preventing problems like ocean pollution through efforts like beach clean ups and using reusable bags instead of plastic.
While ocean pollution is indeed a major issue, with every square mile of ocean containing 46,000 pieces of plastic, according to an article by the United Nations Educational, Scientific and Cultural Organization called "Facts and figures on marine pollution," there are so many bigger issues besides pollution directly harming the oceans and marine life within it. The over-exploitation of marine life is also a problem.
In 2014, the total fish captured worldwide was 93.4 million tons, and the total produced from aquaculture (fish farming) was 73.8 million tons, totaling 167.2 million tons. And 87 percent of this, or 146.3 million tons, was used for human consumption, according to "The State of World Fisheries and Aquaculture" published in 2016 by Food and Agriculture Organization of the United Nation's (FAO).
And it isn't just plain fish being killed –– all kinds of marine life are killed. Up to 2.7 trillion sea animals are caught each year, according to a study by fishcount.org.uk called "Estimating the Number of Fish Caught in Global Fishing Each Year."
Much of the killings of other marine life are a result of bycatch — the catch of non-target marine life. Global bycatch amounts to about 40 percent of the world's catch. It's estimated that because of bycatch, 650,000 whales, dolphins and seals, 100 million sharks, and 50,000 turtles are killed every year, according to the Oceana report.
Adding to the destruction of ocean ecosystems is increasing excess nitrogen and phosphorus in oceans, largely caused by run-off from the animal agriculture industry, because much nutrient-rich animal waste eventually ends up in the ocean, according to the Environmental Protection Agency's (EPA) "Nutrient Pollution" site.
These nutrients lead to excess algae blooms that deplete oxygen levels for marine life, resulting in at least 400 regions called dead zones, according to an article published by Scientific American called "What Causes Ocean Dead Zones?"
So marine life is obviously being wiped out, and their habitats ruined. With this huge decrease of ocean biodiversity, we could see fishless oceans by the year 2048, according to a 2006 study published in Science Magazine called "Impacts of Biodiversity Loss on Ocean Ecosystem Services."
Some may think turning to alternatives like fish farming and sustainable fishing may be worth it, but this isn't the case.
It may seem like fish farms relieve ocean fishery depletion, but the opposite is generally true because fish farms reduce wild fish supplies, as the farmed species require large amounts of wild fish for feed, according to the review article "Effect of aquaculture on world fish supplies" published in 2000 by Nature.
Sustainable fishing, defined by National Geographic as the "collection of commercial or subsistence fishing practices that maintain the population of fish and fish stocks," is not sustainable in reality. Fish populations are clearly declining because so many are caught. Therefore, any more fishing only contributes to the problem.
Fish are basically endangered, and if we keep catching them, there's eventually going to be none left. We can't think they're just going to replenish themselves — if there's an endangered species of tiger, we shouldn't go shooting them, thinking they'll repopulate anyways. Just like hunting endangered species leads to their extinction, catching what's left of fish will too.
The best way to make a dramatic impact on ocean conservation efforts is to stop fishing altogether. It sounds impossible, but in order to do so, we must stop consuming seafood, because if we stop purchasing seafood, we send a message that we no longer want fishing to continue.
Fortunately, eating fish isn't necessary for health. Commonly sought out nutrients in fish, like Omega-3 and Omega-6, can be found in adequate amounts in a variety of other foods, like nuts, seeds, vegetables, beans and grains.
Vote with your dollar, and remember that all big change starts out small.
______________________
Follow the Graphic on Twitter: @PeppGraphic