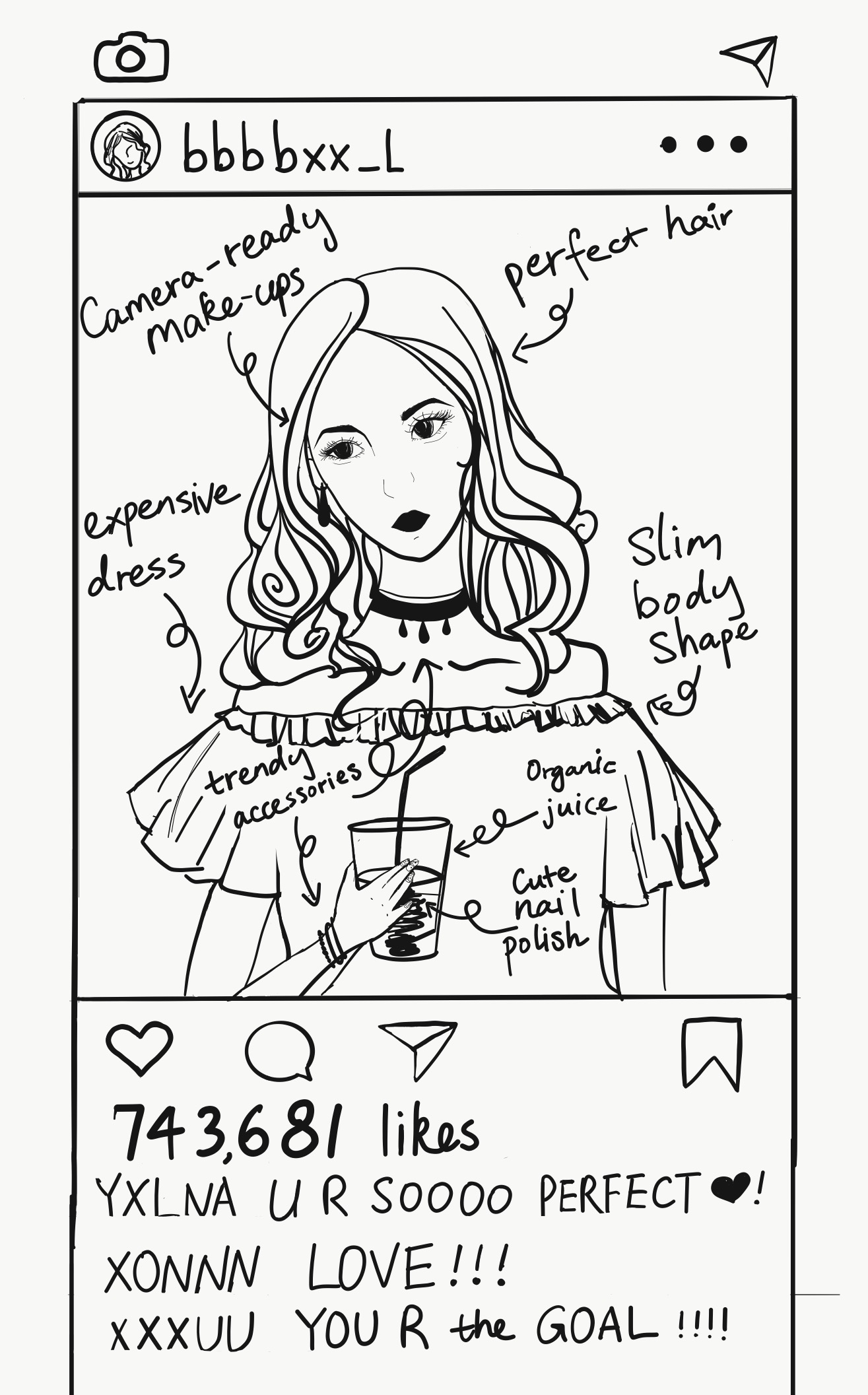 Art by Sybil Zhang
We live in a world where women are constantly being told to love themselves exactly the way they are, yet women are simultaneously being shut down for their efforts to love and express themselves, especially through their posts on social media.
"A body image survey by Today and AOL found that 65 percent of teenage girls said seeing their selfies on social media boosted their confidence. However, 55 percent said social media made them more self-conscious about their appearance," according to Laura Bates' article, "Are Selfies Empowering for Women," published Feb. 4, 2016 by The Guardian. It's evident that women face a double standard when it comes to utilizing social media.
However, social media has seen its share of confident posts from women who are expressing self love, including taking selfies, modeling outfits and putting on makeup. They truly do not receive the positive feedback they deserve.
Instead, they get a lot of negative feedback in the form of comments and hate online. Many women are called self-absorbed or conceited when they post photos of themselves, which can be a simple piece of photographic evidence that they are feeling confident, or even working on feeling confident.
Even outlets like Instagram have been known to take down certain photos of women because they are deemed "inappropriate."
The app has even gone so far as to block women's content that they either deem too "revealing," according to Instagram's guidelines, or, for no apparent reason at all.
A Muslim girl named Miski Muse posted a photo on Instagram that depicted a body-positive image of her wearing a hijab, according to Sarah Gouda's article, "Instagram Censored This Curvy Muslim Woman's Selfie for No Apparent Reason," published on March 7, 2017 by Teen Vogue. It was removed by Instagram. The author describes the distorted way that social media outlets use censorship. These views can translate into people's everyday thoughts and comments and make them believe that it is okay to tell women what they should and should not post.
It's evident from this example and many other similar situations how often women are shamed for their confidence posts; coming in the form of a comment to a full censorship of a post on a social media platform.
Although many women do participate in taking selfies, woman's inherent distaste and distrust in selfies seem to ask, "Are selfies just hyper-literalized versions of a much deeper flame of narcissism that burns within all of us?… Is selfishness actually a bad thing or have the societal layers of judgment reframed the term to reflect a negative definition for a word that applies to all of us, might even be innate and that we shouldn't have to apologize for?" according to the writers of the article, "Thesis of the Month: Is Everything We Do a Selfie?," published on August 25, 2015 by ManRepeller.
In a world where women are constantly being told to love themselves, yet aren't given avenues to do so, it is vital for people and social media outlets to stop limiting, controlling and commenting on women's posts.
____________
Follow Emily on Twitter: @bb__em