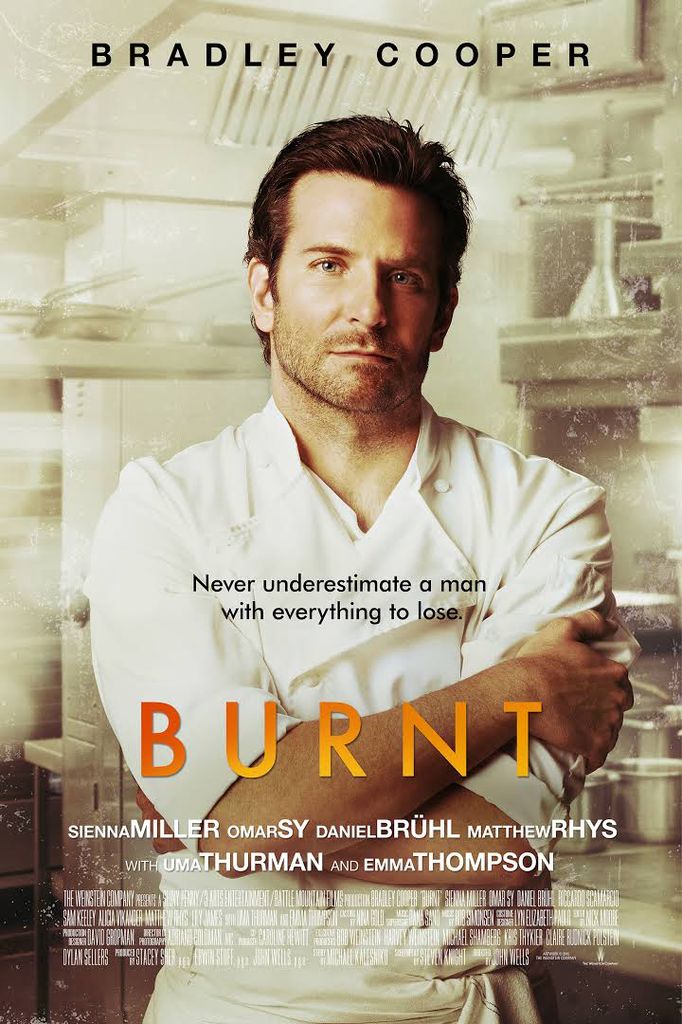 Photo Courtesy of Shiny Penny Productions
"Burnt" is an acquired taste. How invested the viewer is in the culture of fine cuisine will significantly impact his or her viewing experience.
Directed and co-produced by John Wells ("August: Osage County") and written by Steven Knight ("Eastern Promise") and Michael Kalesniko ("Iron Sky"), the film stars Bradley Cooper as Adam Jones, a rising chef with two Michelin stars, whose career is derailed through drug abuse, alcoholism and an incident with another chef, who played by Omar Sy ("Intouchables"), in Paris, France.
After three years of self-imposed exile, Adam returns to London to build his dream restaurant and earn a third Michelin star. Sienna Miller, Daniel Brühl, Alicia Vikander, Uma Thurman and Emma Thompson co-star.
Cooper's career has been built on the success of projects like "The Hangover," "American Hustle," "American Sniper," "Guardians of the Galaxy" and "Limitless." Even in disappointing films like the "The Hangover" sequels and "The A-Team," he still manages to win the audience over with his charisma. He continues that particular streak with this film.
It is important to remember this, as the entire plot of the story is a standard "redemption" arc. In the best case, you can surpass predictability and cliche if performances are stellar, or if the stakes are high enough. While "The Walk" was able to surpass the potential pitfall, "Burnt" stumbles in this regard.
Despite Cooper's best efforts, there is little dimension to his character, which makes the cliches and predictability of the script all the more glaring. Individual scenes provide a spike in interest; i.e., the main character's first day back at work, in which one of the supporting characters is discussing the habits and tricks of Michelin culinary critics and a betrayal that no one may see coming.
Offsetting this, however, is a romance between Cooper and Miller that feels increasingly artificial as the film progresses. This comes across as odd, considering both actors worked together previously in Clint Eastwood's "American Sniper," in which the script, and by extent, the romance, was more natural.
In addition, outside of the scenes involving the kitchen or the restaurant interiors, the direction and pacing feel somewhat stretched-out and flat.
In spite of the direction and script problems, novice audience members will find themselves intrigued by what is presented in the context of the environment of high-end culinary arts.
External stresses range from the pressure put on chefs to provide beyond-perfect dishes to critics whose unpredictable, nit-picky judgments make-or-break restaurant reputations, to presenting with the right manners and image.
Internal stresses range from the pressure chefs put on their colleagues to get everything right, to being exact with ingredients, to synchronizing cooking processes, methods and measurements. While these elements may seem trivial to some, this is what the best in high-end cooking go through to provide rare experiences in fine dining.
"Burnt" may bring nothing new to the table in terms of story and relies a bit too much on the audience's knowledge of fine dining, but it is at least worth checking out for its behind-the-scenes kitchen seasons and for the performances. Plus, like many culinary-focused dramas, it will definitely make you hungry.
The film debuted nationwide Oct. 30 and is playing in most theaters. Share this story on Twitter with #PeppGraphicReviews by 11:59 p.m. on Nov. 12 for a chance to win two movie tickets.
__________
Follow Collin Chersi on Twitter: @PepperChersi