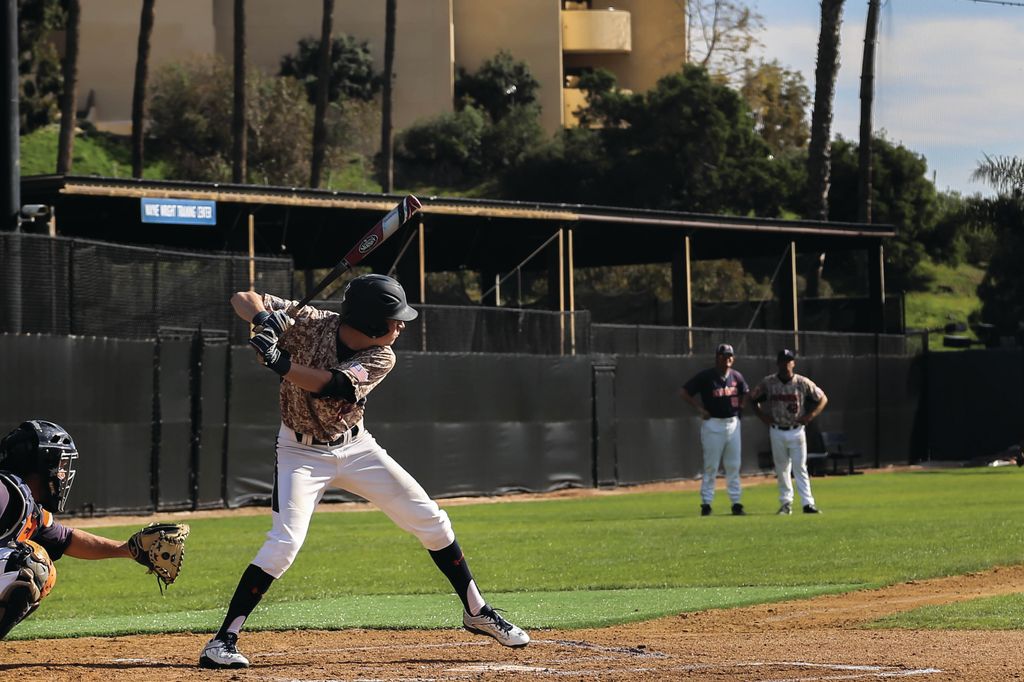 Photo by Irene Chun
Waves baseball held its annual John Scolinos Alumni Game and Awards Dinner on Sunday at Eddy D. Field Stadium.
More than 30 former players came out to compete — the biggest turnout to date, Head Coach Steve Rodriguez said.
"It is always wonderful having the guys come back to Malibu and put on the orange and blue again. It is really amazing seeing how many great athletes have come through our program," Rodriguez said.
The John Scolinos Alumni Game allows former Waves the opportunity to reconnect with their Pepperdine baseball family from both the past and the present, Rodriguez said.
The Waves took an early 5-0 lead over the alumni in the first three innings, eventually coming away with an 8-1 win.
Some new faces emerged for the Waves: Freshmen pitcher Ryan Wilson and outfielder Jordan Qsar assisted the team to victory. Wilson worked together with junior pitcher Evan Dunn to close out the game, limiting the alumni to single score from infielder Austin Davidson. Qsar came up big in the final inning, icing the game with a home run.
"I think our players enjoy seeing former teammates and reminiscing about how great their time was here," Rodriguez said.
The game also honors Hall of Fame College Baseball coach John Scolinos. Scolinos coached the Waves from 1948-1960. Through 44 years of coaching, Scolinos posted an all-time record of 1,198-949.
"John Scolinos was an amazing man and coach for college baseball. He had great character, which he instilled in his players," Rodriguez said. "I guess you could say he was a 'John Wooden'-like figure for college baseball."
Following the game, both teams gathered at the Firestone Fieldhouse courtyard for the Awards Dinner.
Since 2005, the John Scolinos Award has been presented annually. According to Rodriguez, the Scolinos Award represents what it means to be a Pepperdine baseball student-athlete.
Alumnus Matt Maurer ('14) was the 2015 recipient of the award. Maurer arrived at Pepperdine in 2011, making an immediate impact on the mound for the Waves. Through his four-year career, Maurer pitched 251 innings, closing out his career with 15 wins and 164 strikeouts.
"It [the award] honors a player for his tremendous character during a season or career. We are proud to celebrate Matt for exemplifying strong character traits, both on and off the field," Rodriguez said.
Looking Ahead:
After coming off such a dominant 2014 campaign, the Waves look to do the same in 2015.
"Our expectations for this year are pretty simple: Be the best baseball team we can be," Rodriguez said. "Last year was great, but we need to focus on playing the game the way it is supposed to be played and making sure we execute the game properly."
The Waves finished the 2014 season with 43 wins, reaching the NCAA Super Regional, but eventually fell to No. 7 Texas Christian University in the final game. The Waves were just one inning shy of making it to the College World Series in Omaha, Nebraska.
"I am excited about watching our team mature and grow from last year. After what we did last season, we are not going to surprise anyone, so I am excited to see our guys take on that challenge," Rodriguez said.
Rodriguez said he is very enthusiastic about the new additions to the team this year.
"We have some very exciting players who have joined us this year — Ryan Wilson, Kiko Garcia, Josh Davis, Chase Lambert and Max Gamboa to just name a few. I am hoping all of our freshmen can learn from our returners who did something special last season," Rodriguez said.
The Waves return to the field Friday, Feb. 13 to face Tulane at Eddy D. Field Stadium.
__________
Follow Kelsey Blosser on Twitter: @KelseyBlosser