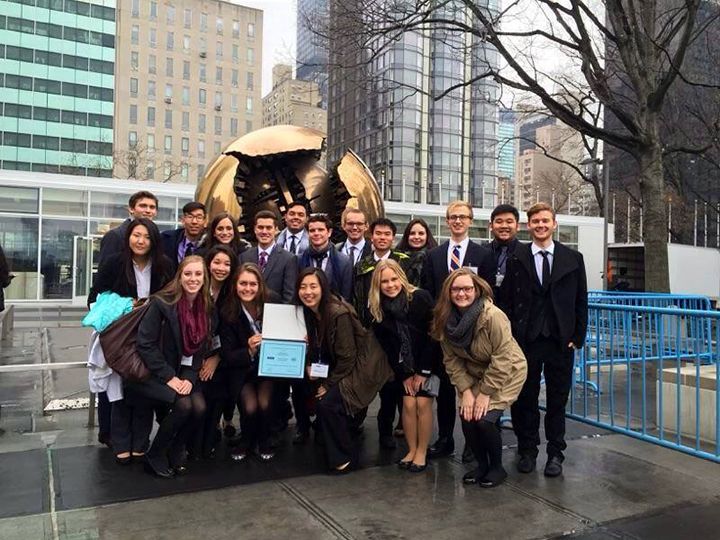 Editors note: due to a procedural error, this story was written on April 2, 2015 but not published until recently. We apologize for any confusion. Photo courtesy Hayden Paulsen
Pepperdine United Nations Team (PUNT) travelled to the Model United Nations Conference New York 2015 from March 22-26 and won a total of six awards in a variety of categories.
PUNT won the awards for "distinguished delegation," and "outstanding delegate in the general assembly first committee" along with awards for four position papers in the committees of: General assembly first committee, economic commission for Africa, United Nations environment program, United Nations high commissioner for refugees.
PUNT is comprised of about 20 undergraduate students. Financial Coordinator and Junior David Nguyen said that they start planning for the conference in the summer.
He said every year they have to fundraise around $30,000 for the trip. It is a competitive process to get on the team. "We can only take 20 students on to the team, and we have a lot of criteria to get on the team. It doesn't matter what major you are, as long as you are interested. We just want to make sure that you're there because you care about international diplomacy," Nguyen said.
Nguyen said that one of his favorite aspects of the conference is that it promotes international conglomeration.
"Even though we all work hard, we still have fun. It is extremely professional," Nguyen said.
The conference went from 8 a.m. until 11 p.m., but Nguyen said there often wasn't enough time for him and his groupmates to work on the material.
"Me and my groupmates would stay even later to finish our papers. It was a lot of work, but everyone was so willing to do it."
Junior Edwin Duran, who attended the conference as a delegate, explained the purpose of Model UN.
"Basically Model UN is an organization that teams up with the United Nations, and the whole point is that they hope that these conferences, which are held yearly around the world, make an impact," Duran said.
Duran said about 100 other schools attended the week-long conference, and they ranged anywhere from colleges in the states to international schools in Switzerland, and even the Middle East. According to Duran, there were around 3,000 students in attendance. Pepperdine's team was divided into 10 different groups, each assigned to represent the country of Madagascar with specific topics for each group.
The actual conference was held at the Sheraton Hotel located in Times Square. However, on the last day of the conference for the closing ceremony, it was held at the actual United Nations building where Secretary General of the United Nations Ban Ki-Moon made a guest appearance.
Duran said that his favorite part of the experience was how he got to sit in the seats of the conference room with all of the different plaques for countries around the world and the Secretary General's speech.
"He is literally trying to promote world peace, and he came to our closing ceremony and gave a speech about how our generation is going to effect world peace and security," Duran said.
Junior Hayden Paulsen said he was excited at the opportunity of meeting many people from around the world. "Delegates from the U.S. are not the majority of those from around the world," Paulsen said.
__________
Follow Veronica Johnson on Twitter: @veronajohn36