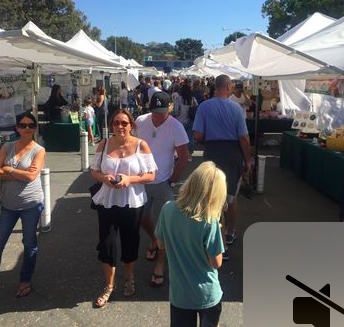 Photos by Maria Valente
The Malibu Farmers Market is known by locals for having artisan crafted products as well as fresh and ethically sourced food.
Every Sunday from 10 a.m. to 3 p.m., the Malibu Farmers Market takes place right behind the Malibu Country Mart. Locals can purchase groceries, home goods and ready-to-eat meals.
Below is a list of diverse vendors that are at the farmers market every week.
Sharon's Heavenly Cobblers started with just one recipe for peach cobbler, and the rest is history.
While this vendor has only been coming to the Malibu Farmers Market for a little less than a year, they've been selling their products at food festivals like the Taste of Soul Family Festival for years.
Sharon's Heavenly Cobblers also provides vegan and gluten free options to attract more of the Malibu community.
Vita Juice has sold their products for almost four months at the Malibu Farmers Market. The company specializes in cold, pressed juice, but they also produce milks and lemonades.
"Our juices include centrifugal," said Alexia Lopez, founder of Vita Juice. "This helps the nutrients in the juice stay alive for five to seven days longer than without."
While Lopez said that the chocolate organic almond milk and the black lemonade with probiotics are among the favorite items, a less obvious product is the most popular.
"The green juices," she said. "Everyone loves all the green juices."
Vita Juice also sells chia pudding and overnight oats at the farmers market.
MALIBU SOAP AND CANDLE COMPANY
The founding of this home goods vendor is a more moving tale than one would expect.
"I had cancer in 2015," founder Scott James said. "I wanted to get back to nature and to organic soaps and soy candles. Parrafins in candles are toxic and can cause cancer."
The company was founded in 2015, and while James took time off while undergoing surgeries, he, as well as his company, returned to the Malibu Farmers Market this July.
"The lavender soaps are the most popular product," James said. "We have three scents right now, and next week our Lavender Pumpkin Spice will be available."
A quarter of all sales of both candles and soaps is donated to City of Hope, a charity dedicated to cancer research.
Each week, artisan vendors are selling their products right next to campus. Students can purchase these things within a two minute drive. The Malibu Farmers Market is an opportunity for students to buy local and support the community they live in.
________________
Follow the Pepperdine Graphic on Twitter: @PeppGraphic