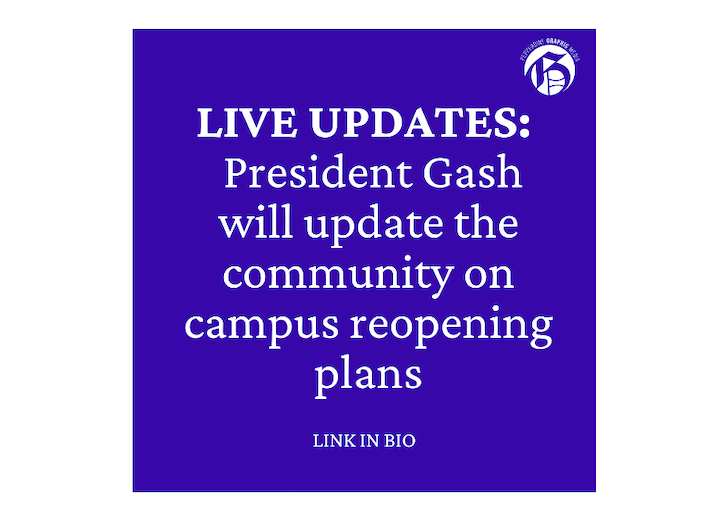 The Special President's Briefing will take place Tuesday, March 16 at 8:45 a.m. See live updates below.
9:48: Dean Feltner thanks President Gash for his hard work and closes the briefing in prayer. 
9:47: President Gash thanks the faculty for stepping up during this time. 
Q – When will the hotel on the Malibu campus open?
A – Currently using the villa as part of quarantine and isolation purposes. As soon as we are able to return to a more typical use we will.
Q – Can students still take classes online during summer term if they prefer to do that?
A – That is still under consideration and we will be providing updates before registration for summer closes. 
Q – Will masks still be required?
A – We will continue to follow state guidelines. 
Q – Where do international students go for advice on reopening?
A – There has been no change for international students but any question about an international student coming abc to campus should be directed to the Office of International Student Services.
Q – Will Starbucks open?
A – Based on library guidelines we cannot open Starbucks but are trying to open as quickly as possible. 
Q – When will indoor dining open?
A – For on-campus students indoor dining at 25% capacity will be available. 
Q – Will there still be a hiring freeze?
A – Expect to resume normal operations in the fall.
Q – Related to athletics – does change in tiers mean we can have spectators at athletic events?
A – Not until April 1 according to state guidelines. On April 1, we can have fans up to 25% capacity. 
Q – What if there is a spike in cases in the county, can we go backwards in the tiers?
A – We can't predict anything. If there is a spike that moves us back into the purple tier, then the same regulations will go back into effect and we will be limited. Again, only personal hardship cases can live on-campus. 

We will continue to watch the same statistics. Right now we are expected to move to the orange tier based on rapid expansion of vaccines.
Q – Will international programs be an all or nothing decision, or will decision be based on individual campuses?
A – Each school will be making decisions about its international decision over the summer. We will be making a decision based on each program, but will be communicating the decision at the same time in early April for the June session. For the July session we will likely push back decisions early to mid May.
Q – Can you talk about COVID-induced layoffs for employees?
A – Our plans are to not have any covid induced layoffs for the remainder of the year. 
9:30: There will be an update from Seaver college likely by the end of next week putting all of this in written form. We realize there is a timeliness factor but we want to wait as long as possible to give the situation time to improve. We will allow you sufficient time to make plans. Graduate schools look for information from your deans regarding ceremony. 
Q –  Can you offer clarification about where we are with graduation plans?
A – What we are allowed to do right now is nothing, but as of April 1 in the red tier we are allowed to do outdoor, distanced, 25% but only in state visitors. When we move to the orange tier we can do 33% but not for out of state visitors. In the yellow tier that is 67% capacity, but in state only. Until the in state only restriction lifts we will not have a ceremony. We still continue to prepare for a ceremony, but will not have one if out of state visitors can not come because we are an international school 
Q – What can faculty and staff expect to be their responsibilities?
A – It will be voluntary for faculty and staff to come and resume in-person classes. There will be no requirements for faculty and staff to return to campus. 

President Gash thanks faculty and staff for working hard during this time.
Q – How will they determine who gets to go?
A – Hopeful to schedule all classes in rooms that will allow all students who want to attend to attend. Faculty will send specific messages as we approach April 6
9:20: Gash clarifies that it is not 25% of class size, its 25% of classroom size. We will ensure that you are in classroom spaces that allow the maximum amount of people. Based on occupancy of the room.
Q – Will there be an ability for all students to have access to professors and fulfill academic requirements even if they don't return on campus?
A – Currently working with faculty to determine which classes will open on campus. Current estimate that 15-20% of classes will open. It will be voluntary to come back, regardless of your decision you will be supported so that learning can continue. 
Q – Is the university considering making vaccinations mandatory?
A – University management committee has a sub-committee that is looking at this question – getting a sense of the entire landscape based on medical advice – will be putting forward a draft policy that will either mandate vaccines or simply encourage it. It isn't appropriate to mandate vaccines until they get through the emergency use authorization period so this question only becomes relevant when the use of the vaccine is regular by the FDA. There are great motivations to get it even if it isn't mandated.
Q – Can you get the second dose at Pepperdine?
A – Only offering first and second dose together, can't just get second dose at Pepperdine
Q – Will we be opening graduate campuses?
A – We are relying on the deans who are working directly with faculty and staff to determine what needs there are relative to the timing of the semester – look for additional information directly from the deans. The graduate campuses will continue to implement safety measures from restoration plan  
Q – Can you explain what the cost of on-campus rooms would be if someone is approved?
A – We prorate that to exact day, ranges depending one each residence hall but it is exactly when the person moves in
9:10 The briefing opens for Q&A
9:08: Dean Feltner talks about summer international programs
Summer study abroad: Europe is not doing well in its rollout of the vaccines, Italy just went back into national lockdown, continue to monitor closely

The University continues to work closely with program directors at each location

Advice to students is to not incur any non-refundable expenses – things like physician appoints, etc.

Telling decision on April 9 for June program and will reevaluate July program 
9:06: At some point CA will revisit this:
When we move to orange tier, then 33% outdoors – this would make a graduation ceremony possibly but still in state visitors only 

Yellow tier – 67% but in-state visitors only 

We will not have a ceremony where out of state visitors aren't allowed – we will delay until a later date 
9:05: Graduation is still up in the air, on April 1 we can go to 20% for outdoor audiences – in state visitors only currently under the guidelines
9:04: We continue to advocate to open our residence halls but at this point LA County says we cannot open residential housing except for hardship cases
9:04: We will continue to evaluate hardship applications and there are opportunities to apply for on-campus housing if you have a hardship
9:03: LA County has decided to impose restrictions greater than the state regarding residential housing
9:03: Information will be coming from the dean of each school regarding what is happening, then from the faculty members in each class 
9:02: Not announcing that all classes are going to open on April 6 at all schools, it will be limited to each school on a voluntary basis depending on each school's calendar
9:02: Opening beginning after April 6, open limited in-person class when they expect to move to the orange on a voluntary basis
What we can do in the red-tier:

25% capacity in the classroom, or 100 people, whatever is less – this is what we are authorized to do right now 

In orange: We can have 50% capacity or 200 people – assuming by April we will be here
9:00: What does this mean for spring in-person classes? As you know the academic calendar was moved to take advantage of vaccinations.
8:59: Case rate under 2 is yellow. Last night California was 2.0 so they expect good news coming soon
8:58: We think we are going to be somewhere around 4 when numbers come out today, then wait three weeks, then we can move to orange.
8:57: President Gash clarifies the tier system: We are in the red tier with 5.2, we need to be four for three weeks consistently to move to the orange tier
8:56: March 16, 2020 is when our classrooms went dark one year ago today
8:56: President Gash thanks Phillips 
8:56: Looking forward to the summer they are expecting on-campus housing in single occupancy and no restrictions in the fall
8:55: There is a good a chance that when the numbers come out today we could move to the orange tier – that would mean that we could move to the tier the first week of April 
8:54: Regarding commencement –  LA County Public Health live event guidance makes it clear at the state level that nobody can attend events out of state.
8:54: Pepperdine is trying to work with LA County to allow residential living
8:53: The challenge is that LA County is not allowing universities to bring abc students for on-campus residential living except for those who have hardships 
8:53:Pepperdine can begin indoor prospective student tours and the University can begin indoor dining at 25% capacity
8:52: Pepperdine can begin indoor lectures at 25% capacity. An expanded allowance for labs, art studios, theatres, and music practice rooms
8:54: LA County agreed to align with the state's guidance of what is allowed in the red tier
8:53: Trying to work with LA County public health to align with the state's guidance of colleges and universities. Were successful in that 
8:52: Schools K-12 are re-opening
8:51: LA County moved into the red tier case rate of 5.2 per 100,000 residents. Moved to red-tier yesterday 
8:50: Pepperdine has administered 500 doses between last week and this week
8:50: Only a couple of appointments are left for this week for community members who are eligible. Ages 16-65 or members with underlying health conditions or disabilities. 
8:49: Vaccines: Pepperdine received vaccine doses at the Student Health Center and had its first vaccination clinic at Malibu campus last Thursday and Friday.  
8:48: Phil Phillips updates community on updated guidance
8:47: President Gash opens the briefing in prayer.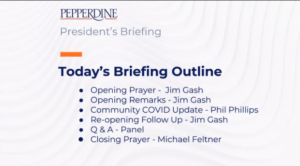 8:46: President Gash tells the audience that this will not be a regular president's briefing, but instead a special update regarding on campus openings. 
8:45: President Jim Gash welcomes Pepperdine students, faculty and staff to the briefing.