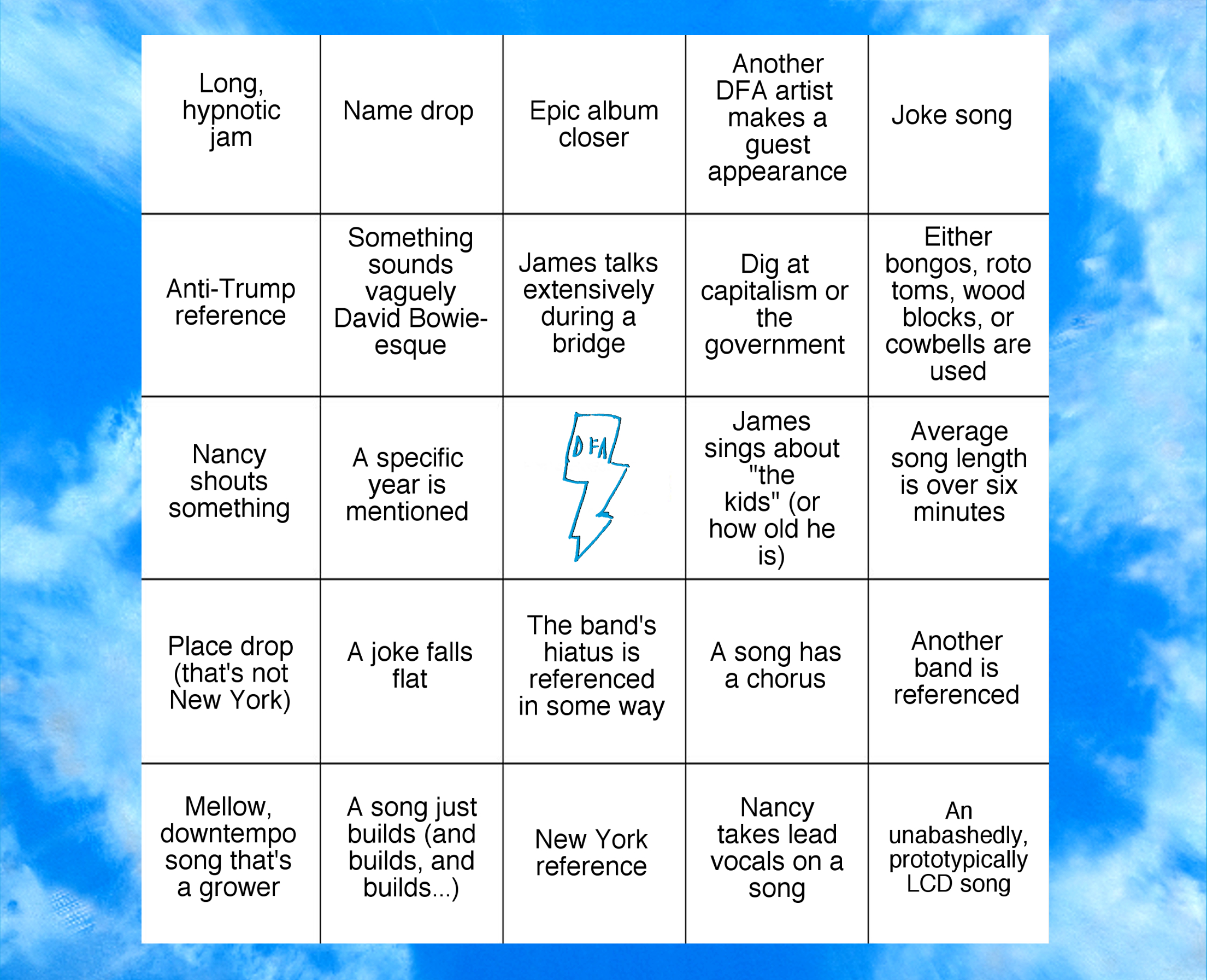 Image by Kyle Cajero
The wait — seven years, three months and 15 days, to be exact — is over.
LCD Soundsystem snapped a seven-year hiatus with the release of their fourth album Friday. Before the release of "American Dream," the last anyone heard of these indie-dance stalwarts was a three-hour "last" show at Madison Square Garden. The performance turned into a limited-edition, five-record set and a concert film.
"American Dream," is a 70-minute blend of dance music and gloomy synth-pop with sparse rock elements. Frontman James Murphy oscillates between David Byrne's talk-singing and David Bowie's croon. Keyboardists Nancy Whang and Gavin Russom (with additional help from Murphy) pack songs with intricate layers of vintage synthesizers. Percussionist Pat Mahoney's tight, persistent drumming works in tandem with a fleet of drum machines to prop up all songs.
So how has the seven-year gap changed their sound?
Enter the bingo card: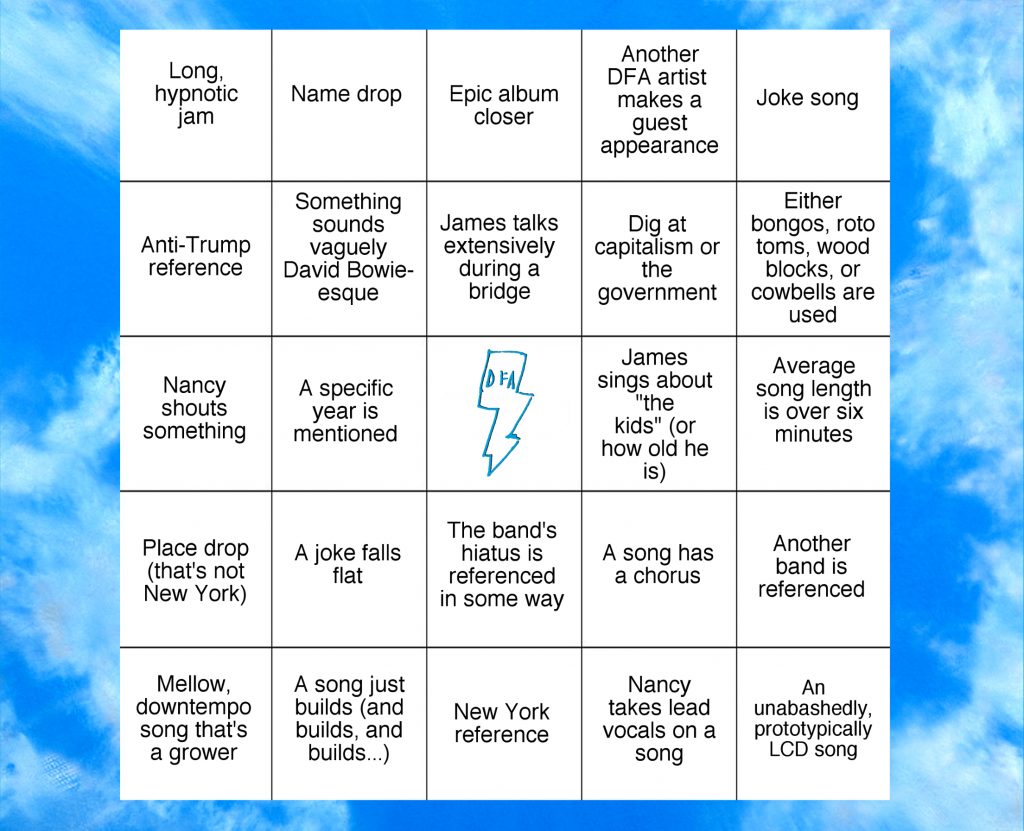 Filled with elements commonly found in LCD Soundsystem's discography, this card is a simple, albeit unorthodox, way to determine if "American Dream" is a stylistic shift or exactly what one would expect from DFA Records' marquee act.
Let's begin.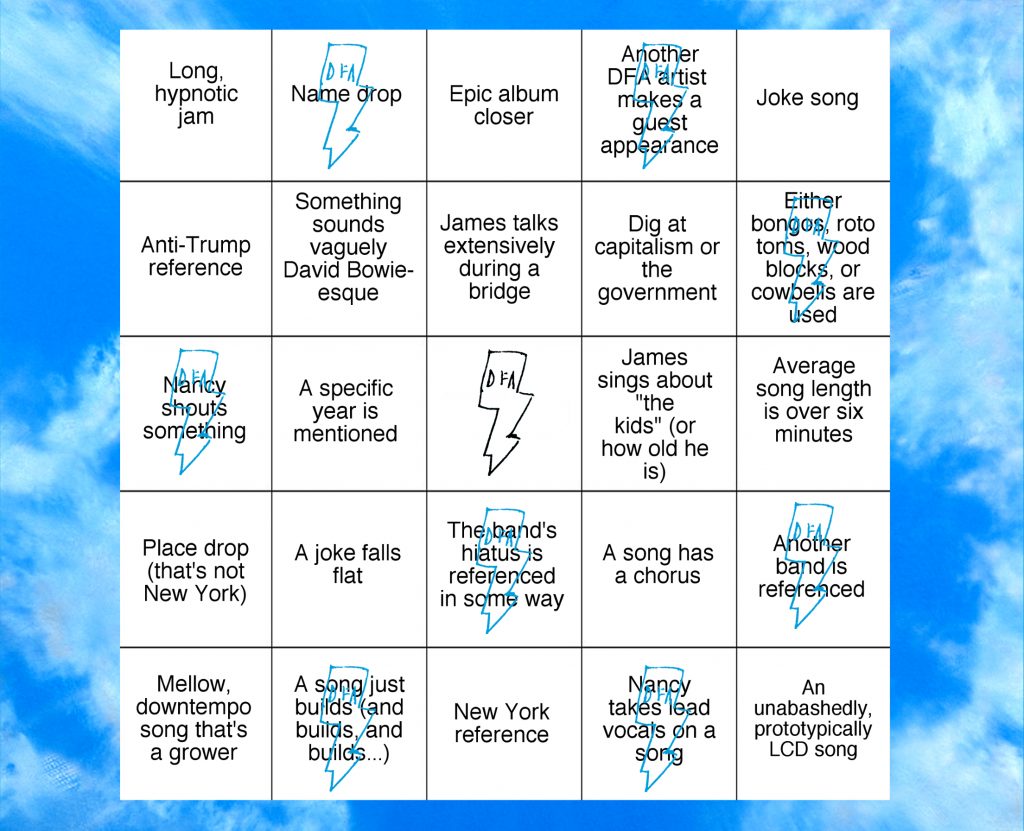 Side A: "Oh Baby," "Other Voices," "I Used To"
"American Dream" gives the listener three initial tracks that build up and crescendo in the third song.
For those keeping score at home, DFA engineer Matt Shaw plays the synth on "Oh Baby," and Murphy references art-punk band Suburban Lawns on "I Used To."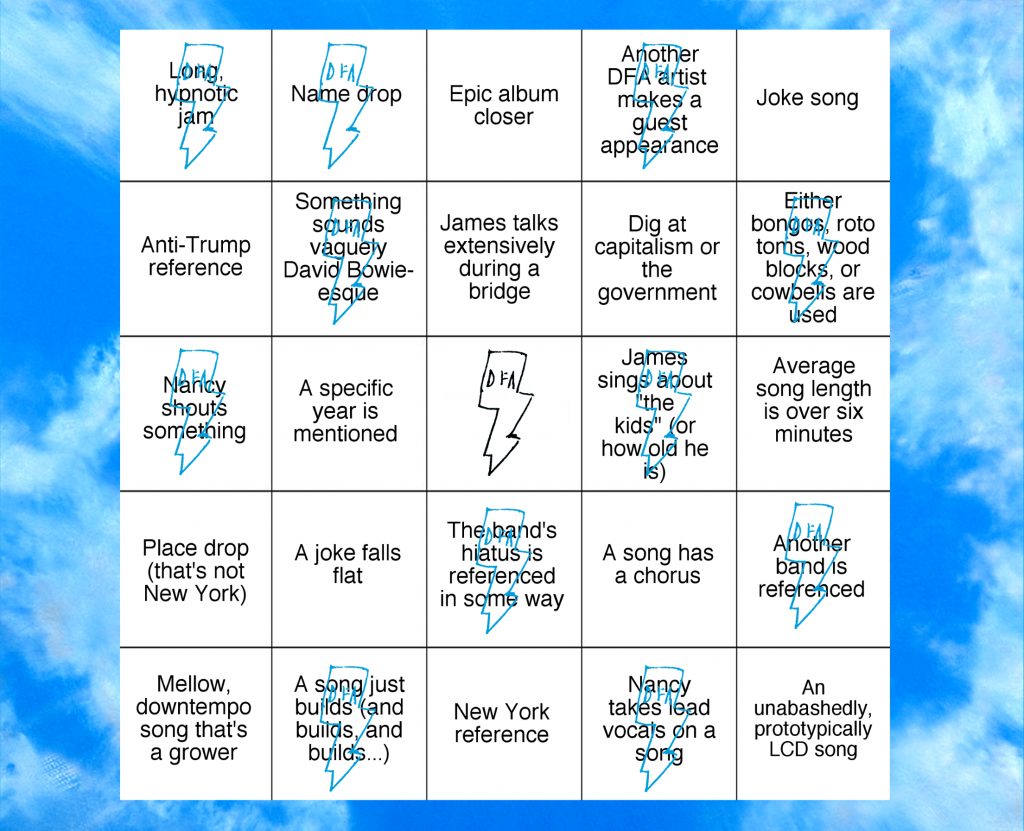 Side B: "Change Yr Mind," "How Do You Sleep"
Like the previous three tracks, "Change Yr Mind" starts with a rhythm section, then gains momentum.
Murphy's vocals in "How Do You Sleep" are given a bit more reverb while rumbling percussion and keyboardist Gavin Russom's distant arpeggiators flutter in the distance. For the first time on the album, the song doesn't fit the same gradual crescendo but builds drama by its sparseness. The synth stabs at the three-minute mark make the track significantly more danceable.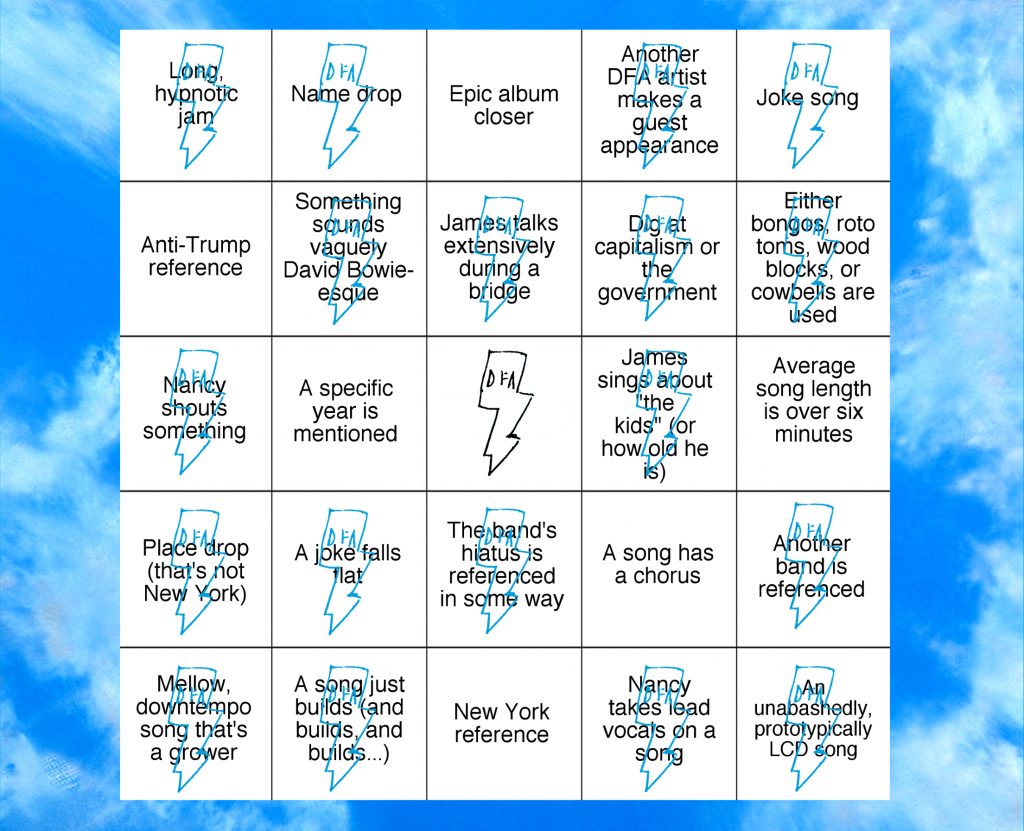 Side C: "Tonite," "Call the Police," "American Dream"
Ever since the band's one-two punch of "Someone Great" and "All My Friends" awed critics on 2007's "Sound of Silver," each LCD record has a solid run of songs in the middle of the album.
By staying in a familiar vein as older LCD Soundsystem tracks, this trio of songs is arguably the peak of "American Dream."
"Tonite" is a quirky, bouncy dance number with Murphy at his most self-aware and relaxed. "Call the Police," on the other hand, is an unabashed nod to the aforementioned "Friends." Stylistically, "Police" is "All My Friends, Part Two:" Tyler Pope's galloping bass and the "Heroes"-esque guitar textures build in the seven-minute runtime.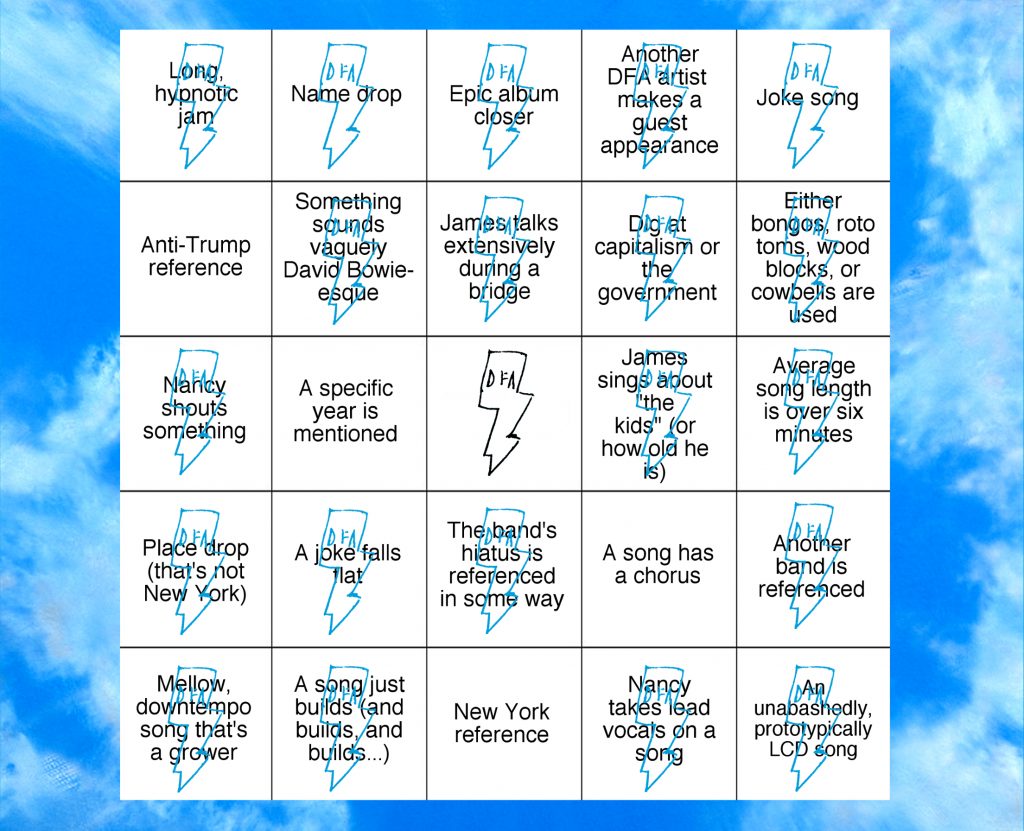 Side D: "Emotional Haircut," "Black Screen"

Looks like "American Dream" hits most of the LCD Soundsystem hallmarks with this double-bingo.
Mahoney's swirling drum fills, the jagged guitar textures and Murphy's hurried talk-singing delivery make up "Emotional Haircut."
Although Murphy isn't the best songwriter in the world — nor do people listen to LCD Soundsystem records for the lyrics — the narrative imagery in the opening verse of "Black Screen" is a nice touch.
"American Dream" is an incredibly-layered, masterfully-mixed album, which is hard to come by. If the album garners enough time and attention, it will captivate listeners.
LCD Soundsystem's new album is available on iTunes for $10.99 or can be purchased at Target for $11.99.
________________
Follow Kyle on Twitter: @kylecajero