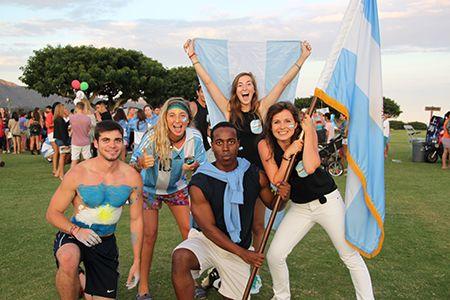 Photo by Evelyn Park
In an effort to boost enrollment, International Programs will waive travel expenses for students enrolling in the 2014 summer programs in an effort to increase the number of participants, according to several administrators.
Students attending summer programs will now only pay tuition and room and board fees, while travel expenses will be absorbed by the university.
"The reason behind doing this is that Pepperdine would like more students doing summer programs, either here in Malibu or overseas," said Dean of International Programs Charles Hall.
Fifty-one years after the first study program took place in Heidelberg, Germany, the International Programs Office has made an effort to encourage more students to take advantage of the opportunity.
Even though more students are likely to apply, according to Dean Hall, there will not be an increased number of spots in each individual program.
"We are offering more programs," Hall said. "There will only be more spaces open because more programs are being offered."
Seaver Dean Rick Marrs added that waiving travel expenses will improve students' academic experiences as well as their international experiences.
"Summer [programs] help students in several ways: keeping on track with degree programs, taking courses in places not usually visited, increasing educational flexibility into student schedules," Marrs said.
Going hand in hand with this measure, Pepperdine looks to increase the number of students who repeat the international program experience. "I sense there is more excitement this year, particularly among the juniors and seniors who felt that because they went overseas during their sophomore year they would stop doing international programs," Hall said.
Pepperdine will offer two new locations next summer, adding to the existing special interest program locations in Oxford, Edinburgh, Fiji and Uganda.
The Camino de Santiago pilgrimage in Spain as well as the service-oriented biology and nutritional science course in Kenya will add to the other four programs.
The priority application deadline for both summer programs and semester-long programs is Sept. 23.
_____________________________________________________________________________
Follow Ricardo Avila Alvarez on Twitter: @ravila27
As published in the Sept. 5 issue of the Pepperdine Graphic.