International Programs has announced a new summer special interest program for 2014: El Camino de Santiago.
El Camino de Santiago, which is another way of referring to "The Way of St. James," is a unique program offered at few other universities, according to Director of Admissions and IP Student Affairs Jeff Hamilton.
Associate Vice President and University Controller Brian Thomason proposed to lead a group of students on the pilgrimage in February after walking El Camino in 2011 with his mom, Cathy, and his dad, Phillip, who is a Spanish professor.
The Thomasons went to Spain every summer from the time Brian Thomason was 8 until he graduated college. He said he wanted to do El Camino because he had been out of college for almost 15 years and was feeling "world-weary."
"I was a bit jaded in my interactions with people, I didn't feel particularly close to God and it felt like a good opportunity to re-center my world," Thomason said.
It's difficult to talk about the pilgrimage, Thomason said, since it's such an individual experience, but it is also difficult to go through El Camino completely unchanged.
"I love interacting with the students," he said. "Twice a week, I get to teach young people, and it's amazing. So now, I'm going to get to watch them experience what I experienced. And that's going to be amazing."  The obscurity and the novelty of the program mean that many students do not know much about it. The following is some information about El Camino de Santiago in general and the International Program specifically, according to Thomason.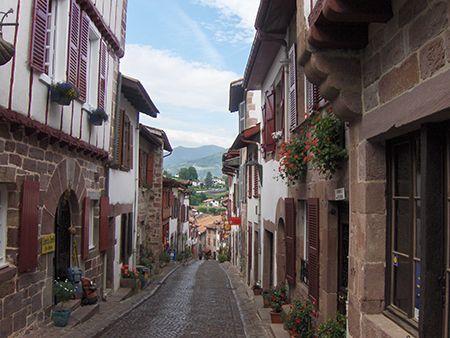 History of El Camino
Starting in A.D. 722, Muslims and Christians fought over the Iberian Peninsula for about 800 years during the Christian Reconquest of Spain. In the late ninth century, during a border battle that the Christians were losing, the bones of St. James the apostle were discovered in a chapel on the western side of the peninsula. The discovery of the apostle's bones inspired the Christian army, and they defeated the Moors. They pushed them south and established the small Christian kingdoms as a permanent presence in the north. The king of the province — Spain did not exist yet — was so grateful that he built a chapel on top of the old one, and it became a shrine to St. James. A couple hundred years later, the pope heard about this shrine and decided that he would go see it. He walked and wrote about it, which became the basis for the pilgrimage. He said everyone should take this pilgrimage to Santiago, and the Catholic Church would grant indulgences to Catholic pilgrims, just like pilgrimages to Rome or Jerusalem. Thousands of people made the pilgrimage in the Middle Ages, but the popularity of El Camino waned for a few centuries until it was revitalized in the 1900s.
Info about the Program
Thomason said he hopes to take 20 to 22 students, though the exact number of spots left is unknown as students signed contracts this weekend.
The trip is from June 12 to July 28. There are several routes pilgrims can take to reach the chapel, but Thomason said he will take the group on the 500-mile traditional path from the French border to Santiago.
The IP fee is $3,290 for room and board (flights for summer 2014 IP programs are free), and tuition is $1,395 per unit. Thomason will teach the required class, SPAN 292 (or 592 for Spanish majors and minors), which is Culture and History of the Camino de Santiago. Chemistry Professor David Green will teach the optional class, NASC 109, Introduction to Astronomy, for the natural science credit.
Purpose
El Camino consists of a lot of introspective thought, as it is not just a physical journey but a mental journey as well.
Thomason said pilgrims get away from everything for the weeks of the journey. When he went on El Camino the first time, he said, "All I had to think about was: how far do I have to walk, where am I going to eat and where am I going to sleep, and everything I need is on my back. And there was something very freeing about that."
Thomason said students need to be prepared for that. "I've told the students I've interviewed that if they come back from six weeks in Spain with blisters on their feet and some course credit, then I haven't done my job," Thomason said. "You need to be a different person. That's the point of pilgrimage."
Some Things to Expect
1) Interaction: Thomason said the ultimate goal of the program is for students to talk to people from all different backgrounds. He said discovering how many more similarities than differences there are between humans is one of the most moving parts of the pilgrimage.
2) Walking: This is not an average hike. Students will be walking an average of 15 miles a day for six weeks. While Thomason is not requiring the students to train, he is making it clear that it is highly recommended. "It's hard," Thomason said. "But you meet so many wonderful people and have so many great experiences, and I wouldn't trade that for anything."
3) Personal Growth: Thomason said one of the things he looked for in applicants was a desire to go on a spiritual and emotional journey, not just backpack in Europe. "I needed students who were willing to tackle who they were as a person and be willing to examine that and examine their relationship with God and come out on the other side different," he said.
The Future of the Program
Thomason said he would love to take students on El Camino again in the future, but the program depends on student interest and feedback. "This is the first time we've done this," he said. "I'm new at it. I'm an accountant by training, not a college professor, so I'm just kind of going with it. If it works out well, then we get to do it again. If not, it was a one shot deal, and it was a lot of fun."
_____________________________________________________________________________
Follow Falon Opsahl on Twitter: @FalonGraphic
As published in the Nov. 14 issue of the Pepperdine Graphic.