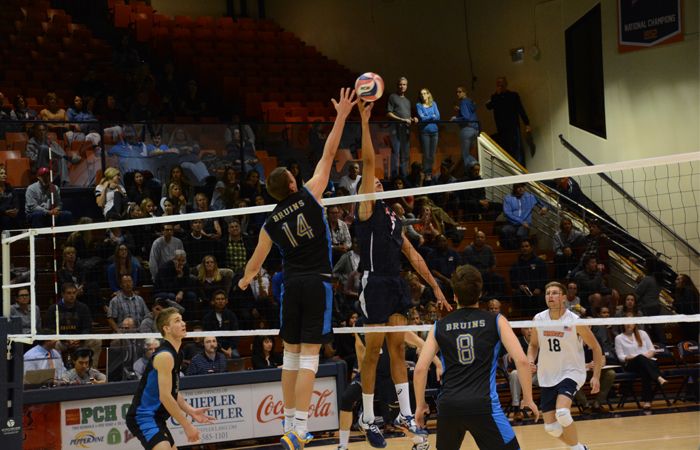 Photo by Gabriella Chan
No. 3-ranked men's volleyball picked up a pair of victories at Firestone Fieldhouse over the weekend, defeating USC and Cal Baptist.
The Waves shut out the Trojans in three sets (25-20, 25-14, 25-20) on April 2, and again on April 4 night against the Lancers (25-13, 25-22, 25-16). The Waves improved to 21-4 overall and 16-4 in Mountain Pacific Sports Federation (MPSF) play.
Waves vs. USC:
On April 2, the Waves defeated USC handily, clinching home-court advantage for the MPSF Tournament quarterfinals.
"USC was a big win for us," senior setter Matt West said. "Our team has a personal vendetta toward the Trojans because of our loss to them earlier in the year."
West led the Waves with 36 assists, propelling them to a season-high .469 (45 kills, 7 errors and 81 attempts) hitting percentage. The Trojans were held off to just a .263 (33-13-76) on the night.
Senior libero Brennan Anderson came up big for the Waves on serve-receive and finished his night with four digs and four assists.
"I'm glad that I can contribute to such a successful team," Anderson said. "It's a group effort, and I think any success is greatly attributed to the unit that we play as."
The Waves extended their home-win streak to 18 with the victory over the Trojans.
Waves vs. Cal Baptist:
In the Saturday game, the Waves defeated Cal Baptist, winning a record-tying 19th-straight match inside Firestone Fieldhouse.
Pepperdine is undefeated (12-0) at home this season and has won the last 19 consecutive matches, dating back to last year.
"We are just taking it one match at a time, and treating every match as a must-win," Anderson said. "In a league as competitive as this, there are no easy nights, and anybody can beat anybody."
Senior opposite/middle blocker Parker Kalmbach dominated for the Waves offensively, collecting 15 kills. West and sophomore middle blocker Mitchell Penning each collected five service aces, out-acing Cal Baptist 12-0.
Looking ahead to playoffs:
After the weekend, the Waves came in tied at No.1 with UCI and Hawaii in the MPSF standings, clinching a postseason tournament bid and home-court advantage.
"Of course we want to win it all and we believe we are capable of doing so. However, there is more that goes into it besides physical capability," senior outside hitter Josh Taylor said. "We have to be mentally prepped as well as physically."
The main focus for the Waves right now is to close out the regular season strong, Anderson said.
"To be honest, we aren't thinking about the postseason too much at the moment; we still have some big matches ahead of us against some really good teams," Anderson said.
However, for the seniors it's their final year, and they have every intention of making it count, West said.
"For many of us it's our final year here at Pepperdine, so we've changed our mentality from a we 'want' to win a championship to we 'need' to win a championship," West said. "All of us would agree that we're willing to do anything it takes to win at this point. We have nothing to lose."
Update: Men's volleyball closed out WCC play with a sweep of UCLA on April 7. Next they face UCSB on Wednesday, April 15, at home before entering the MPSF Tournament that starts Saturday, April 25, in Malibu.
__________
Follow Kelsey Blosser on Twitter: @KelseyBlosser