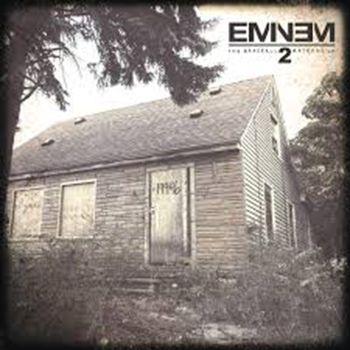 It's hard not to feel a bit of anticipation at the prospect of new music by Eminem, merely because it's hard to know what the enigmatic artist will say next. Eminem has been hailed by many as one of the greatest lyricists to ever bless the mic, while being equally maligned by others for the unabashedly grotesque and at times hateful content of his music. It would be unfair to characterize Eminem as an artist who relies merely on shock value to sell albums, yet it is a fundamental aspect of what has made the artist a household name, whether for bad or good.
What has elevated Eminem to the upper echelon of rappers by critics and fans alike has been the skillfully crafted way in which the artist has delivered his message: through consistently sharp and clever rhyme work that portrays his unapologetically cynical analysis of the American dystopia.
Eminem's newest album "The Marshall Mathers LP 2," is a spiritual successor to one of his earlier and more critically lauded albums, "The Marshal Mathers LP." The newest album is an obvious throwback to the old slim shady: an in your face, psychotic character rapper who isn't afraid to flip the bird to any and all celebrity illuminati (including himself) with a devilish sense of absurdist humor masking a deeper and more disturbing sense of self-deprecation. "The Marshall Mathers LP 2" equally delivers on laugh out loud comedy, emotionally dark introspection and violent hatemongering that mirrors what originally made Eminem such an explosive force in music.
Keeping in tune with the theme of old school revival, the production work on the album is primarily focused on creating a vintage rap sound, complete with simplified beat breaks, baselines and scratches spearheaded by executive producers Dr. Dre and Rick Rubin. The album heavily samples music from decades past, including music by the Beastie Boys, The Zombies and Billy Squier. Beats also draw heavily from elements found in other genres, including stadium guitar riffs, synthetic EDM sounds and marching band instrumentation. The focus on a retro sound keeps the album moving at a steadily rhythmic pace, but the fusion of unique musical elements sprinkled throughout allow the individual tracks to take on a life of their own and stand out amongst each other. The single "Berzerk" is a loud and noisy homage to a 1980s Beastie Boys inspired house party, while the track "Survival" is a head-bobbingly aggressive electric guitar anthem and the track "So Far …" is a comedic, country inspired good time.
Lyrically, "The Marshall Mathers LP 2" features some of the most clever writing Eminem has done in recent years. Rhyme work is at an all time high, delivering wild and witty lines at a dizzying fast pace, brought to life through a wide range of emotions including anger, fear, reckless confidence and brooding introspection. The album takes shots at Eminem's fellow peers in and out of the music industry, calling out names and musing on their apparent shortcomings without abandon, while placing himself on a pedestal as a self-proclaimed "rap god." Interestingly enough, each cocky claim to superiority uttered by the rapper on the album is equally mirrored by moments of self-doubt, and the album questions what being a "rap god" has meant to Eminem, whether the title is deserved, and most shocking of all, whether or not the time has finally come to put the god to rest.
"The Marshall Mathers LP 2" is an album that treads familiar territory in new ways, bringing around full circle a rap artist who has been commanding the craft for longer than most. This is pure Eminem: crazy, unfiltered madness brought to life by an evil genius. Now if only the FCC would just let him be …
_____________________________________________________________________________
Follow Chirag Patel on Twitter: @cbpatel86
As published in the Nov. 7 issue of the Pepperdine Graphic.