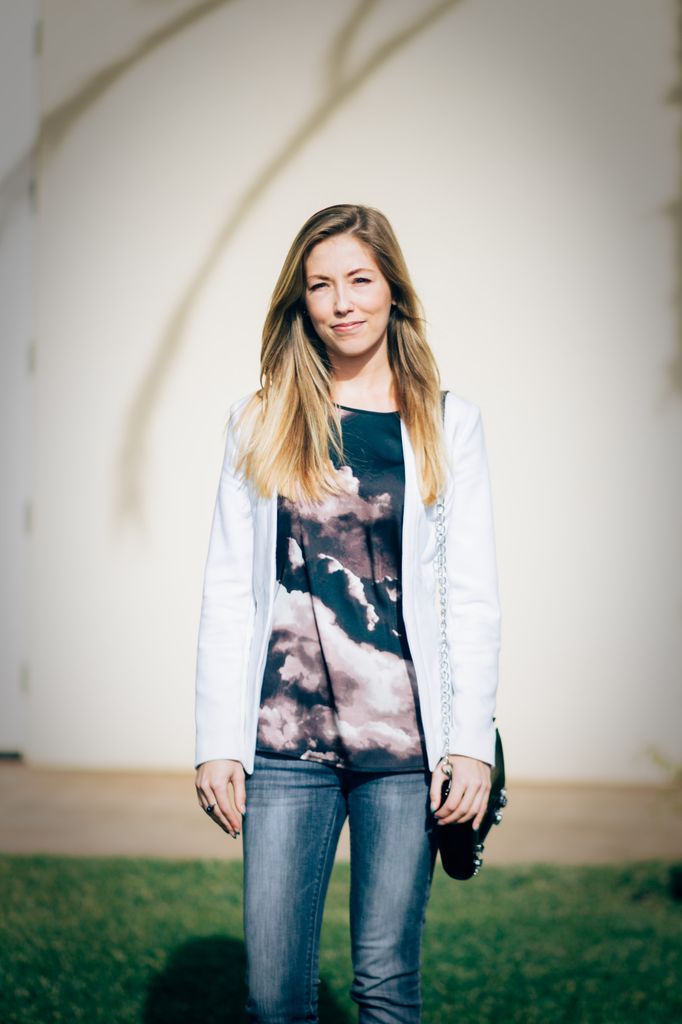 Photo by Zach Le
Danielle Gumina, a graduate student in Media Production at Pepperdine University and award-winning designer of GRIP handbags, is a bit intimidating on paper.
Gumina started her business in April 2015. Nine months later, she sold five gorgeous purse designs on her online store and received a Best Student-Made Handbag award from the international Independent Handbag Designer Awards she won in June (only two months after she started). InStyle magazine mentioned Gumina's bags in September and several fashion blogs have featured them since.
Gumina has also written and produced a fashion film for Joomi Lim, a jewelry designer, who Gumina explained has become a great mentor. The fashion film also doubled as her thesis project as she is working on finishing her master's degree in Media Production this year. She is the head honcho of anything and everything that has to do with her business, whether it's writing and photographing for blog posts on her website or creating and filming a commercial for her brand, she is truly a Jill of all trades.
Gumina came up with the idea for her bags one hot summer day, as she recalls. All alone on her couch, she was trying to think of how she would spend her vacation. She thought back to how she had been an intern for a stylist in LA who did several red carpet events. "LA is a lot more quirky than New York [style wise]," Gumina said, giving her imagination more room to roam when she put her designing cap on.
While thinking about these events, Gumina noticed a problem: When it came to these celebrity's outfits, their clutch game was severely lacking. Some purses were too small, making them insignificant to the outfit as a whole. Others had to be held uncomfortably under the women's arms. A fair few weren't even holding a bag in order to avoid all the drama. Enter the GRIP, a fashionable and functional clutch that is perfect for an evening of events and won't get in the way of all the fun.
Gumina describes them as the perfect bag for "a girl who likes to stand out, bend the rules and make a statement," all while having the time of her life. The genuine Swarovski crystals on her designs are an ode to a designer in New York City who has been a great mentor to Gumina from the beginning. The sleek black material they are made of contrasts with these colorful gems to make for an elegant as well as edgy accessory. It also comes with a detachable chain, transforming it into an over-the-shoulder purse.
"[Gumina] is so creative, and you can tell she really cares about not only her line, but the photo shoots as a whole. She has a vision and she will not stop until it comes true," said Kaley Krause, a model who has worked with Gumina and the GRIP line on several photo shoots.
Gumina said she's most proud of is that she is "doing something that pushes boundaries; I'm trusting myself to do this and I'm teaching myself along the way."
And of course she's proud of her international award: "I feel like I never win anything! It totally validated what I had been working so hard on."
Gumina has been the CEO of her company from the beginning, in charge of every step of the way, giving her the best kind of business experience. Her best advice is "make friends with the sharks before you jump into a pool of them."
What can we expect next from Danielle Gumina and GRIP? Her new line will arrive this spring, and with it a more casual look for the clutch. "It will be the same silhouette, but different material, so you can wear it during the day," Gumina said. She will also be working on building her brand, slow and steady, as she wants GRIP to be her business for life; however, she also sees herself working in public relations. Wherever she ends up, Danielle Gumina and her GRIP will no doubt be a family name soon enough.
Get a GRIP here at her website: www.griphangbags.com
Check out her Fashion Film here: http://youtu.be/L6d1gAjYJX8
_____
Follow the Pepperdine Graphic on Twitter: @peppgraphic