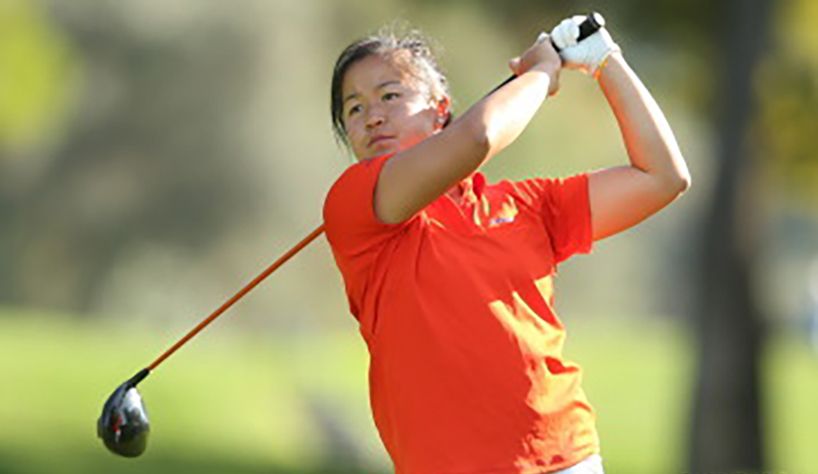 Photo Courtesy of Jeff Golden
Pepperdine's women's golf team started their season on Tuesday, Sept. 15, at the Branch Law Firm/Dick McGuire Invitational, swinging into a 13th out of 18th place finish.
Leading the team was senior Marissa Chow, who scored a 219, landing her in a tie for 23rd in the tournament. Chow is already ranked one of the top 20 women's golfers in the nation. Chow's phenomenal growth from her first year at Pepperdine has not come without putting in the hard work to improve her game.
"I believe I have improved a lot since my freshman year by having a very structured practice as well as learning more about the game of golf," Chow said.
"Golf is definitely a physical game, but it is also very mental. What I strive to do when I golf is to stay even emotionally and to stay in the moment, which in turn really helps me stay focused."
Not far behind Chow in the opening tournament was sophomore Tatiana Wijaya, who tied for 36th place at 224. Wijaya was born in Indonesia, and graduated from high school outside of the states, resulting in a lot of adaptation to her game.
"Golf back home is different because we don't have a lot of good competitions or competitors. U.S. women's golf is huge here, so it is much more competitive," said Wijiya. "It was not popular in my high school. I graduated in Australia, so there is no such thing as high school sports teams."
The Waves then headed on to compete in the Golfweek Conference Challenge from Sept. 21-23, a tournament in which they've claimed four of the six titles since 2009.
At the end of day one of the tournament, Pepperdine had shot a 314, tying with Nebraska for 12th place.
Freshman Patricia Wong and Wijaya led the team with 77s, tying for 30th on the par-72 course.
Wong and fellow freshman Hannah Haythorne both shot three birdies, while Chow and Wijaya had two each.
In round two, the team definitely stepped up their game, as all five Waves improved their scores from the last round.
Haythorne had the biggest improvement with nine strokes less than the day before, while Wong, Chow and sophomore Katherine Zhu shot four strokes under their previous rounds. Wijaya shot two under her previous 77, moving her up to 28th. Together, they climbed up three spots to end day two in 9th place.
On the final day of the tournament, the Waves continued to improve and moved up another three spots, finishing in 6th place at the Golfweek Conference Challenge.
The team's perseverance and fight was certainly displayed in the last round. As a team, they were one under par, with Chow shooting five under and Wijaya two under.
The Waves roll on to compete in the Edean Ihlanfeldt Invitational on Oct. 6 in Washington.
__________
Follow the Graphic on Twitter: @PeppGraphic