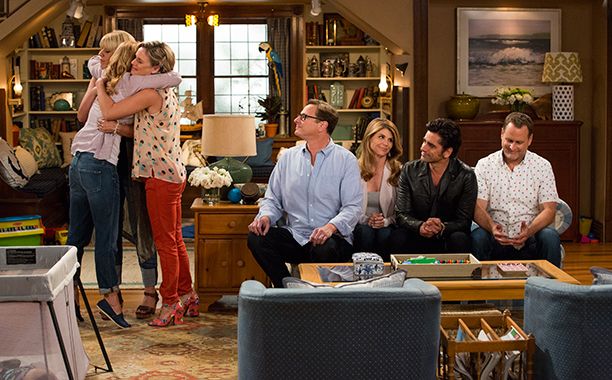 Photo Courtesy of Michael Yarish/Netflix
"Full House" was the epitome of my childhood. I understand what a large claim that is, especially considering I was born after the series ended in 1995. But, I perhaps was more influenced by the show because of the reruns. They ran every single day in the Harwell's DirecTV household, and I saw every single episode multiple times without fail. To this day, it's an implicit rule in my house: If "Full House" is playing reruns I will stop everything and watch.
A part of me felt connected to the family like an extended Tanner. I can prattle on for days about how "Full House" dissolved the nuclear family and paved the way for hit shows like "Modern Family." It was the quintessential '80s family sitcom, laugh track and all.
In April, Netflix announced they were bringing back the show for a 13-episode season to be dropped in what I deem "Netflix style," with all the episodes at once ready for binging — and I'll admit I wasn't excited about it. I was terrified they'd give me a poor remake of such an important show to me, but I assure you after almost seven hours of new episodes, it's the same old "Full House" that I knew and love.
For all the naysayers out there, here's a few ways that "Fuller House" has still got it, dude.
1. There's Always a Happy Ending
Opposed to Netflix's other original shows like "House of Cards" and "Orange is the New Black," "Fuller House," like its predecessor "Full House," always ties up the 30-minute plot into a nice package with the lessons learned. There's not an episode I come away from with a cliffhanger, or an episode that ruins my mood. As a bonus, the only character death happened before the series started, and Danny Tanner isn't in the business of pushing girlfriends onto the train tracks.
2. Uncle Jesse
Have Mercy, John Stamos. He hasn't aged a bit in the past two decades, and I've still got a crush on everyone's favorite uncle, but who doesn't? Although the sequel has been banged by many negative critic reviews, Stamos responded to a particular New York Times review by James Poniewozik on "Late Night with Seth Meyers," saying "James, it's 'Fuller House,' not 'Room' for God's sake."
3. The Laugh Track
I'm a sucker for campy laugh tracks. It's nice to turn off your brain and let a studio audience or electronic soundboard tell you when to "aww" or laugh. Somehow Stephanie's catchphrase "how rude," is even funnier when paired with canned studio laughter.
4. Max Fuller
D.J.'s middle child Max (Elias Harger) is easily my new favorite character. He's essentially a middle-aged man in an 8-year-old's body. He seems to have inherited his grandfather's predisposition for OCD, in the most precious way possible. When Max becomes a "doggy daddy" to Cosmo (Comet Jr. Jr.'s puppy), well as they say in Whoville, my heart grew three sizes that day.
Here's hoping for a new season of "Fuller House" and quickly or else Netflix –– You're in big trouble, mister.
___________
Follow Madison Harwell on Twitter: @mad_har