Editor's Note: "From our feed" is a new feature through which developing stories covered on our social media accounts are featured on our website. These will be updated, but the most recent information can always be found on our social media.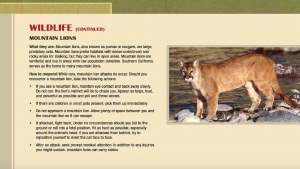 Public Safety has asked people on the Malibu campus not to "hike, bike or jog alone, especially from dusk until dawn" due to continued mountain lion sightings, including two more Tuesday night. The University has "contacted the California Department of Fish and Wildlife and National Parks Service to request assessment of the recent mountain lion behavior," according to the email from Public Safety Dispatch.
Total mountain lion sightings reported so far, according to Public Safety:
Dec. 18, 2016 –

9:49 p.m.

– Rho Parking Lot
Dec. 20, 2016 –

1:46 a.m.

– Seaver Drive Booth
Jan. 15 –

11:35 p.m.

– Drescher Student Housing Apartments near W block
Jan. 24 –

7:33 p.m.

– Alumni Park near John Tyler Booth
Jan. 30 –

10:27 p.m.

– Upper Dorm Road near Towers
Jan. 30 –

11:55 p.m.

– light post near the HAWC
Jan. 31 –

5:48 a.m.

– near Towers
Jan. 31 – [time not disclosed] – near Smothers Theatre
Jan. 31 – [time not disclosed] – the construction site above Stotsenberg Track
Public Safety reminds everyone that escorts are available on the Malibu campus 24/7 by calling (310) 506-4442. To report a mountain lion sighting, call Public Safety at (310) 506-4441.
Instructions on what to do if you see a mountain lion can be found on page 86 of the Emergency Preparedness Guide, pictured below. To access the Emergency Preparedness Guide, log in to Wavenet and click the "Emergency Preparedness Guide" link in the box labeled Emergency Preparedness on the righthand side of the site page.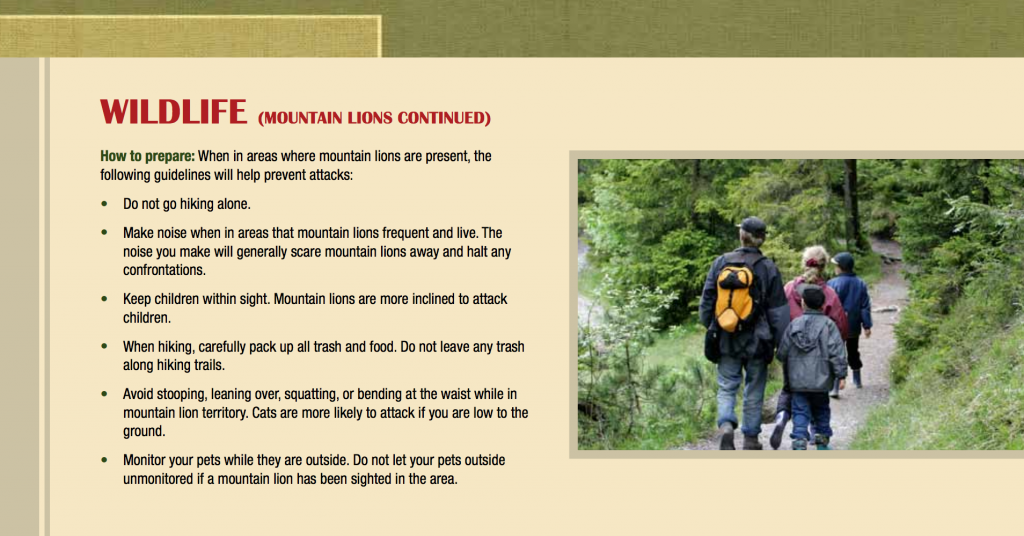 In the email announcement, Public Safety urges everyone to "please take the following actions if you encounter a mountain lion on campus:
Respect the animal.
Maintain eye contact and move away slowly.
Do NOT run. Running will trigger the

mountain

lion

's instinct to chase you.
Appear as large, loud, and powerful as possible.
If there are small children or pets present, pick them up immediately. Do NOT leave them unattended outside.
Do not approach the

mountain

lion

, leave space for the cat to escape.
In the unlikely event of an attack, fight back. Do not fall to the ground or roll into the fetal position."
The latest updates on emergency safety and breaking news on campus can be found on Pepperdine's emergency information site and on our Twitter and Facebook pages. We will publish further updates here as available.
__________________
Follow the Pepperdine Graphic on Twitter: @PeppGraphic