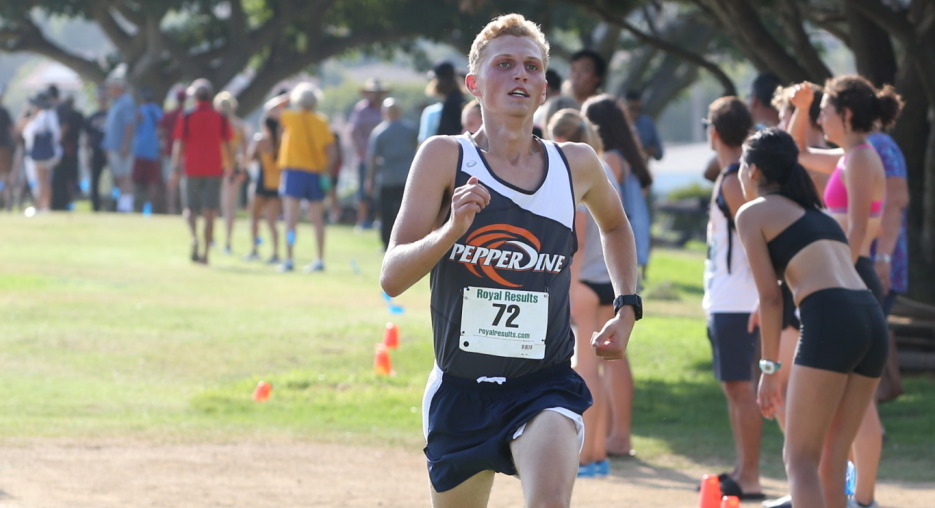 Photo courtesy of Jeff Golden
Competition heated up for the Pepperdine Men's and Women's Cross-Country teams this weekend as they opened their season with the annual Malibu Invitational at Alumni Park. Despite the extreme heat, the Waves were able to push through: The men topped CSUN (27-28) and Long Beach State (22-23) in the 5K, and the women defeated CSU Bakersfield (22-37), CSUN (23-24), and USC (24-31) in the 4K.
"We had some really nice competition," Head Coach Robert Radnoti said. "We [the women's team] beat three teams including USC which is pretty exciting, so we can use that to build momentum," said Radnoti, who is in his 12th season at Pepperdine as the head coach of both the Cross-Country and Track and Field teams.
VIDEO | Here are post-race interviews with @CoachRadnoti, Kyle Johnson and Abbey Meck! #WavesUp pic.twitter.com/G84uMDfglS

— Pepperdine XC/Track (@PeppXCTrack) September 2, 2017
At the front of the pack on opening day were freshmen Abbey Meck and Kyle Johnson, who both posted fifth place finishes in their first-ever collegiate meet. Meck finished with a time of 15:04.90, and Johnson finished in 15:59.86.
Abbey Meck is the top-finishing Wave in the women's race! #WavesUp pic.twitter.com/5UmbPmo24k

— Pepperdine XC/Track (@PeppXCTrack) September 1, 2017
Unfortunately, the Waves were missing several of their top runners during the invitational, including junior Nick Heath and senior Kevin Maeda.
"I challenged our guys to step up out there," Radnoti said of the freshmen and sophomore athletes who competed. "I think they ran really well. It speaks very well for the season to come and we're pretty excited about that."
On the women's side following Meck, the freshmen continued their domination. Pepperdine's second through fifth runners were all freshmen: Lindsay Sanger finished 10th with a time of 15:34.29; Emma Battin followed in 12th place at 15:45.04; Cassidy Aberson was next, finishing in 22nd with a time of 16:17.55; and Amanda Stahl finished up the pack of freshmen coming in 23rd place at 16:19.76.
For the men, the underclassmen carried the team as well. Freshman Justin Touhey followed finishing eighth at 16:08.09. Freshman Tim Wells, came next in 11th place with a time of 16:16.60. Sophomore Jalen Frantal was the fourth runner for the Waves and finished 15th with a time of 16:29.48. Freshman Preston Gromer came across the line as the fifth runner placing 18th at 16:39.89.
The underclassmen are stepping up to the plate this year and providing the depth needed for a great team Radnoti explained. The roster is extremely young across the board and extends past the top five runners; 12 of the 14 men are freshmen or sophomores, and 21 of the 23 women are underclassmen as well.
Moving forward into the rest of the season, Radnoti hopes to build on the momentum from this first competition and bump those first five runners up a few spots in the coming meets.
"We're going to stay consistent with our training," Radnoti said emphasizing the importance of scheduled and organized runs every week. "The team has been running really well and really hard in practice. We just have to keep them healthy, make sure they're resting appropriately and running hard."
"We want to turn our team into a group of greedy racers." Radnoti said.
Up next, the Waves will head to the UC Riverside Invitational on Sept. 16 at 7:30 a.m.
_____________________________
Follow Sam on Twitter: @sam_marlott