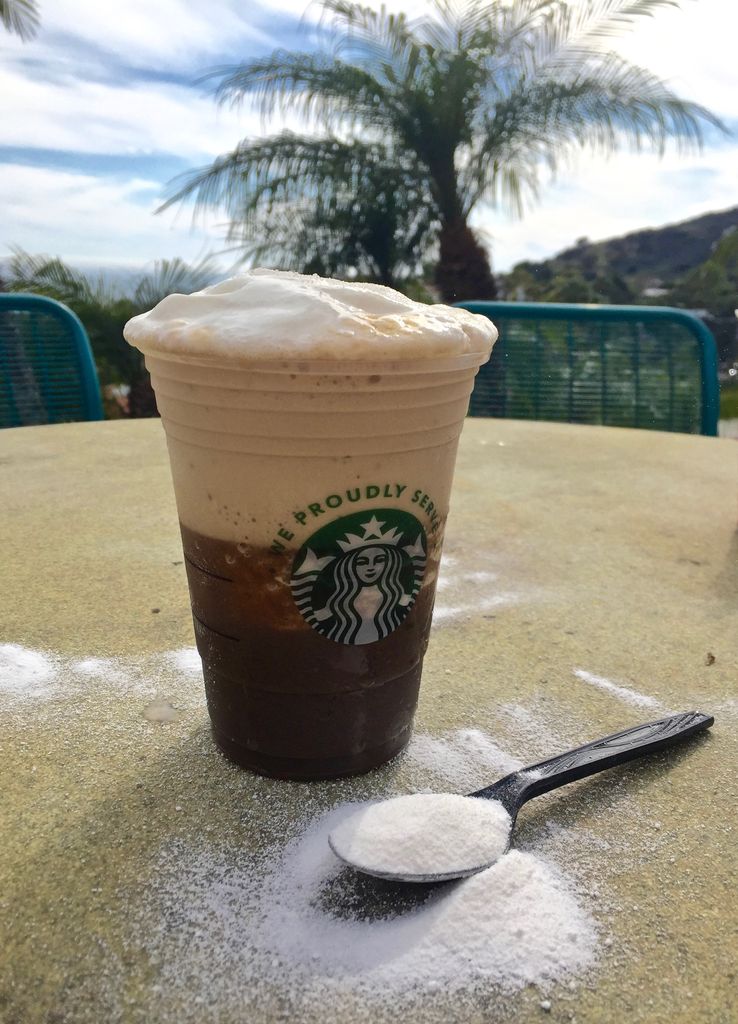 Photo by Nicola Wenz
Every day, Pepperdine students consume the sugar-infused Frappuccino drinks that are sold around campus. Consuming too much sugar can cause severe health effect such as cavities, weight gain, high blood pressure and, in the long run, Type 2 diabetes or even heart disease according to the Oct. 21, 2015 article, "What happens to your body when you eat sugar?" written by Dr. Joseph Mercola and published on Mercola.com.
The impact of sugar on college students depends based on factors such as physical activity levels or regularity in terms of how often you consume a sugary drink. Too much sugar is bad for you, and students at Pepperdine might be getting more sugar than they think they are. So how much sugar is too much?
For senior Anaka Osborne, counting calories is time consuming. Osborne said she leads an active lifestyle and usually gets a tall Frappuccino once every two weeks.
"I don't like to do straight-up coffee, so I feel like I need those [mocha and vanilla bean] flavors," Osborne said. "It doesn't really do anything for me. I don't drink them to get energy, so that's good. I have a fairly low caffeine intake, so caffeine really doesn't have an effect on me like most people. It doesn't keep me up. It doesn't make me crash. It's kind of just there. Also, Frappuccinos seem fun to drink."
A Frappuccino is a smooth and creamy frozen caffeinated drink that is sold by Starbucks. It can be blended with any type of sugar syrup (including strawberry, caramel or chocolate) and is often topped with a swirl of chilled canned whipped cream.
To put the amount of sugar in a Frappuccino into perspective, one teaspoon of sugar (4.2g) has, on average, 16 calories, according to the United States Department of Agriculture. This means that since a tall Vanilla Bean Creme Frappuccino with whole milk and no whipped cream has 39g of sugar, that accounts for 149 calories added purely from sugar. A Caramel Frappuccino has 41g of sugar, which adds 156 calories to the drink, and a Java Chip Frappuccino has 44g of sugar, which adds 167 calories, according to the official Starbucks website. Forty-four grams of sugar is the equivalent to a minimum of 10 teaspoons of sugar.
Hannah DeWalt, health and wellness education coordinator at Pepperdine, works with students to investigate and gather information on their health and fitness. This includes recording sleep cycles, observing calorie intake and verifying stress levels.
"If you're going to have coffee, preferably not after lunch," DeWalt said. "The way your brain works is the whole rest of your body has a lymphatic system to clean waste out of your body. Your lymphatic system doesn't go to your brain, so the only way that you clean waste out of your brain, that accumulates during the day, is when you sleep at night. At night, your blood vessels basically act as a pathway or a trail for spinal fluid to travel along and clean out waste. You only experience that in deep sleep. Caffeine masks that feeling. You should be able to have a good enough sleep to clear and refresh your brain."
In addition to worries about caffeine, the sugar content of sweetened coffees is a cause for concern. Thirteen percent of the total calories we eat come from added sugar, according to an article written in 2013 by The Los Angeles Times with information taken from the U.S. Centers for Disease Control (CDC) and Prevention. The article also said that overall, from 2005 to 2013, men consumed an average of 335 calories from sugar per day and women consumed 239 calories.
This is a problem because sugary items often displace fruits, vegetables and other foods that contain essential nutrients, according to the CDC report. The report also said that sugar-sweetened soda is the single biggest source of added sugars in the American diet, with beverages accounting for one-third of added sugars in comparison to two-thirds from food.
Professor of Sports Nutrition Sunnie DeLano focused her studies on childhood obesity and the impact that sugar has on the human diet.
"A lot of people will say 'I'm on a sugar-free diet' or 'I'm not eating sugar,'" DeLano said. "What they don't realize is that there is sugar in almost anything we eat naturally. You can't forget that the brain's No. 1 energy source is glucose. Glucose is converted from carbohydrates and sugar. It would be very difficult to truly eat no sugar, and I wouldn't tell people to limit their fruits. I would simply tell people to limit their Frappuccinos because that's an added sugar."
Frappuccinos are filled with added sugars and knowing how much is inside your drink is always good. If you are interested in knowing more about the how much sugar is found inside your Frappuccino, go online to the official Starbucks website to find out more about the nutritional information.
_________________
Follow Nicola Wenz on Twitter: @Nicocowenz7