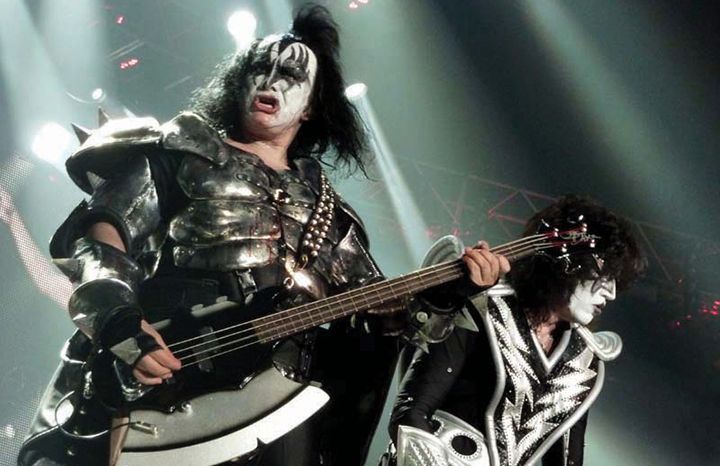 Photo Courtesy of Give Me Gimmicks
Gene Simmons, the famed member of the band KISS, may be thought of by some as purely a "rock god." While he is the "God of Thunder," there is a brain under all his make-up. In light of the recent release of his new book, "Me, Inc." here's a few reasons why Gene Simmons is still relevant and should not be underestimated.
A Philanthropist:
Simmons is a huge advocate for giving back your time and talents. He believes once you make "big money" you should take it and invest it into making new jobs which in turn stimulates capitalism. Yearly, he supports 1,200 Zimbabwe children to have warm meals and be adequately clothed, but this is coupled with the stipulation that they must attend school to receive this aid.
Simmons is a known supporter of the non-profit ChildFund International's work. ChildFund International is a child development organization. Their mission statement consists of "help[ing] deprived, excluded and vulnerable children living in poverty have the capacity to become young adults, parents and leaders who bring lasting and positive change to their communities." Also, they wish "to promote societies whose individuals and institutions participate in valuing, protecting and advancing the worth and the rights of children." Regarding his travels to afflicted regions, Simmons said, "It's a stark reminder that life doesn't treat everyone the same." Simmons and his family received the MEND Humanitarian Award in 2013 for their volunteer efforts and support for Mending Kids International.
A Philosopher:
John Varvatos, in his forward to Gene Simmons new book "Me, Inc." states that Simmons has a lot of "hard-learned wisdom." Simmons has many pearls of wisdom that can be beneficial for people ages 18–80. My personal favorite is when he quotes Benjamin Franklin's, "A penny saved is a penny earned." Simmons disagreed and said, "A penny saved is two pennies earned," due to the fact "any penny that you save and get to keep is a penny you already paid tax on. Which means that, at the highest tax rate, you would have had to earn two pennies in order to have one penny remaining."
An Immigrant:
Born in Haifa, Israel, in 1949, Simmons came from humble beginnings. His mother Florence was a survivor of a Nazi concentration camp. While escaping Nazi Germany to go to Israel, she met her future husband and Simmons' father. When Simmons was only 7 years old, his father walked out on their family, leaving his mother to provide for herself and Gene.
From 1949 to 1958, they lived together in a one-bedroom apartment where the walls were littered with bullet holes from Israeli-Arab conflicts throughout the years. Simmons lacked many of the things we take for granted each day. He had never heard of a TV and all the rationed food in Israel lacked a brand name. He has even mentioned in his biographies that he did not understand the concept of toilet paper until he and his mother finally left Israel for New York where he discovered the miracle of "Wonder Bread."
An Entrepreneur:
Simmons himself will be the first to tell anyone that he's under/unqualified to be in any one of his ventures. He's written, "If I was an employer and was handed my resume, I wouldn't hire me."
But similar to the country he loves so much, Simmons is a melting pot. He has served as Liza Minnelli's manager and launched his own record company, both in which he had zero expertise. From there he went on to serve as a co-founding partner at Cool Springs Life (Life Insurance). Apparently, co-founding companies is popular for Simmons. He has been a co-founding partner for companies like Ortsobo, Simmons/Abramson Marketing (he created the I AM Indy marketing campaign) and Rock & Brews restaurants.
Simmons, publishes all of his own books under his own publishing company, Simmons Books. He has co-produced the motion picture "Detroit Rock City," loosely based off the band KISS. Although he has little to no experience in most of these aforementioned investment ventures, he's never afraid to try his hand in different fields.
A Chameleon:
Simmons may be the most diverse man in America today. As an avid comic book geek, Simmons has written his own, called Simmons Comics. He also has starred in many series, as his likeness has been seen fighting against the evil-villain Dr. Doom.
Due to his typing and stenography skills, he was able to land a job at Kelly Girl, Inc. (now Kelly Services, Inc.) following his graduation from high school. While working his downtown Manhattan Kelly Girl job typing and taking steno, he also worked the nightshift on Wall Street at the Williamson & Williamson law firm.
Fast fowarding to college, he worked not only in the Zakarin Brothers warehouse but also as a lifeguard, playing with his college rock band Bullfrog Bheer and started his own note-typing business, which was a roaring success. Any odd job you can name, chances are Simmons worked it. My personal favorite jobs were his stints working for fashion magazines Glamour and Vogue.
While he may come off as ignorant, Simmons truly is a savvy business man. Anyone could benefit from a few tips from this mogul. You'll be hard-pressed to find anyone that has the track record and success that Gene Simmons has garnered. To learn more about Simmons and his advice to others on how to invest in yourself, check out his new book "Me, Inc.," on shelves Oct. 21.
__________
Follow Madison Harwell on Twitter: @mad_har