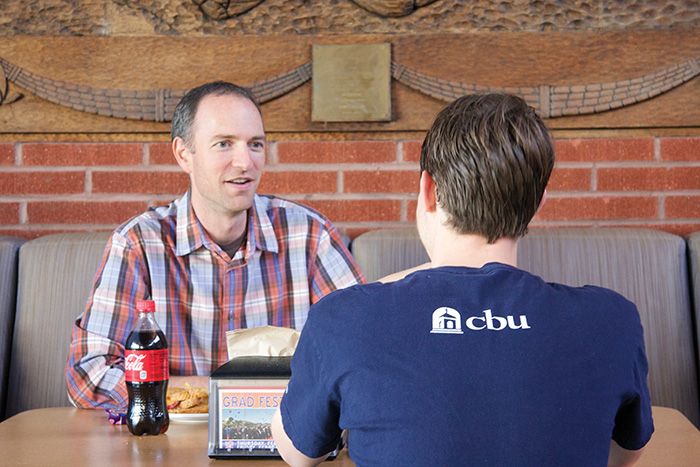 Photo by Sylvia Hartley
Students and faculty/staff can spend quality time outside of their work and classroom lives through Pepperdine's Dine with a Student Program. The program allows a faculty/staff member and a student to share a meal worth up to $15 at the Caf for a once-a-week use. The sign-up sheet and one-time-use meal card are available at the Career Center.
Assistant to the Dean of Student Affairs and program administrator Oksana Boiko explained the funding and purpose for the program. "This program is funded by the Student Enrichment Fund, which strives to encourage community between students and faculty and staff," she said.
Boiko explained how the funds are used program. "The program funds usually go towards the faculty or staff members but can be used between the student and faculty/staff," she said. "It's an incentive for the faculty and staff to use to get to know their students or student workers better."
"Faculty and staff are presented the program during retreats and New Faculty Orientation," Boiko said. "It's a very popular program among [them]."
Natural Sciences Professor Stephen Davis said he uses the program once a week. "[It's] quality time that we have come to depend on and appreciate," he said.
Davis also explained the importance of this "quality time" around a meal. "Conversations around a meal enlivens a mentoring relationship," he said. "It provides the time and space with a panoramic view of the Pacific and a cross-section of students, faculty, staff and administrators."
Youth Minister and University Church Staff Member Dusty Breeding said he also uses the program weekly. "Through 'Dine with a Student,' I've learned that the best way to get to know someone is over a meal," he said. "There's something special about the ability to sit across from someone, disconnected from technology for a moment and to look at them face to face while interacting."
Breeding also described the added benefit of the meal cards. "Since lunch in the cafeteria is expensive and most staff/faculty don't have meal plans, the lunch card is a great blessing to us," he said.
Although the program exists as an incentive for faculty and staff, students are the driving forces in making these appointments happen, but they often don't know about it.
History Professor Darlene Rivas shared her speculations on why the program has not been a staple of the Pepperdine experience. "Maybe, I'm speculating: In part this is because lunch tends to be pretty busy for a lot of professors who use that time of the day for prep time, teaching or because they meet other ways," she said. "Students are probably not that aware of it, and professors, who are the ones who would most likely initiate the invitation to get together to eat, may forget about it."
Student Employment Office worker and senior Jamille Lockhart has participated in the program with her co-workers. "It's a nice way to get to know them better," she said. "I've been able to foster good relationships, talk about life and get a good perspective through it."
Junior Kelsey Oleson, who said she uses the program once a semester, shared the benefits from her experiences. "You get quality time with your professors who can provide insight into life issues outside of classroom material because of their life experience," she said.
__________

Follow the Graphic on Twitter: @peppgraphic