Six hours after the Borderline Bar and Grill Shooting, freshman Alaina Housley remains missing. She was last seen on the dance floor right before the gunman opened fire. She has not been heard from since.
Housely's uncle, Pepperdine alum and former Fox News reporter, Adam Housley, spoke to the LA Times, saying: "My gut is saying she's inside the bar, dead. I'm hoping I'm wrong."
Alaina Housley's watch and phone showed her location to still be inside the establishment.
Alaina was one of nearly 20 Pepperdine students who were at Borderline when the shooting occurred Wednesday night. It is unknown how many students were injured in the shooting.
Recently, Alaina Housley was quoted in a Graphic article on Waves Weekend and alumni: "I personally like having [alumni reunions and parents' weekend] combined because it's cool to see all of the generations kind of coming in. But I also haven't experienced it as a student, so that I might feel differently afterwards. Like I might just want a parents' weekend."
Alaina's mother, Hannah Housley, posted on Facebook at 6 a.m. Thursday that she is flying into California right now, and that Alaina has not been in touch.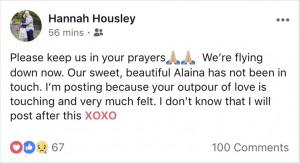 Last updated: 7:58 a.m.