Photos by Marisa Padilla
The 21st birthday of Dance in Flight is worth celebrating.
Dance in Flight productions are usually outstanding, but this year the company has completely outdone itself.
Today the opening performance is at 8 p.m. and will run through the Saturday evening. It's a time for students to come together to watch their friends and peers perform two hours of incredible dance and entertainment.
The theme this year is one almost anyone can resonate with, cinema. Student director of DIF, senior Haley Kiss, said the company played off the film they produced over the summer.
Before the show even begins, the audience is able to engage with the drive-in feel by playing pre-show trivia.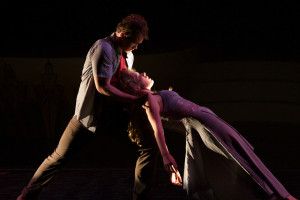 Once the lights turn down and the stage begins to awaken, the show explodes with energetic dancers portraying all aspects of cinema. The stage is filled with an old Hollywood theme, featuring Marilyn Monroe, fans and producers. IMDB classics are transformed into expression of dance. Emotions usually shown on film are expressed through fluid body movements the audience can feel.
Whether your favorite movie falls under bloody action, gut-wrenching drama, terrifying horror, feel-good comedy or the guilty-pleasure romance section, DIF provides it all.
"It makes it fun because it allows different kinds of dance," sophomore Constance Egli said. Fun and variety are definitely strong elements of this year's production.
An important aspect of DIF is its ability to give students an outlet of creative expression that they may miss since Pepperdine has no dance major. DIF is formed from every major possible with the commonality being each student's desire to have a creative outlet.
Being part of DIF for more than half its existence, director Bill Szobody continues to enjoy seeing the show bring an "eclectic group of dancers" together. DIF allows young dancers to be part of a creative community in which they can grow and express themselves in a beautiful manner.
For many of these dancers it has been a long time since they have seen a stage and DIF gives them the opportunity to enjoy performance again, freshman Marie Millot said.
"Dancers get one moment on stage to portray emotions that are so fulfilling," Kiss said. "This show allows [us] to express specific emotions because of the nature of different genres this year."
Differences can be seen this year compared to the rest. Cinema isn't only the overarching theme; technology is incorporated throughout the entire show, whether it is video clips or quotes playing side by side the dancers. This visual audio effect enhances the movement of the dancers and the show becomes "more than just dancing," Kiss said.
These different visual elements grab the audience's attention and set the audience to the edge of its seat in anticipation for what film or genre will come next. It's an exciting part of DIF that sets the tone for the dancers and helps the audience connect on a different level.
Diverse nature is a reoccurring component of this year's DIF performance, which Szobody describes can be a "mirror into culture" as it portrays the diversity of dance.
Every year the company begins training well before the opening act. Auditions were held in September and practices followed closely afterward. This span of time has allowed the dancers and directors to become a family and community working hard together in order to produce the best show they can. "There is a crazy amount of talent and hard work to be seen," junior Tyler Burk said.
Millot reiterates this: "the community achieved through bonding and hard work" are some of her favorite aspects of DIF.
Giving its creative and diverse background, DIF immediately becomes a "communal effort between directors, choreographers and dancers, which brings a specific style of art," senior Jade Brice said.
Diversity, community and expression. Those three words cannot be stressed enough when discussing Dance in Flight. The show is composed of talented students who grow together in order to provide an event that touches its audience without words. It's "touching and personable as well as spectacular visually," Burk said.
Audiences should expect to be excited and impressed with what these students have produced out of passion, hard work and dedication.
Watch these students come together to present a show filled with an array of talent, immersed with energy and engaging performances.
__________________________________________________________________
Follow Ashlie Benson on Twitter: @ashlie_corina