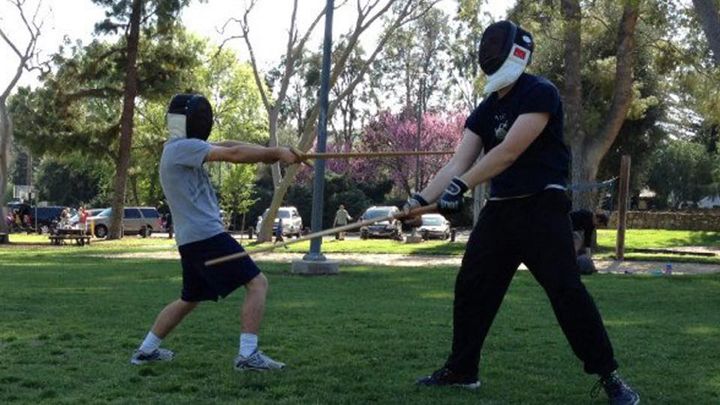 Photos courtesy of Kevin Hoffman
Junior Kevin Hoffman is not only double majoring in History and Economics, but he also spends his free time researching historical coins, learning new languages, writing papers on the chivalric code and participating in historical fencing. This Newport Beach native enjoys participating in all things historical.
Hoffman explained how language is a huge part of his life. As a boy, his parents put him in a French school in Fountain Valley, California in order to completely immerse him in the language. As a result, he is fluent in French.
"They spoke French," Hoffman said while recounting his experience at a French school. "And if I wanted to talk to them, I spoke French."
Hoffman studied abroad in London, England his sophomore year and was able to visit France to put his knowledge to good use.
"It's comfortable and it is confidence inspiring," Hoffman said while explaining what it's like to be able to converse with French people in their native language. "It doesn't feel too different from speaking English when I get back into the swing of it."
During high school, he chose to take Spanish as an elective, so he also speaks Spanish. During his free time, he decided to learn Greek after his parents discouraged him from learning Latin. He is able to read New Testament Greek and claims to understand English grammar rules better as a result. Taking his knowledge of language to a further level, he is currently learning Arabic and German through Rosetta Stone, and he plans to learn Latin in the future.
Hoffman explained how his love for history and language coincide with his interest in old coins.
"I really enjoy the way language in particular moves," Hoffman said. "And I see that language moves very well with money because a merchant has to be able to communicate. And if the merchant can communicate, then the language will take root."
He said he views coins as the basis by which cultures were blended and languages were created. He said this aspect of history is what grabs and holds his attention the strongest.
Hoffman dates his love for historical fencing back to his junior year of high school when he attended a week-long camp that focused on recreating the Middle Ages. There he was introduced to historical fencing. During his freshman year here at Pepperdine, he joined a historical fencing club.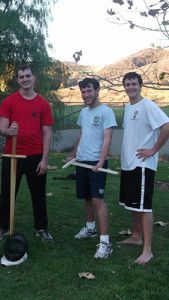 For those who are unfamiliar with historical fencing, it differs from modern fencing in the rules and the instrument you use. In the more familiar modern fencing you use foils, which resemble a car antenna. However, in Hoffman's style of historical fencing you fight with a waster. For clarification Hoffman compares a waster to a baseball bat.
His love for fencing has only grown as he continues to learn about the rules and customs that go along with the fencing culture. He explains how chivalric code and the fighting treatises take historical fencing from a fun pastime to a way of life.
Hoffman said his plans for the future include teaching history, underwater archeology and inventing his own language. He is working on combining his three loves of language, history and money into a creative outlet.
"Worlds exist in my head," Hoffman said. "I know the history of worlds that don't exist."
He said he hopes to be able to translate those worlds into a book.
Hoffman said he plans on spending this summer at an archaeological field school in Peru learning to dig and strengthening his Spanish.
__________

Follow Olivia Losoya on Twitter: @oliviakayel