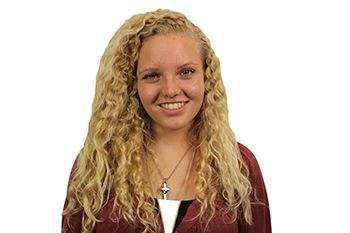 If you Google "best college majors," virtually every single list — whether it is based on salary, demand, fulfillment or enjoyment — contains computer science or some branch thereof.
Yet the computer science program at Pepperdine is only a contract major, meaning students only take about half of the required classes in computer science and the other half in math. Because these core computer science classes are theoretical, and practical applications courses are not available, students aren't getting the experience they need to excel in one of the most financially lucrative and in-demand careers currently available.
The students of the computer science program have been lobbying this semester to expand the program into a full-fledged major, according to senior Ashley Broadwell, who — along with sophomore CJ Gaspari — has been spearheading the push to get the administration's attention.
Broadwell said she and Gaspari have talked extensively about how few computer science classes are offered at Pepperdine.
"We have great theory classes, but we don't have any applications courses," she said. "We don't have database courses, we don't have web-development courses, and we don't have app-development courses, which is pretty much what a full-time developer would use. So all of us applying for jobs are finding that we're pretty ill-equipped in terms of experience just in handling that kind of stuff."
Because of the importance of computer science in today's increasingly-technological world, the major is growing — despite the lack of classes and professors, according to Gaspari. In Broadwell's freshman year, there were only five people in the contract major, she said. Now there are 26.
One of the two full-time computer science professors, Stan Warford, said he was already working at Pepperdine when the computer science and math joint program was set up. Warford said there have never been more than two professors at any one time. The other professor — who is currently Brad Cupp — is usually an adjunct or visiting professor.
Warford said the program is growing fast, and Pepperdine isn't keeping up. "There has been a national resurgence of computer science majors because employment prospects are better for the STEM subjects (science, technology, engineering, and mathematics) in general and computer science in particular," Warford wrote in an email.
He wrote that enrollment in the joint major has tripled in the last few years.
"The thing I don't think our administration realizes is how atypical our program is," Warford said. "I have some colleagues I see regularly at these annual conferences, and for a school our size, it's very unusual."
Warford said his colleagues work at other liberal arts colleges with about the same student populations or fewer — sometimes as few as 1,600 students — that have computer science programs with about half a dozen faculty members.
Warford gave Oberlin College as an example. Oberlin is a small liberal arts college with only 2,300 students compared to Pepperdine's 3,200.
"They have 16 biology faculty; we have seven," Warford wrote. "They have 12 chemistry faculty; we have seven. They have 10 physics faculty; we have three. Oberlin has six faculty members in computer science and offers a full degree. We have two faculty members and do not offer a full degree."
Though Broadwell, Gaspari and other computer science students agreed that Warford is a great professor who does as much as he can for his students, the limitations of having just one professor still hinder the students' growth.
"It puts everyone at a disadvantage because you're not getting so many people's experience," Broadwell said. "You need different teaching styles to learn different things."
Broadwell said she has encouraged the computer science students to write letters to Dean of Seaver College Rick Marrs and Natural Science Division Chair Rodney Honeycutt to encourage them to expand the program. At least 10 students have written letters, including Gaspari.
"I have no doubt that Pepperdine is committed to excellence; I see it everyday," Gaspari wrote in his letter to Marrs and Honeycutt. "However … by holding the program back, in an antiquated curriculum, not only is it a disservice to its current and future students in their future careers, it is a disservice to the university as a whole … The university needs to embrace change and expansion wholeheartedly, as it will push the school to new heights, new rankings and new innovation."
According to Broadwell and Gaspari, Marrs and Honeycutt have responded by referring the students to Warford in order to expand the program. Marrs and Honeycutt both declined to comment and referred the Graphic to Warford as well.
Warford said he has been trying to expand the program for years, though this particular venture is completely student-led.
"I'm not the one who makes the resource-allocation decisions," Warford said. "I think the division chair is sympathetic, but it seems that every time we try to expand the program, the problem is the people who make the decisions about the resources. We don't have enough space. It's a matter of resources. Space is money."
But Broadwell said she believes expanding the program is on the agenda.
"I think it just keeps getting pushed off because of space and money," she said. "But at some point, we have to make a change. There's no business today that doesn't revolve around technology. It'd bring a lot more revenue to the school. There'd be more people interested, and maybe we'd have some big shots come out of here."
Broadwell said she has met freshmen who are planning to transfer because of the lack of resources in the computer science program. She said she has tried to develop relationships with them and help them teach themselves what they need to know, but the program's limitations are still causing the school to lose students.
"To hear that they're transferring because they're not getting everything they need here is sad, because I love Pepperdine," Broadwell said. "I am so happy with everything about this school except for the lack of classes they have."
Gaspari said he wouldn't have even attended Pepperdine if he had known how few classes were offered.
"Every prospective student that looks at this school and sees that they don't offer a full major switches to the next school," Gaspari said. "Had I known that, I would not have come here. I love that I'm here now, but it's unfortunate that we don't have a full major."
Warford said most of the computer science majors, including Broadwell, switched into the program after taking the intro course and realizing how much they enjoyed it.
"That's the way we get students into the program," he said. "Because frankly, with this small of a program, if you want to do computer science before you come, you wouldn't come."
One of the biggest problems with the classes is that the students are only learning one computer language, even though job interviews usually require the applicant to list at least three or four, according to Broadwell.
Because computer processing is so complex and abstract, it is necessary for programmers to learn languages, like C++ and Java, so they don't have to memorize binary, which are series of zeros and ones, Broadwell said. The languages are literal languages, with different syntax and varying levels of similarity and difference — like English compared to Spanish or Chinese.
Since the students aren't learning the information they need, they are prevented from succeeding in their field as much as they could.
Broadwell, for example, had a 12-week internship with Amazon, and she had to spend the first half of it learning four new languages. She said they were shocked at how few classes she had taken, and at first they thought she was behind because of her own choices — not because of the limited class options. She said at that point, she had taken every elective Pepperdine offers, but it wasn't nearly enough.
"After I picked it up and taught myself everything, I was excelling far beyond the other interns," she said. "But I had so much of a gap in the beginning that I think that it probably would have hurt my prospective job application had it been a shorter internship."
Amazon ultimately hired Broadwell, she said, but only because of her drastic, self-taught growth.
"I am going to be a software development engineer for Amazon, and I'm lucky because they saw how much I had grown, and to them, that was the key," she said. "But if had I just gone in and had an interview, there's no way I would have been able to get it. It's because I had an internship, and I had 12 weeks to show extreme progress. But interview wise, I wouldn't have been able to get a job."
Senior Oscar Velasquez said he, too, had the same problem with lack of basic experience. He is doing a contract major of computer science and business because he said he felt unequipped to be a programmer.
He said he was able to receive an internship at a Think Tank in Montana, but only because only two people applied for the position, and both of them got it. But he said he went in knowing next to nothing.
"I had to teach myself all the web and database languages, and that was really hard," Ortiz said. "I didn't start doing anything until the fourth or fifth week of the 10-week internship. If I had taken some sort of class about languages before, I would have done a lot better in my internship."
Ortiz also said he added the business part of his contract major because he wanted to stay an extra semester as an undergraduate so he would have more time to teach himself the information he needs to know.
"You have to do your own coding to get a job after graduation," Ortiz said. "You have to have a portfolio and specialize in a language. We can't do that here, so I tried to avoid graduating because I wanted to have much more time to get more experience and learn more languages and become more efficient. Because I am not ready to graduate and get a job right afterwards."
As a sophomore, Gaspari hasn't begun looking for internships or jobs, but he said he thinks he will be at the bottom level of the applicant pool. "I wouldn't even have the knowledge needed to program a simple iPhone application," he said.
But none of that is to say the computer science program is hopeless.
Despite the limitations of the program, there have been several successful alumni who now hold doctorates in computer science and work for corporations like Apple, Amazon and Google, according to Warford.
"We have people everywhere," Broadwell said. "But imagine if we had much bigger classes. Think of how many people would be graduating and being successful. It's got to say something good about our program that we're already having this many people that are hired."
Warford said what is offered in the joint major is strong. "However, without a full major in computer science, there will always be gaps in the knowledge and skill sets of our graduates," he said.
Gaspari said he cares deeply about Pepperdine, which is why he is advocating for an expanded program. "I love this school, and I want it to be the best that it can be. I don't understand why they don't want to expand and be better than they already are, why they don't want to compete with Stanford and any other university. We shouldn't be having to do this. The school should realize we're not up to the times, and we should update our program."
Gaspari said if people would like to sign a petition or write a letter to the dean, the computer science students would be appreciative. Send an email to ashley.broadwell@pepperdine.edu if you would like to get involved in the push to expand the program.
_____________________________________________________________________________
Follow Falon Opsahl on Twitter: @FalonGraphic