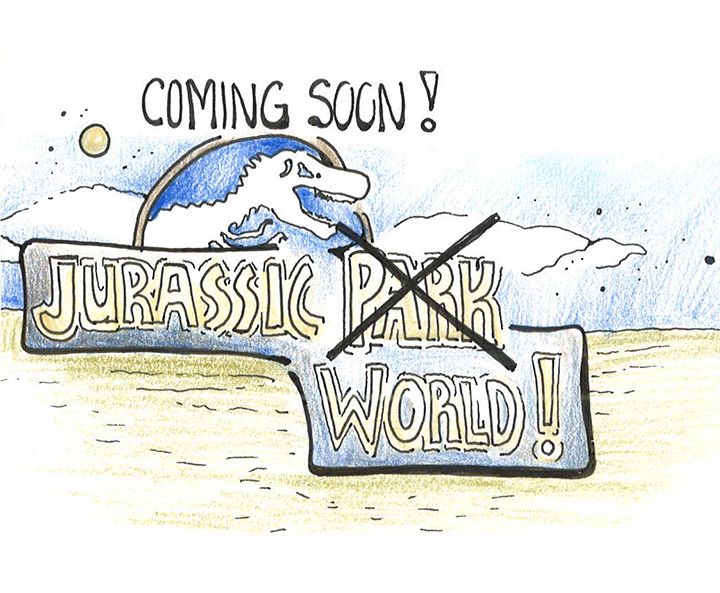 Art by Christine Nelson
Hollywood producers are well aware that films with built-in audience knowledge have made more money than any other type of movie in the last couple decades. Thus far in 2015, the highest grossing film is "Jurassic World," the fourth installment of the Jurassic Park series. Additionally, this year, only two of the 10 highest grossing films are original works not based on preexisting content. Original films, for whatever reason, are not making as much money as reboots. As much as some of us might be sick of these films, they are here to stay. Hollywood is an industry based on income, and films based on others' works make the most money for the studios.
All of this leaves us with the problem of sorting through these films to find what is worth watching and what isn't, which can quickly become subjective. Take, for example, "Jurassic World;" some people loved it for its grand spectacle and for Chris Pratt's performance, while others hated it for being an awkward, exploitative sequel reboot hybrid.
What I've come to is one simple question posed to these films: Are they replications or innovations? By this, I am asking whether a particular film is just a newer version of the original film, or is a film taking the characters and ideas we know and love and creating something new from them.
Now, I'm not saying that this is a perfect way to solve this problem. But I do think it's a pragmatic way for us to sift through these types of films coming out. There isn't anything wrong with taking a great film and trying to expand on its ideas and characters. There are countless examples of films that did this expertly — think about "The Dark Knight" or "The Empire Strikes Back." But there are also plenty of examples of sequels or remakes that took a great film and adulterated it with horrid content (think "The Amazing Spider-Man 2" or the Matrix sequels).
What ruined these films is that they took an original idea and just tried to replicate it, instead of taking a great, original concept and looking at it in a new and innovative way. Where "Batman Begins" and its brilliant sequel "The Dark Knight" revolutionized what a Batman film could be, "The Matrix" sequels were overcomplicated reruns of the original film. In these cases, it's easy to draw this distinction between replication and innovation. But it gets harder when there are such high numbers of these types of films in theaters.
We need to be careful of crossing this line where we begin to excuse producers for giving us sub-par and lazily-created content that we don't want. As theatergoers, we are consumers, and like any consumer, we need to be wary of the products we consume. More so in this case, where there are so many fantastic indie films out every year (ex. "Me and Earl and the Dying Girl" & "Ex Machina"). So when Avengers 43 comes out, ask yourself this simple question before pre-ordering your ticket two years ahead of release: Is this film going to be a replication or an innovation?
__________
Follow The Graphic on Twitter: @PeppGraphic