The Pepperdine University athletic department is composed of a few hundred student-athletes who compete in various sports, all with different financial means and expenses.
The maintenance of Pepperdine Athletics costs a few million dollars per year, and each team has different financial resources. It is one of the largest costs Pepperdine undertakes per year.
Pepperdine is a Division I institution that does not have football, so the biggest expense and potential source of revenue is the men's basketball team.
The total operating expenses of the men's basketball team are $973,890, almost $600,000 more than any other athletic team at Pepperdine as of 2019, according to the Equity in Athletics Data Analysis report.
The next most expensive sport is baseball, with its expenses reaching $376,866. The least-expensive sports are Men's and Women's Cross Country and Track, with its totaling operating expenses reaching $51,404.
Pepperdine Athletics' total revenue for all sports is $23,609,320, and Men's and Women's Basketball make up close to one fourth of that revenue.
Recruiting expenses are $398,711, with the men's recruiting at $248,633 and the women's at $150,078.
Pepperdine Athletics remains in compliance with Title IX and NCAA regulations by having the ratio of male and female student-athletes the same as the student population of males and females enrolled at Pepperdine, according to the NCAA. Pepperdine's male student population is 42% and Pepperdine's female student population is 58%, which is the same ratio for student-athletes in athletics.
Women's teams receive $5,095,296 in athletic-related student aid and the men's teams receive $3,671,261. Women's sports at Pepperdine receive more funding because of Title IX, which measures individual athletes participation based on gender instead of the number of male and female teams at Pepperdine.
The NCAA establishes a maximum number of scholarships for each sport. The scholarships vary in number and athletic aid depending on the institution. Programs are either fully funded, partially funded or receive no funding.
"At Pepperdine, men's and women's basketball, women's tennis, and women's volleyball offer full scholarships. The remaining sports offer partial scholarships. All sports scholarships except men's and women's cross country/track and women's swim and dive are fully funded," wrote the Assistant Director of Athletics Roger Horne in an email.
Inherent Value of Intercollegiate Athletics
The value of a student-athlete not only enhances an institution's ability to bring in revenue, but it can also offer an advantage when applying for jobs.
Employers view college athletes to be goal-oriented, hardworking and self-confident, according to an article from USA Today.
Student-athletes are also more likely to graduate from their institution than non-athletes. The NCAA Division I graduation rate was 89% in 2019, which was the highest it has ever been, according to the NCAA.
While the idea of playing the sport an athlete loves and receiving an education for a significant discount is appealing, the NCAA structure, from a business perspective, has changed dramatically from when it was founded in 1906.
The NCAA is a non-profit its mission is to equip student-athletes to succeed in every area of life. The evolution of college sports from a small governing body to a corporate entity has been a slow but steady process.
Amateurism and Intercollegiate Athletics as a Business
College sports is now a multibillion-dollar business. Every year, the NCAA generates around $7.6 billion in revenue, according to an article from the Conversation.
Broadcast rights and marketing deals have changed the dynamic of college sports, as more institutions can spend more money on athletic aid, facilities, recruits and travel expenses.
The biggest televised college sporting event is the Division I Men's Basketball Tournament, known as March Madness.
March Madness generates $821.4 million in marketing and television rights and $129.4 million in championship ticket sales, according to an article from Zacks Investing.
However, football garners more revenue than the next 35 other sports combined at Division I schools. On average, football brings in $31.9 million in revenue per year for the NCAA, while men's basketball — the second-highest grossing sport — comes in second at $8.1 million per year for the NCAA.
65 of the 350 Division 1 schools in the NCAA are responsible for this revenue, which is fewer than 3% of Division I institutions. The 65 schools make this revenue from their men's basketball and football programs.
Schools like the University of Texas generated $182 million in 2016, and the top 20 programs in the NCAA have generated revenues over $100 million per year from 2016 to 2019.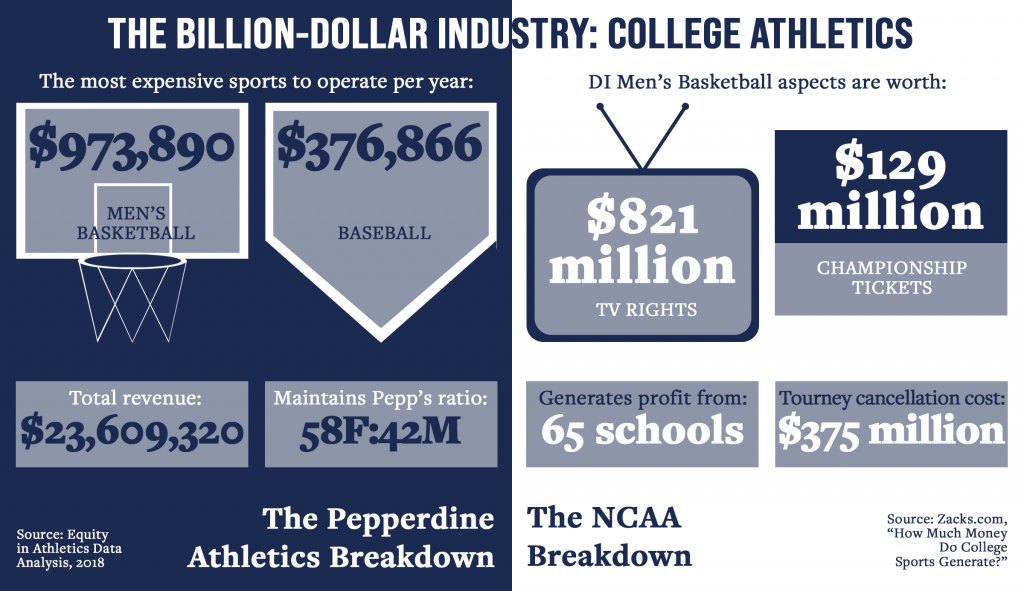 Despite these sums, the term "amateurism" defines student-athletes. While they are responsible for the product on the court or the field, they cannot profit off their talent or social status until they are out of the NCAA system.
Multibillion–dollar corporations like apparel companies and broadcasting companies are stakeholders in the business of the NCAA. What happens in college sports affects their company's operations and potential profit.
Zion Williamson was the number one pick in the 2019 NBA draft, and he played one year of college basketball at Duke. In Duke's game against the University of North Carolina, Williamson blew out his Nike shoe he was wearing. Later that day, Nike's stock dropped, according to an article from the Conversation.
Where the Money Goes
Coaches are some of the highest paid officials in institutions, as some are signing multimillion-dollar contracts.
The average institution salary per head coach for men's teams at Pepperdine is $193,035, and for women's teams it is about $115,380, according to the EADA.
Assistant coaches for men's teams is an average of $142,989, and for women's teams it is $64,426.
Coaches like Dabo Swinney of Clemson have massive salaries. Swinney, the head football coach, makes $9.3 million per year. Nick Saban of Alabama's salary is $8.6 million.
Facilities and recruiting are also big portions of athletic departments' spending, especially as they become more lavish and sophisticated.
In 2014, 48 schools combined for $772 million combined on athletic facilities, an 89% increase from $408 million spent in 2004, adjusted for inflation. Those figures include annual debt payments, capital expenses and maintenance costs, according to an article from the Chicago Tribune.
Football and basketball teams have practice facilities, professional-quality locker rooms, players' lounges with high-definition televisions, video game systems and luxury suites to coax more money from boosters.
During the 2018 fiscal year, public schools in the Southeastern Conference averaged more than $1.3 million in football recruiting costs, compared with public schools in the Big 12 ($961,981), ACC ($938,424), Big 10 ($855,437) and Pac-12 ($708,750), according to an article from the Courier Journal.
Financial Impact of COVID-19
The expenses and revenue of college sports has continued to climb steadily over the last decade, but COVID-19 has put many institutions in jeopardy of losing millions of dollars in revenue due to canceled sporting events.
The NCAA canceled all winter and spring sports in March. The men's basketball tournament was a few weeks from beginning.
The cancellation of this tournament cost the NCAA $375 million. The NCAA was set to distribute a total of $600 million to over 1,200 schools before the cancellations, but only distributed $225 million, according to an article from Market Watch.
Because most institutions do not make a profit, this multimillion-dollar contribution from the NCAA helps many athletic departments operate.
The West Coast Conference — in which Pepperdine competes — was looking forward to having three teams in the men's tournament. The financial benefit for the conference would have been large because every time a team makes the tournament or advances a round, its conference earns a "unit" to be paid out among its members, according to an article from the LA Times.
These "units" contribute to the operational budgets and provide an influx of money for the funding to athletic departments in the conference.
With the NCAA Board of Governors voting to move the fall championships to the spring, institutions are starting to suffer financially.
Since April, more than 250 teams in over two dozen sports have been eliminated across collegiate sports, affecting schools like Minnesota, Iowa, Connecticut and Dartmouth, according to an article from The New York Times.
In July, Stanford announced it would be cutting 11 varsity sports including men's wrestling, which had just won a national championship the year before. They also announced that 20 coaches would lose their jobs.
Student-athletes affected the most are the ones whose sport does not generate any revenue for the university such as track and field, swimming, wrestling and rowing, according to an article from USA Today.
Small institutions are having a tough time, but they have been able to weather the storm because their budget is significantly smaller than those whose revenue depends on men's basketball and football.
Schools within the Power Five conferences — Pac-12, ACC, Big Ten, Big 12 and SEC — risk massive financial loss.
Ohio State, home to one of the country's premier football programs, has over 40,000 students and a 105,000-seat football stadium. While ticket and concession sales are important, the real money comes from its national broadcast agreements. Last year, the school brought in more than $45 million in revenue for its athletic programs, according to an article from MarketPlace.
With the financial impact being so significant, institutions are desperate to forge ahead and have some type of fall sports season.
Three of the Power 5 conferences — the Big 12, ACC and SEC — are having a fall season. The Big Ten and Pac-12 originally postponed but are making a schedule for fall competition to return by Thanksgiving, according to an article by CBS Sports.
Positive COVID-19 tests are occurring in institutions all around the country. On Oct. 15, the No. 10 ranked Florida Gators put their football activities on hold after the school announced that the team had five new cases. They were scheduled to play LSU the weekend of Oct. 17, according to an article from ESPN.
Conferences also plan to allow fans to come into the stadium in some capacity throughout the season. Most schools will allow the stadiums to be filled between 20 and 25% of normal capacity with COVID-19 guidelines and social distancing in place, according to an article from Sports Travel Magazine.
The financial impact of COVID-19 on Pepperdine Athletics, other than the loss of NCAA money from March Madness, is not immediately known.
____________________
Follow the Graphic on Twitter: @PeppGraphic
Email Justin: justin.touhey@pepperdine.edu