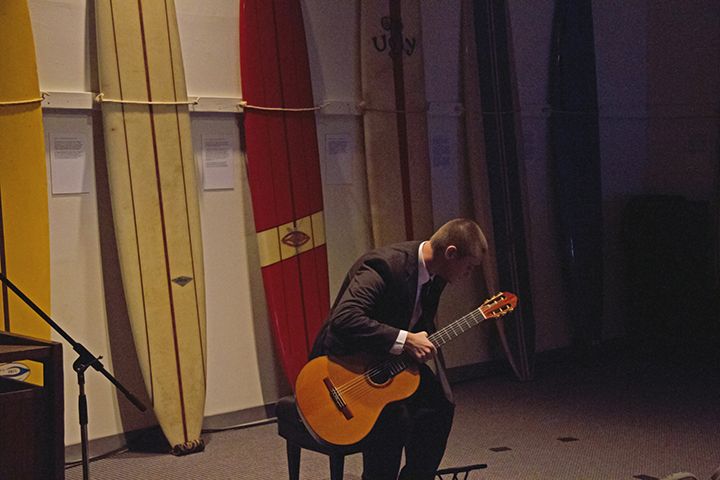 Photo by Monika Haskell
Sitting in the audience, blurred fingers race from one nylon string to the next.
While the library is usually associated with silence, Payson Library's Surfboard Room plays host to the melodies of the Classical Guitar Department under famed guitarist Christopher Parkening every second Tuesday of the month.
While all departments boast certain strengths, not every major is led by a world-renowned figure who has impacted the field as much as Parkening.
"It's a hidden gem at Pepperdine," senior Sebastian Olarte said. "He's the reason I came here."
Parkening is entering his 13th year as chair of Pepperdine's Guitar Department. Before Pepperdine, Parkening established himself as an elite performer in classical guitar. At 19, Parkening signed with Capitol Records. At 20, he signed with Columbia Artist Management and had more than 75 concerts on his agenda during the course of a year. His career flourished, sending him all around the world to perform. He has even performed twice at the Grammy's.
When Parkening began teaching at Pepperdine, he said he had the opportunity to be the department chair at UCLA. However, the values of Pepperdine are what made the choice easy, Parkening said.
Early in his career, Parkening said his goal in life was to retire by 30 and own his own ranch to enjoy his second passion — fly fishing. For a while, he did just that. But within one year of buying his ranch in Southwest Montana, Parkening said he realized he had become bored and empty, but he did not know why. It wasn't until he traveled to LA to visit friends and family that he realized he was missing inner faith.
It was a neighbor leaning over the backyard fence accompanied with an invitation to a sermon that changed Parkening's view of his place in the world. Prior to the sermon by pastor and radio host John MacArthur, Parkening said he "believed some facts about Jesus" but was not fully devoted to his faith.
After MacArthur's sermon, Parkening said he had a "great hunger for what the Bible had to say."
Specifically pointing to 1 Corinthians 10:31, he said he determined he could only "do" two things: fly fish and play guitar, and the latter seemed like the better option to pursue. He then rebooted his career after a four-year absence, but with a different purpose: "to honor [and] glorify my Lord and Savior, Jesus Christ," Parkening said.
Teaching at Pepperdine has allowed Parkening to pursue his walk with Christ while acting as a mentor for young musicians. With only 11 guitar majors at Pepperdine, students have access to intensive one-on-one attention, Olarte said.
In his studio guitar class, Parkening said he takes time to share stories about how God has molded his path. He said this freedom is one of the greatest privileges he has as a mentor.
Alongside teaching Christian faith, Parkening is able to devote time to making each student the best performer he or she can be. He said he asks his students, "What drives you? Success or excellence?"
To play the guitar with excellence, it takes self-discipline and perseverance, Parkening said. Quoting famous jazz musician Duke Ellington, "Life has two rules. No. 1: never quit, and No. 2: always remember No. 1," he said. Other ways in which Parkening says he mentors students include musicality, technicality, sound and stage presence. Parkening described the latter as "charisma and rapport that an artist has with the audience." Tuesday night's performance was one example students have that helps build Parkening's fourth component.
"It is fine and well to practice, but it is a whole different thing to play well for peers," Parkening said.
The students also said they think events like these help mold them. "The first part of trying to hone your skills as a performer is getting as much experience as you can," junior Brig Urias said.
The Classical Guitar Department will continue to host events every second Tuesday, with the next events on Oct. 14, Nov. 11 and Dec. 2. Other events open to the public include Parkening's master class held Sept. 20 at Raitt Recital Hall from 2 to 6 p.m. Students can also look for the fourth tri-annual international guitar competition where more than 20 nations will be represented.
Concert Schedule: Oct. 14, Nov. 11 and Dec. 2
__________
Follow Ashlie Benson on Twitter: @Ashlie_Corina