Producer Jon Cornick and Director Matthew Mendenhall pose with band members of the Chris Robinson Brotherhood at the World Premiere of "Greetings From Unicorn California."
Photos by Savannah Welch
Actors, directors, crew members and film enthusiasts flocked to City Hall on Saturday for the annual Malibu International Film Festival. The festival, established in 1997, is a yearly non-profit event for independent filmmakers to showcase their works to the public.
This year, the festival screened 13 original films, two of which were world premieres. Awards included Audience Choice Short Film ("The Liquor Store Incident") Best International Short ("Mandala") and Best of Festival ("Johnny Strange: Born to Fly").
A full list of official film selections includes "Porch Light," "Butterfly," "The Mustangs: America's Wild Horses," "Mandala," "Confessions of a Whittler," "Content Guidelines," "Cannonball," "The Liquor Store Incident," "Out of Malibu," "The Game Was On," "SK8FACE," "Greetings From Unicorn California" and "Johnny Strange: Born to Fly."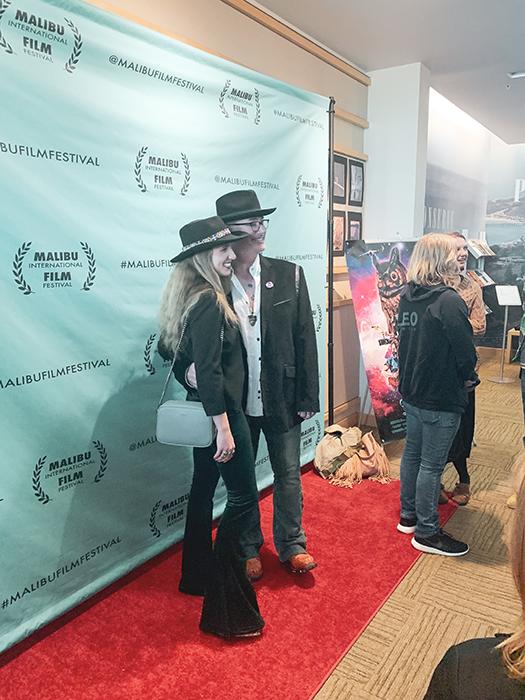 Festival founder David Katz said the event provides a unique experience for moviegoers.
"We want to make sure that people who come to the Malibu Film Festival — that they have a quality experience that's both visually enlightening and spiritually enlightening," Katz said. "It's not just educational, but it's entertainment — and empowering."
Within the production process, organizing the annual event takes months of planning and preparation. Making sure everything runs smoothly is a group effort, festival sponsor Joe Carbonetta said.
"It's certainly a labor of love," Carbonetta said. "It's a year-long process to put this together on the day of production, where you're basically filling in at any capacity where there's a loose end."
Narrowing down the selection from thousands of submissions can be a daunting process, Katz said. Above all else, the creative process relies heavily on quality.
"The ultimate say comes down to our creative director," Katz said. "To take the opportunity to find forms that pair well together, or have a message that is going to reach the community and the audience in a way that they haven't had that opportunity to have today — it's really a group effort. But creatively, we have to curate it [the festival] very heavily."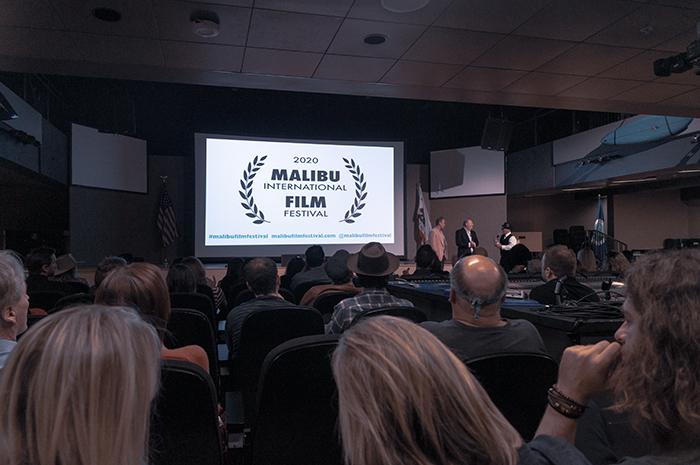 The festival films covered a variety of topics in various formats, from documentaries to animations to shorts. Running from 11 a.m. to 9 p.m., the awards were announced at the Filmmaker Reception following the screenings.
Winner of the Best Local Short award, Benjamin Pollack's film "Out of Malibu" is an autobiographical look at his life from his arrival in Malibu in June of 2016 to the loss of his house during the Woolsey Fire in 2018.
"It's more about our love affair with Malibu," Pollack said. "The fire took everything away from us. You know, I think the message of the documentary was even though we lost everything, we had a lot more than we thought."
The significance of the film can be found not only in Pollack's love affair with Malibu but also in his love for his wife, Kelly.
"I tell you, it was a rebirth," Pollack said. "A real, honest rebirth. Everything we had and thought about ourselves was done. We had to start from zero at every level, except that we had each other."
The score of "Out of Malibu" features wall-to-wall music, Pollack said, each song in the film featuring a song with the title "Malibu."
"The exciting part was that there were a lot of musicians that lived in Malibu," he said. "So when I put it together, I used the music of Miley Cyrus, Lee Ritenour [and] Joe Walsh. They all gave us their blessing."
_________________________________
Follow the Graphic on Twitter: @PeppGraphic
Email Savannah Welch: savannah.welch@pepperdine.edu