Photos by Kaelin Mendez
The entirely student produced, written and directed play, "Call Center," details the personal journeys of two workers, Malcolm, played by freshman CJ Babcock, and Walker, played by junior Gregory Camperos, as they navigate their harrowing workplace. The play, which ran from Feb. 2 – 4 in the PLC mini theatre, is an original production written by sophomore Nate Bartoshuk and directed by sophomore James Moore.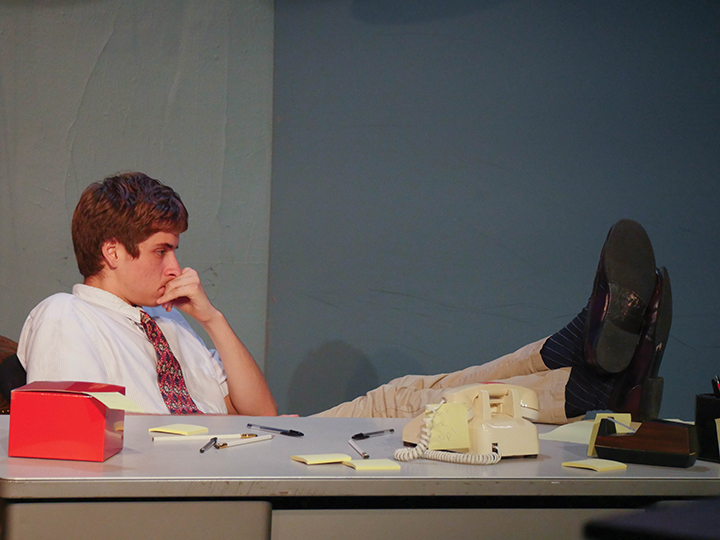 There's nothing typical about Walker and Malcolm's work. The confined call center, devoid of any windows or doors, is purgatory, and the callers are mortals ringing in to what they think is their conscience.
Malcolm and Walker enter the call center with no memories from their past lives. The only way to retrieve information about themselves is through answering calls and trying to sway the caller's conscience one way or the other, to do good or bad. Whoever succeeds gets rewarded with a memory from their past life. With every passing scene, the characters get a fuller picture of their life on earth.
"It's an identity crisis type of play," said Camperos. "My character is constantly battling with what the past means."
"Call Center" is an artistic debut for most of the cast and crew. For Bartoshuk, it is the first script he has finished and brought to stage. For Camperos and Babcock, it is their first time acting in a Pepperdine play. The scenic design director, Christopher Jerabek, and the lighting design director, Kyle Wurtze, are both freshman making their debuts in Pepperdine theatre.
"For many people, this entire process has been one first after another," Bartoshuk said.
"It is my first college production … so that in itself was a challenge," Babcock said. He recounts an experience during one of his monologues at Friday night's show that he believes marks a point of growth in his acting career.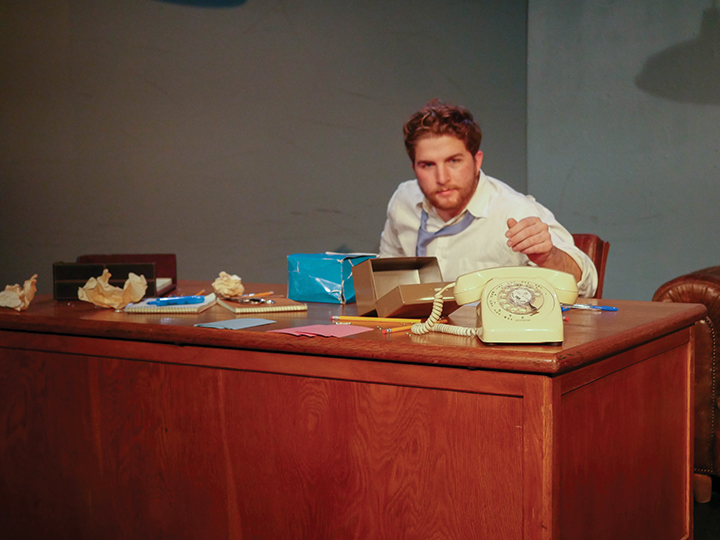 "Something came into me and it was like I wasn't just performing the monologue anymore. It hurt me. It actually physically hurt me to feel and say these things … and that's something personally as an actor I haven't gotten the opportunity to feel before. It was really an out of body experience," Babcock said.
Bartoshuk is thankful for how his script has transformed through the artistic collaboration of the cast and crew.
"When I wrote it … I was very adamant that I did not want to cast or direct because I wanted others' artistic input," he said.
Bartoshuk said that his play continued to grow as the actors brought it to life.
"More often than not, I hear something in rehearsal, and I'm like hmm … that's vastly an improvement in what I intended. That's the beauty of artistic collaboration," he said.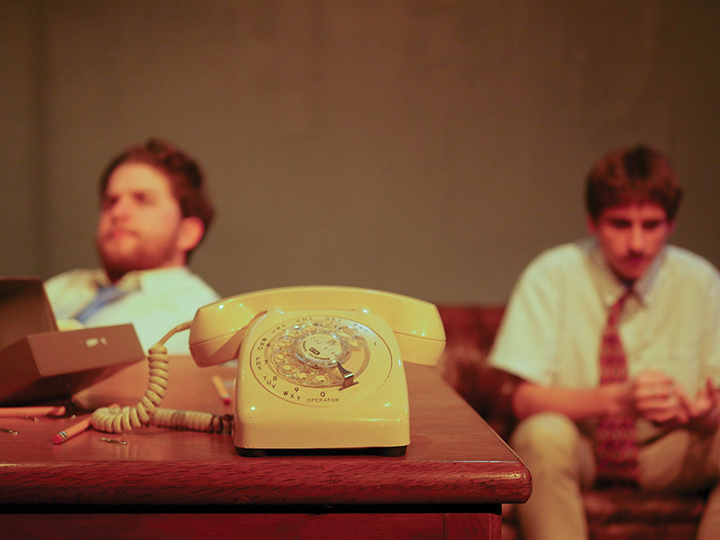 Jerabek and Wurtze's set and lighting work, as well as sophomore Rowland Evan's sound and score, gave audience members an immersive experience.
"The set design was amazing. At first the loud ringing and flashing from the phone calls scared me, but I thought it made the play even cooler," freshman Hadley Biggs, a staff writer for the Graphic, said.
Audience members were also receptive to the play and its message. Junior Grace Leister said she walked out of the play feeling that she had learned an important lesson.
"I think that I'm coming out realizing how precious life is and how it can be taken away from you so quickly," said Leister.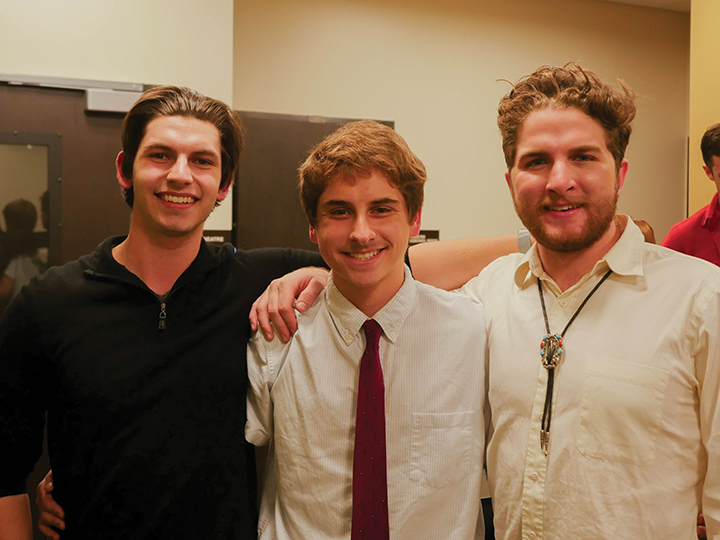 Bartoshuk thinks there are several core messages that one may walk away with. "You don't have to let your past define you. You can choose to rise out of the circumstance that you're put in," he said.
The second, he said, is to "learn to understand the suffering of others even they are suffering in ways that are foreign to you. Even if you don't know what it might feel like to be in the situation that someone else is in, you can still understand that what they're feeling is valid."
All proceeds from "Call Center" will go toward funding future student-produced plays. Theatre-goers can look forward to the rest of Pepperdine's spring productions: "The Pirates of Penzance" (Feb. 21 to Feb. 24) and "Medea" ( April 4 to April ). Tickets are $10 for students and $20 at regular price. They can be purchased online or at the box office at Smothers Theatre.
___________
Follow the Pepperdine Graphic on Twitter: @PeppGraphic