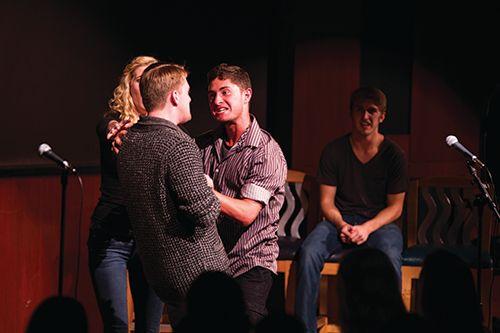 Photo by Sarah Malone
Pepperdine's Improv Troupe tickled students' funny bones yet again Friday night. The third PIT show of the year, held in Elkins Auditorium, brought in a nearly full house. As always, the cast members of PIT showcased their improvisation abilities as they churned out line after line of hilarity.
The members, or players, who competed in Friday's improv show include freshman Joel Foster, sophomore Zach Coffman, junior Meghan McDonough and senior Jesse Aston. Actor Brian Jones directed the show while musician Allen Simpson conducted the music. Seeing how successful the previous shows have been, it's not surprising that audience rows filled up fast.
As the lights dimmed, Jones went through all the rules and the grading system with the audience. Jones then invited out the two teams that would be competing against each other, with four players on each side. Making their purpose clear, one of the teams named themselves the Winners, while the other team named themselves Awkward Family Photos.
Fourteen improv games were played, with a brief intermission in the middle. Notable performances include Idol American and Party Quirks, which earned the loudest cheers from the audience as well as some of the highest points.
In Idol American, each member of the Winners was a singer competing on a reality singing show, and they had to listen to critiques from a panel consisting of Awkward Family Photos members. They then had to rewind and sing the song as if it preceded the critiques. A creative audience member suggested the made-up song "Frolicking Mice" to be the tune for players to perform. The result was a comical mishmash of rap, foreign tongue and the likes.
Party Quirks was a creative twist on the game charades. Audience members assigned roles to three of the members from the Winners as one of the members stood outside the auditorium. The singled-out member then had to come back in and guess what each of his team members was portraying — all within a party scenario. The guesser got all three of the roles, which were a plumber, a liger and Beyonce. Each player put on an outstanding performance and earned thunderous applause from the audience.
After the show, the Graphic caught up with two PIT members, junior Meghan McDonough and freshman Joel Foster.
1. How long have you been part of PIT?
Joel: "I'm a freshman, so this is my first year."
Meghan: "This is my third year."
2. Do you have any pre-show rituals?
J: "I like to do pre-show karate. And I like to do the Michael Phelps." (flaps arms against side)
M: "As a team, we like to play games. We go around and hug each other before the show because even though we're competing, we're all such a team."
3. Are there any exercises you guys do to prepare for the show?
M: "Yes, we have rehearsal every Sunday night from six to nine. We play a variety of games — scene work, monologues. It's very much grounded in working with emotions and relationships. A lot of it is forming that team trust."
4. Do you ever run out of ideas while you're on the stage?
J: "Yes, all the time. But that's why there are four or more people up there at a time. When you're out and you're with your teammates, or your teammates have no idea where to go, you step in and go 'well here's my offer; let's go this way.'"
M: "Even with the other team, when they need help, I'm going to step in. Sometimes you have no idea and you just say something. Those are the best moments, too."
5. Would you rather have five people show up to the show and give standing ovations to every skit, or have a packed auditorium but no one clap?
J: "I would say the five people giving standing ovations. For me, a lot of the scenes are me feeding off of the audience's energy. If the audience is not feeling it, it puts me in a bad mindset."
M: "When you feel like the audience is with you, you're willing to take so many more risks."
_____________________________________________________________________________
Follow the Graphic on Twitter: @PeppGraphic
As published in the Nov. 14 issue of the Pepperdine Graphic.