Photos by Kayla Lee
Musical duo Black Violin performed for an audience of all ages on Wednesday, Feb. 1 in Smothers Theatre, combining classical music with hip-hop to create a unique sound with the goal of breaking musical stereotypes.
This was the group's 17th show on their 2016-2017 Unity Tour. The group consists of viola player Wil Baptiste and violinist Kev Marcus, who met through their high school orchestra in Fort Lauderdale, Florida, and have been playing together for 10 years. In that time, they have composed music for television shows, played for troops in Iraq, and even performed at President Barack Obama's 2013 inauguration.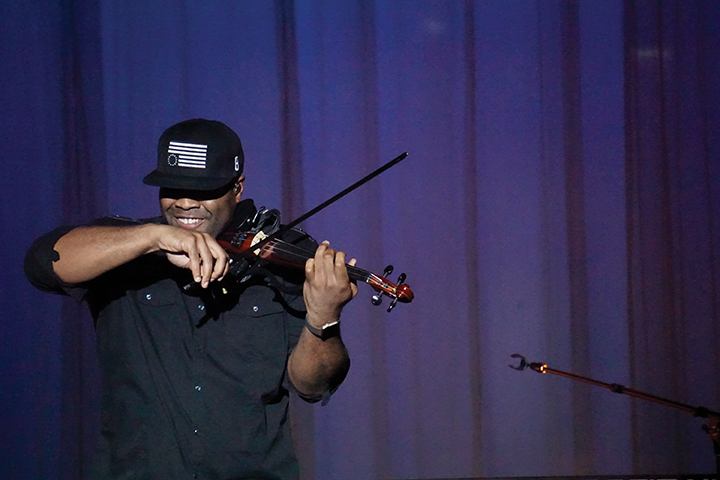 Audience members were encouraged to stand up, clap and participate in the music.
Senior Omari Allen said he enjoyed the show and the musicians' interaction with the audience. "It was nice to see typically classical instruments used in a way that's more contemporary and modern. They kept the audience live and were so talented playing all the different instruments," he said.
The show began with bright lights resembling a rock concert. A DJ and drum set player started the music, and a few moments later, Baptiste and Marcus joined them onstage. The group played covers of songs ranging in sound from Ed Sheeran to Drake, as well as mixes of classical symphonies by Beethoven and Mozart. They alternated between playing their instruments with a bow and strumming like a guitar.
Black Violin also played a freestyle song, something they said they improvised on the spot to keep each show interesting and unique, which is especially important to them when playing more than one show in a day. Each musician onstage played a solo while listening for cues from the others.
Black Violin released an album in 2015 called "Stereotypes." During the show, Marcus said that their music is all about "thinking outside the box and breaking stereotypes." They played a song from the album called "Invisible," an original song for those protesting or standing up for something.
Sophomore Asa Bailey said that this part of the show was especially important because of the way music can speak to people.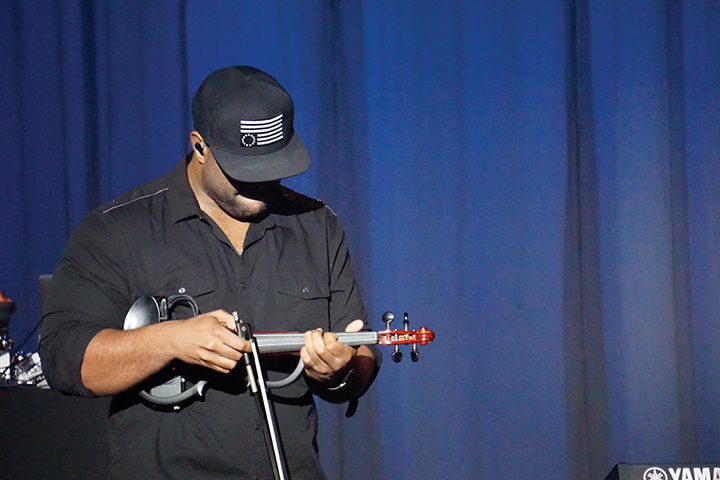 "They're willing to see everybody, people who are standing up to certain things, and people who feel like their voices aren't being heard," Bailey said. "A lot of people turn to music for things like that, for consolation and comfort, and so the fact that they were able to incorporate that into their music is something that people should acknowledge and appreciate."
After this song, the performers spoke directly to the kids in the audience, encouraging them and telling them to never give up on their dreams. Marcus said that the key to making a living at something people say will never be a reliable career is to make it into something new: "Find a different way to do it and look at it from a different perspective." Marcus and Baptiste frequently speak to students and public audiences to empower them to break stereotypes in their own ways.
Black Violin definitely broke stereotypes, Bailey said. "Me being an African-American, it's not common that you see African-American people playing violin in places or going out and performing."
Bailey also encouraged students to explore different musical genres by attending more performances in Smothers. "Broaden your horizons, you never know what you're going to end up liking next," she said.
Tickets to this and future shows in Smothers Theatre cost $10 for students.
_______________
Follow Lidia Bayne on Twitter: @lidiabayne