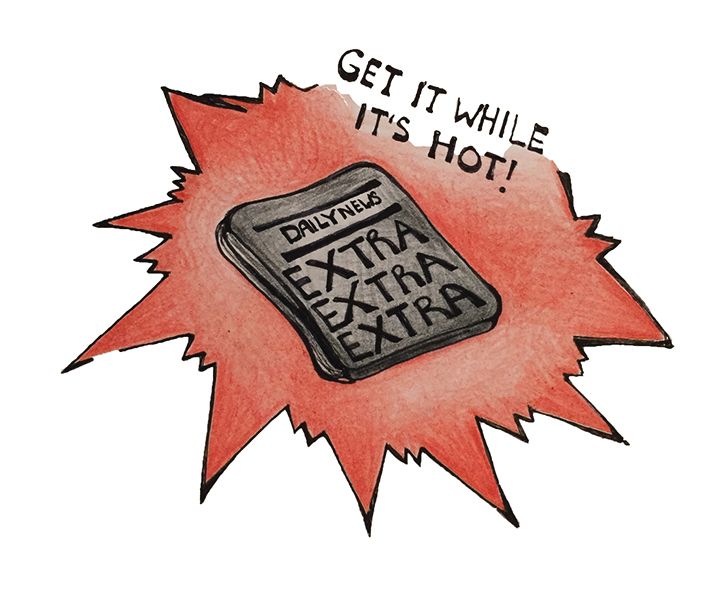 Art by Christine Nelson
Life & Arts:
They say America is the land of opportunity, but I think they mean Life & Arts is the land of opportunity. Or maybe, Life & Arts is America. Either way, there's a plentitude of opportunity.
Want to write about your favorite book? Favorite band? Favorite toilet? (Oh, yes. That happened.) You can write it, my friend. We will not stop you.
While the News, Perspectives and Sports sections get stuck with a slew of informational stories, the Life & Arts team writes whatever it wants. We don't have to attend boring seminars or watch sports games, as if they matter. We get to interview bands, go to movie screenings and be in conference calls with people like Jake Johnson. And let me tell you: It's a party errday.
This is how most of our stories get pitched:
"Hey, Julia, can we write a story on how bad the Caf music is?"
"Fo shizzle."
"Sick."
If the Life & Arts desk was an education system, it'd be one of those really progressive schools that gives grades via stickers and where the curriculum is to finger paint mythological creatures. Is it the most serious section? Debatable. But the most fun to both read and write? H-E-double-hockey-sticks yes.
No other section has your back like we do at Life & Arts. Who else is going to tell you what movies to see, hook you up with Halloween costume ideas or let you know which SunLife acai bowl matches your inner workings as a human being?
Moreover, we started giving out free movie tickets this semester to people who shared our reviews on Twitter. We literally pay you to read happy things. Basically, the Life & Arts desk is like a combination of Cinderella's fairy godmother and a Golden Retriever puppy.
If you just missed the shuttle or made the mistake of buying Caf meatloaf, the News and Perspectives sections will do little to boost your morale. They exist to be only informative; we exist to spread joy like Trader Joe's Cookie Butter and still be informative. However, let us not confuse lighthearted with unimportant.
To quote our homie Aristotle, "Happiness is the meaning and the purpose of life, the whole aim and end of human existence." Looking for the purpose of life? You heard the man — all you have to do is flip to B1.
_______________
NEWS
If my fellow editors think for one second that their section is better than News, I've got some news for them. The News section is the Graphic. The bulk of the content in this newspaper — keyword being news — comes from us.
My staff and I crank out article after article of pure gold. No topic is too complex or too controversial. Week after week, we keep the masses informed. If you take a look at what we're printing every week, be prepared to laugh, cry and maybe get rich.
That being said, if you get confused by all the emotions being evoked by our compelling stories, you can always turn to the Perspectives section so they can tell you how to feel. It's almost like reading a big book of poems — they just don't rhyme.
The News section has spent this semester building the solid street cred required of any hard-hitting news team. The people know whom to trust when the important issues are on the line. Compelling, reliable news; that's what we give the Waves — in waves. I don't mean to brag, but I'm basically the Walter Cronkite of Malibu.
Reading our section is like every reality TV show rolled into one (except the Kardashians — just no, a thousand times no). It combines elements of surprise, fear, happiness and innovation. I know the News section doesn't give away free stuff like some of the other sections, but there is something we do give our readers — hope.
I'm not going to say I'm like the male version of Ellen, but I'm essentially the male Ellen, minus the dancing.
If you find yourself needing a break, becoming confused about how the salad bar works or wondering where to find the best looking toilet on campus, you can always turn to Life & Arts.
I'd also recommend turning to the sports section, but — spoiler alert — you won't find any football highlights.
The fact of the matter is that it's all about the truth, and the truth of the matter is that it's all about the facts. And that's what News does best: We spit hot flames of truth like it's going out of style.
It's like the great, warrior-poet Ice Cube once said, "Truth is the ultimate power. When the truth comes around, all the lies have to run and hide."
_______________
Perspectives
Shall I compare this section to a summer's day? How could I? It's brighter than any sunny day, and it's more colorful than any photo of a Malibu sunset. The Perspectives section, made up of myself and my loyal truth-soldiers, are your purveyor of truth, of justice in this world. How can anyone stand against the truth?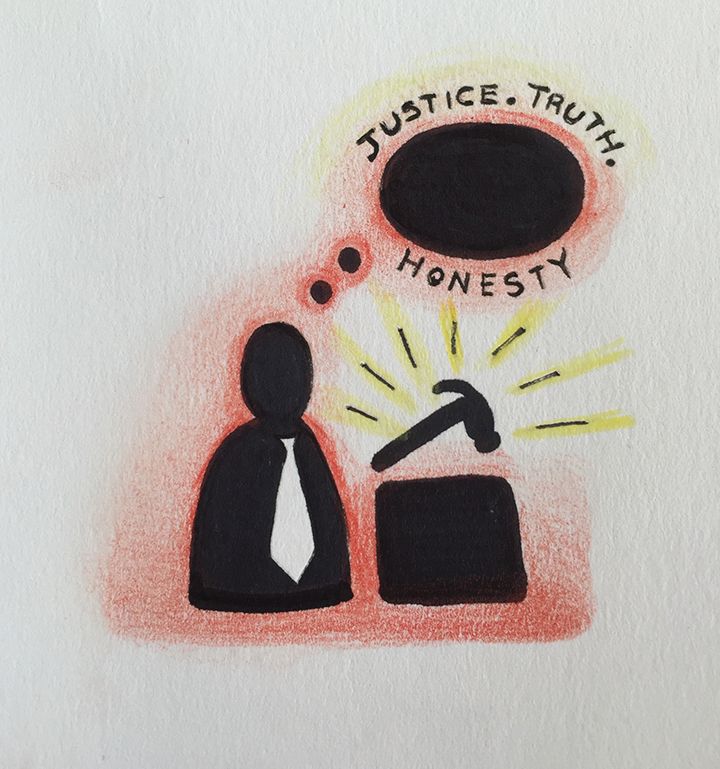 You'll find our section after the cushy, safe writing of news and you'll know it's us from the amazing art my section employs, they're all Michelangelos and Donatellos, Rafaels and Leonardos. The Staff Ed is the crown jewel of the section, delivering timely, world-changing discussion that's always applicable to the Pepp student life.
The Perspectives section perfectly balances facts and opinions, where form and function flow as one tidal "Ayo Wave," and we water our readers' brains to grow and think. It is what News could never be: the next step. It will challenge you, motivate you and even change your life.
After reading our articles you could be motivated to change the world, become a billionaire-play(boy or girl)-philanthropist and be the next Iron (Wo)Man — did I mention we strive to include everyone? We are like the Avengers of the newsroom; where other sections provide news on problems and life, we offer solutions. We fear no topic, no idea and, most of all, we don't even fear fear itself. Fear is afraid of us.
We talk about the whole world, on any topic: from Baltimore riots to the refugees from Syria, from topics in history to Pepperdine's policy changes. We bring people together with the Staff Ed, our first Perspectives page in every paper, which incorporates multiple writers and produces something diverse and unique.
We seek to remove the film of the world, of the media system. As the master of reality Morpheus once told us, "I am trying to free your mind, [Reader]. But I can only show you the door. You're the one that has to walk through it."
___________
SPORTS
We are the March Madness fanatics, we are the ESPN lovers, we are the ones who bring the chips and dip to the Super Bowl parties, we are the one's who have watched "Love and Basketball" more times than we're proud to admit. We are Team Sports.
And of course, the Sports section loves a little healthy competition. Don't get me wrong, the other sections are good at what they do, but the Sports section comes out with the victory my friends.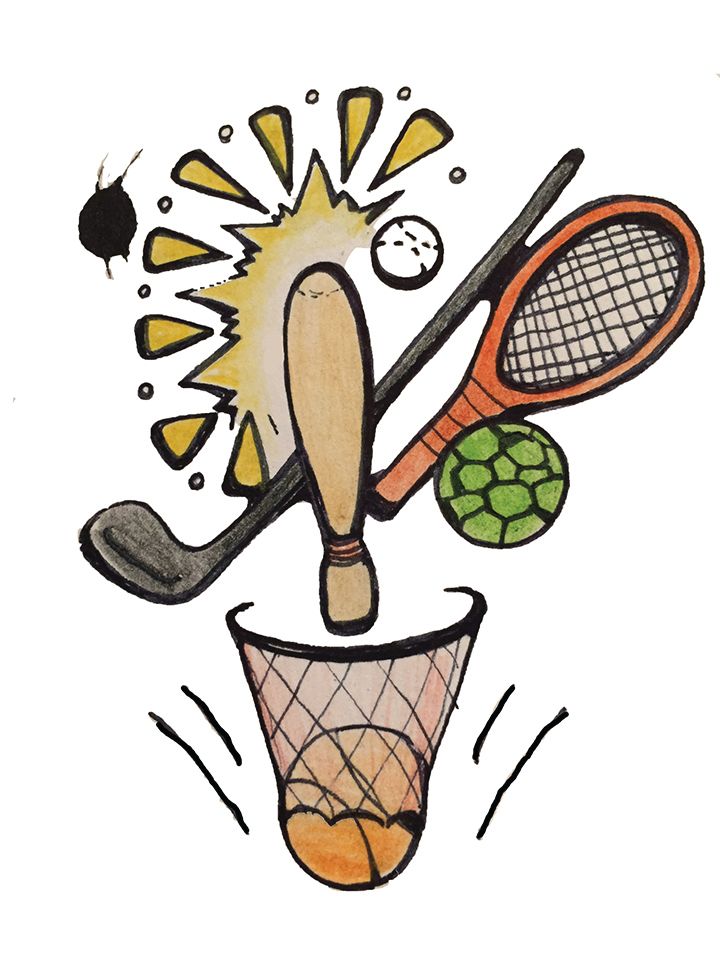 Let's face it: It's in our blood. Our content covers the news of News, the opinions found in Perspectives and the contemporary vibes of Life & Arts. And we encompass it with the passionate cries of die-hard Dodgers fans.
In our pages, you will find the faces of your friends excelling on the court or track or field. You will find commentary on what to expect this NBA season. You will consolidate hours worth of game viewing into a 500-word action-packed summary.
You will leave our section well-rounded and never left out of those conversations about what happened during Sunday night football or last Friday's Firestone Fieldhouse showdown.
Famous sports journalist Heywood Broun once said, "Sports do not build character. They reveal it." So quit playing for fun with the other sections. You know where the champions reside.
We are unapologetically dedicated to covering campus and professional athletics like Richard Sherman; therefore, SPORTS IS THE BEST CORNER IN THE GAME!
All the other sections want to be us, but we don't mind. Not everybody can handle this kind of success. Notorious B.I.G. said it best: "My team supreme stay clean." Big Poppa was referencing our section of course.
Regardless of whether cried during "The Blind Side" or not, in our sports section we reach out to our audience.
Each edition is a dialogue with our readers and students on the happenings within the realm of athletics.
There's something about sports that you can't find anywhere else. It unifies us regardless of where we come from. It reminds us that we each have a story to tell and collects our hopes and trials.
The Sports Section tells stories that touch on what it really means to be human.
__________
Follow the Graphic on Twitter: @PeppGraphic