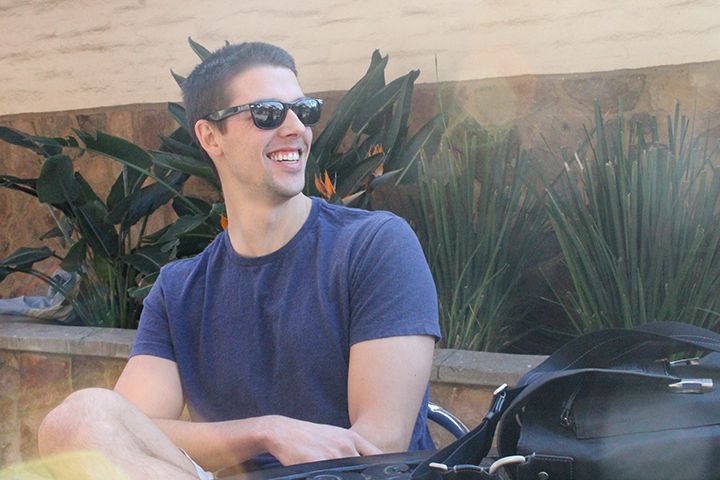 Photo by Carissa Mosely
Pepperdine is teeming with artistically gifted students. For many of these individuals, their artistic talents don't go unnoticed after graduation. Alumnus Taylor Johns ('12) has been nominated for a documentary Academy Award for his film "Last Days in Vietnam," which was shown Friday in Smothers Theatre at the sixth Reelstories Film Festival.
Q: What is your favorite means of self-expression?
A: Music. I play guitar and sing, and those are probably my favorite means of self-expression. I think music for me has a unique way of conveying what I'm feeling. Another one would probably be photography. It's fun for me to try to capture whatever I'm feeling with the particular scene or lighting.
Q: How long have you known that filmmaking is a passion of yours?
A: I've known film has been a passion of mine since a very young age. I grew up watching films and making terrible, goofy films with my friends and my brother. However, it didn't really become a reality that I could make a living doing this until I was at Pepperdine.
I came in pre-med and was getting lost in all of the science. I needed some creativity in my life, so I took a couple film classes and realized that I could potentially do both majors [B.A. in Sports Medicine and Film Studies] and still graduate on time if I didn't go abroad. I decided to go for that, and then it became a reality that this was another option for a career path in my life. I started going for it. I bought a new camera and just started honing my craft as much as I could and as often as I could. I happened to get lucky enough to get a job in film, and here I am still working in it today.
Q: What was the reason behind your decision to delve into a career in filmmaking rather than pursue medical school?
A: I was always aware of my creative side. I've always written music and done photography and art; it had always been a passion of mine, but more of a hobby than a realistic way to live and survive and provide for my family. At some point, I just had to take the plunge, and it ended up working out perfectly.
However, it was easier to make that jump because a unique opportunity with Rory Kennedy (award-winning documentary filmmaker and director of "Last Days in Vietnam") presented itself. If I hadn't had been presented with that opportunity, I would probably be in medical school right now, because it's harder to make that jump into the film industry on your own as a "starving artist." Growing up, I had always had the legitimate dream to be a doctor or a lawyer. When you tell people, "I want to be a filmmaker," they say, "Good luck." This can be daunting, because filmmaking is a terribly difficult industry to break into; it takes a certain amount of luck and hard work to be able to survive in it."
Q: How did your parents take the news of your switch from a potential career in medicine to a career as a filmmaker?
A: It's much easier to tell your parents that you're going to be a doctor than a potentially starving artist. My dad said, "Great, awesome. You're doing what you love." My mom is now OK with it. I mean, she has to be now since we were just nominated for an Academy Award; it's becoming more real for her … She'll probably always wish I was a doctor, but she is supportive that I am happy and able to provide for my family.
Q: What artists and filmmakers have inspired you in the past? Who do you try to follow in terms of artistic mission or style?
A: There was a film that came out in 1958 that was made by Orson Welles called "A Touch of Evil." It was hailed as the last film noir, which was a particular style of filmmaking known for being very dark and moody with a specific form of cinematography. The plots were always crime-centric; this is where the femme fatale stemmed from.
I took a '50s film class with Dr. Parmelee at Pepperdine, and that whole style very much influenced my photography. These films used shadows in a very unique way … Orson Welles helped push that genre forward, and I've always respected him as a filmmaker because he fought for what he believed in. He's always fought for the film that he wanted to make, and he wasn't afraid to have a film not do well for fear that the studio would pull its backing because they wanted to make all these cuts. He had a vision that he believed in and he wanted to push forward.
Growing up, I had always seen Orson Welles films, so coming to college, being able to study him and developing my critical eye through the lens of his movies was very influential for me. Furthermore, he was very charismatic, and directed, wrote and acted in pretty much all of his films. He wasn't afraid to make people mad for the sake of his art, which I think is a difficult but respectable thing to do, especially nowadays when it's even harder to do that because the studios are so powerful. Unless you're David Fincher or someone very well respected, it's easier for studios to push around the little guy.
Another one of my favorite filmmakers is Damien Chavelle, who was just nominated for best picture this year for his film "Whiplash." He's another guy who has a brilliant vision. He's a very strong director, and he has his own style that he won't compromise for anyone else. That's very inspiring to see, and it's awesome to see peers at the Academy recognize that with a nomination for best picture.
Q: What is it like for you to be an Oscar nominee for the upcoming Academy Awards?
A: Being nominated for an Academy Award is surreal for me at this point in my life because I'm extremely young, and this is pretty much my first project I've seen from start to finish. It's kind of becoming a sibling or a child for me in that I'm very protective of it. I've seen it at every stage of its life, every stage of its development, from its idea on paper, to a treatment, to a rough cut, to a finer cut, so on and so forth from there. In every stage of its production, I've had my hands in it and really lived and breathed it for the last two and a half years now.
I started doing research for "Last Days in Vietnam" in June 2012, and now we're here in February 2015 nearing the end. It's crazy to me; you create something, and you of course love it and hopefully feel good about it, but it's really nerve-wracking to share it with other people. We premiered it last year at Sundance, and that is a very weird experience. I don't know quite how to describe it, because that was the first time we had screened it for anybody.
Our opening night screening had 700 to 800 people in it. There we were, with all of these strangers with whom we were about so share something that we had spent two years making. For them to receive it so well was such a gratifying and unique experience. Getting nominated for an Academy Award is a similar experience. While they're completely different scenes, the independent film scene versus the more mainstream scene, it's an amazing and unique feeling to have a group of well-respected people that you are trying to emulate recognize the work that you've done. It's surreal, it's amazing, it's great.
The Academy Awards airs on Feb. 22 at 4 p.m. Pacific time on ABC, when the Oscar nominees will find out the final results. "Last Days in Vietnam" is available to rent on Amazon and iTunes; this coming weekend, Feb. 5-7, it will be available to stream for free on American Experience's website.
Follow the Graphic in Twitter: @PeppGraphic