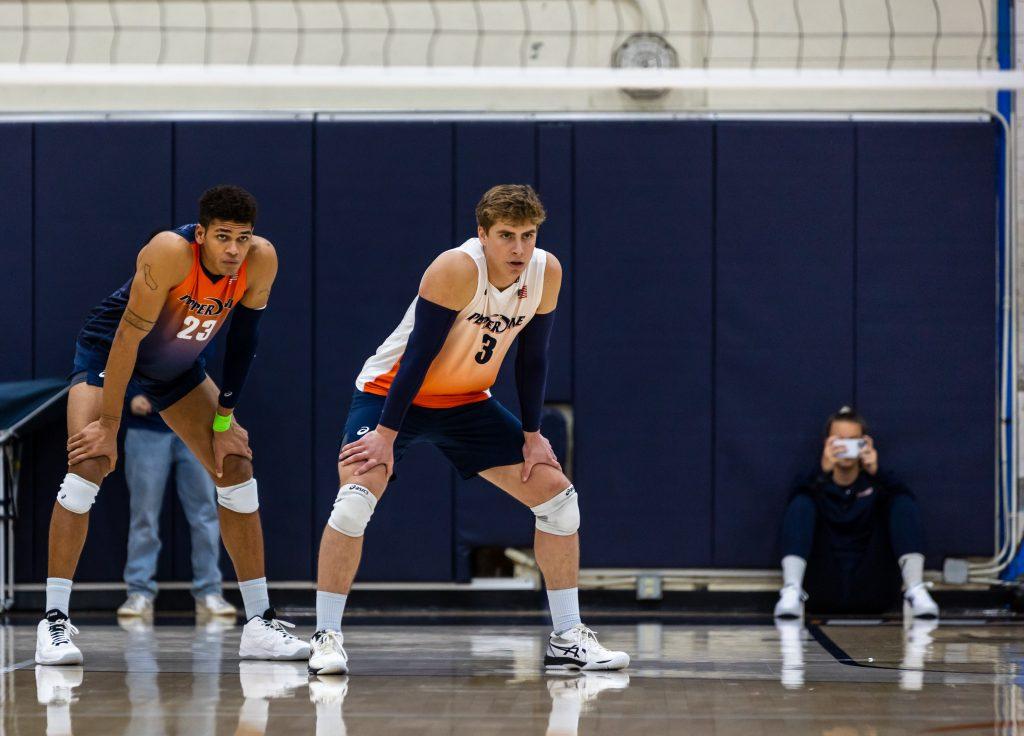 Junior libero Trey Cole stands next to teammate Jaylen Jasper versus No. 5 Grand Canyon at Firestone Fieldhouse on Feb. 24. Cole averaged 1.62 digs during his first two seasons. Photo by Lucian Himes
Pepperdine Men's Volleyball libero Trey Cole has started at the back row for the Waves for the past two seasons. Now a junior, Cole said he looks to build on his previous experience while still keeping the importance of his perspective.
After shaking the nerves he initially felt in his first two seasons, Cole said he is fully focused on finishing his junior season as a national champion. Despite his ambition, he said he understands what comes with being a Pepperdine athlete.
"I look at it as something I get to do rather than something I have to do, and that keeps it fun," Cole said. "I try to keep gratitude at the forefront of my mentality, and it makes the sport a lot more fun for me."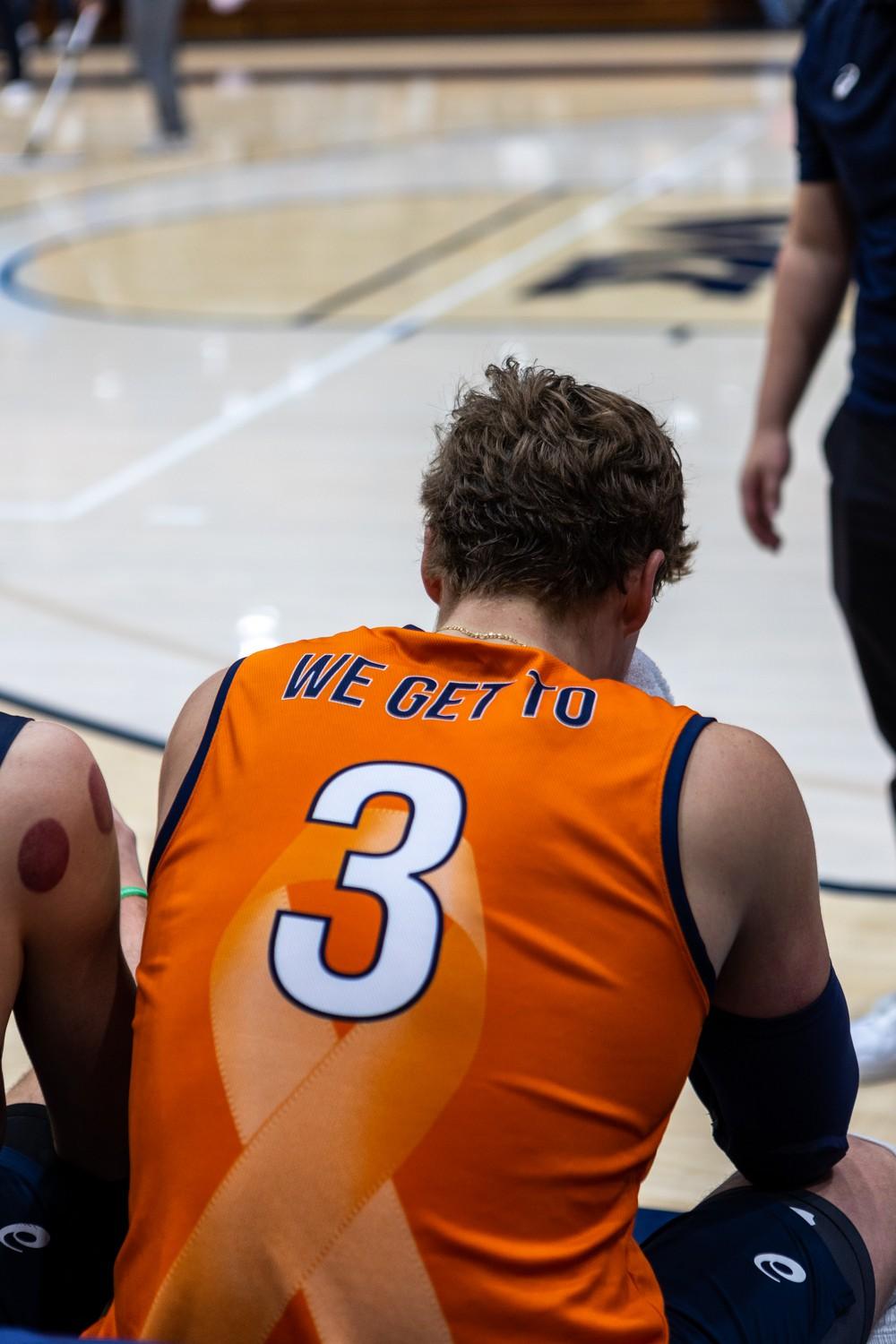 Cole became an integral part of the Men's Volleyball team this season, as Cole said his athletic prowess comes from his upbringing.
"My father played, and my parents always coached, so I was basically raised in a volleyball gym," Cole said. "It kind of worked out because I really like the sport."
In addition to volleyball, Cole said he also played soccer and lacrosse growing up — two sports he credits with helping him in volleyball. He was a defender in both sports, carrying over to his position in volleyball, the defensive specialist libero, Cole said.
"My whole athletic career, I've been a defensive-minded athlete," Cole said. "Knowing that I have one responsibility to do well, it's kind of easy, rather than so much going on. I just have to worry about if the ball hits the ground."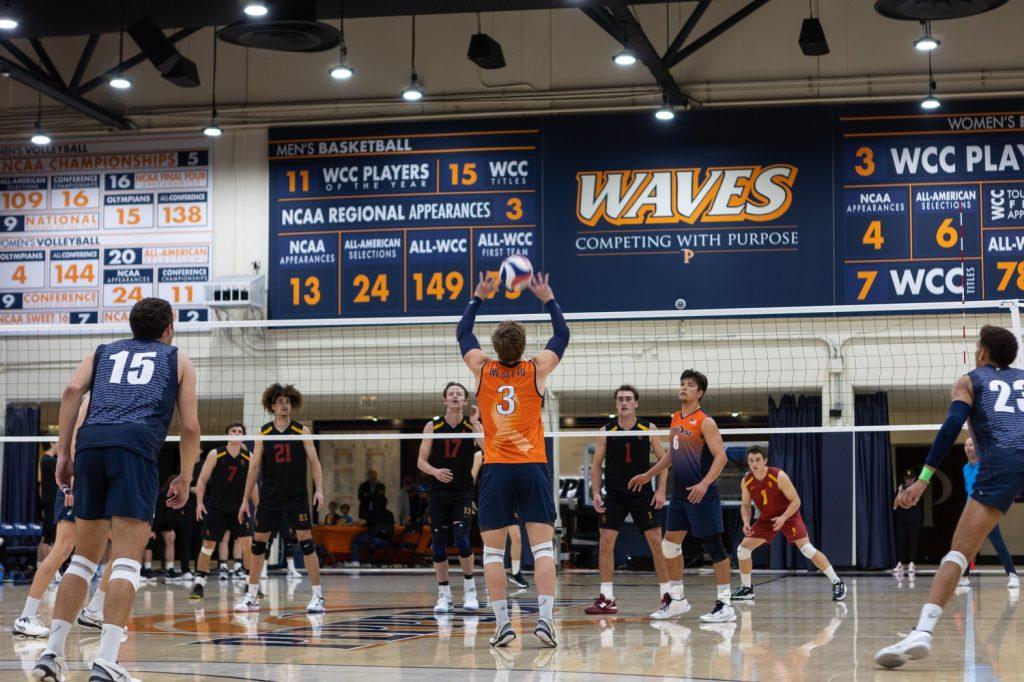 Focusing on keeping the ball off the ground proved to be a successful strategy for Cole, as this mentality coupled with his actual play earned him a spot on Pepperdine's back-row, Cole said.
In his freshman year, Cole was named a Freshman All-American by Off the Block, a blog focused on college volleyball, and made the MSPF All-Freshman team. In addition, he won an MSPF Defensive Player of the Week award for his performance against Concordia, where Cole averaged 2.88 digs per set in two wins.
The next season, Cole built on his success, winning two more MSPF Defensive Player of the Week awards, as well as making the MPSF All-Academic team. He averaged 1.62 digs per set during his sophomore season.
Despite winning accolades during his first two years, Cole said he views this period as a time of adversity and adjustment.
"When I was an underclassmen, it was a whole new league," Cole said. "The serves come a lot faster than they do in club volleyball and high school volleyball."
Cole said it was a big step, and just taking on the next level has been enough to feed him out.
"But, at this point, I feel a lot more comfortable now that it's my third season," Cole said.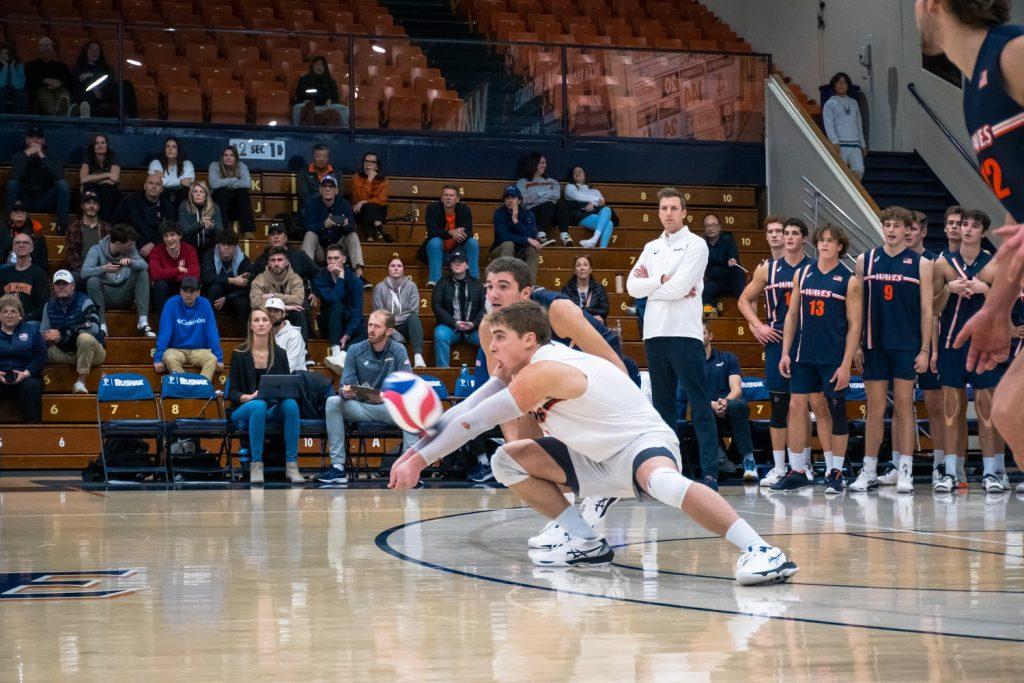 Now a junior, Cole is having his best season yet, averaging 2.05 digs per set, up from 1.63 and 1.62 his first two years, according to Pepperdine Athletics. He already has an MSPF Defensive Player of the Week this season too, winning the award for his play during the week of Feb. 27.
"Individual accolades come and go, but for me and for our whole team, it's just about the end of the year, being good in that final stretch," Cole said. "Our main goal is to win the national championship."
Cole said his focus is on ambition, craving a national title. However, he said he still remembers to soak in all parts of his experience as a Pepperdine athlete, including the moments outside of athletics and academics.
"We have so much fun," Cole said. "We went to Hawaii recently, and the games didn't go super well for us; we lost both. But the memories we made on that trip were so awesome. We had a blast there."
By noting the experiences the team has off the court, Cole said he reiterates his sentiment of thankfulness, acknowledging the privileges he gets as a Division 1 athlete. For Cole, playing volleyball at Pepperdine is an opportunity, not an obligation, he said.
"It just goes back to gratitude for me," Cole said. "You see all the shirts we wear, our warmups and stuff like that, and it's something Coach Marv [Dunphy] and Coach [Jonathan] Windsor just ingrained in us. Our motivation to come in and work hard every day comes from how much we're given."
__________________
Follow the Graphic on Twitter: @PeppGraphic
Email Jaan Jafri: jaan.jafri@pepperdine.edu