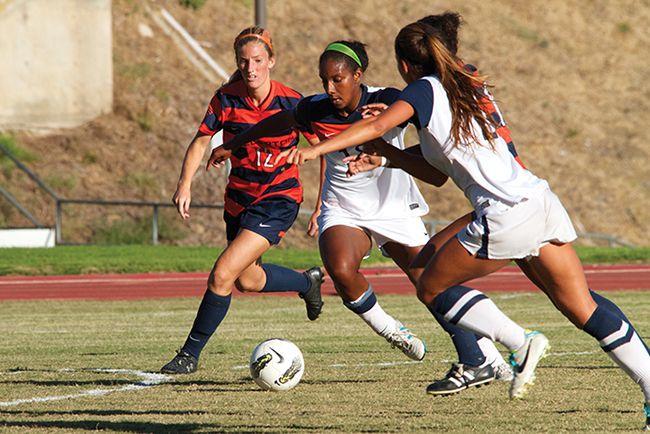 Photo by Marisa Padilla
Women's soccer, now ranked at No. 50, faced Cal State Fullerton in a game that ended in a fierce 1-1 tie in double overtime last Friday.
Entering the game the team felt confident, and the week prior they focused on defensively "staying together and being united," according to forward junior Lynn Williams.
At the half, Williams said Head Coach Tim Ward reminded the girls that they were "better than how [they] were playing." He also said, "this was our homefield and to protect our home."
Williams had six shots on goal and assisted forward freshman Kristen Rodriguez in the team's one goal.
"I've been focusing on learning when to hold the ball and lay it off to a teammate," Williams said referring to her assist. "[I've been working on] getting [my teammate's] hip facing the goal so they can be a threat to get a goal."
Freshman goalie Hannah Seabert had five saves.
The team fought hard until the very end of the game. Junior Ally Holtz, freshman Taylor Alvarado and mid-fielder Kristine Hilliard each had one shot on goal and freshman Rachael Collins marked two shots on goal.
As the team preps for its conference opener next Friday, Williams explained that they are focusing on unity and knowing that "with the right attitude and mindset we can beat anyone, but if we don't, we also know that any team can beat us."
_____________________________________________________________________________
Follow the Graphic on Twitter: @PeppGraphic
As published in the Oct. 3, 2013 issue of the Pepperdine Graphic.