Photos by Brandon Grinovich
Beautiful melodies from the Spanish classical era to the modern era rang from guitars from 5 to 6 p.m., Jan. 9 in the Surfboard Room of Payson Library. Students of Christopher Parkening's guitar program performed a diverse repertoire for students, faculty and family.
Parkening, a world-renowned virtuoso classical guitarist, is a distinguished professor of Music at Pepperdine, and has headed the Classical Guitar program since fall 2002. As part of the Mary Pickford-Stotsenberg Performances program, six of his students performed what Parkening called a "wonderful variety of music." As this was only the second day of the spring semester, Parkening said students had been preparing over the winter break.
"They were practicing hard over winter break," Parkening said. "And in some cases even learning the pieces to play."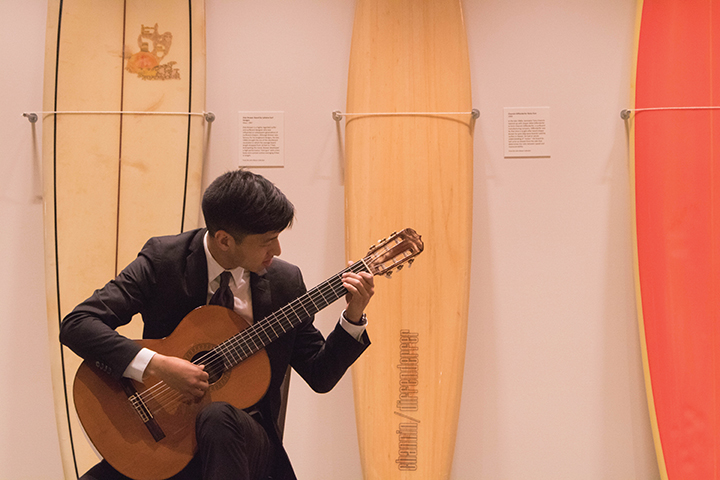 Sophomore Joseph Hertz began the concert with Joaquin Turina's "Sevillana." Hertz said this song makes use of the complicated "rasgueado," using multiple fingers to create a fast and full sound.
Several students played songs that were originally written for the piano, but were transposed for guitar by Parkening.
Senior Wesley Park played a piece by French composer Erik Satie. One could hear not only the bass line and chords of a piano, but a third line of soft, beautiful melody that all complimented each other.
Parkening said students are required to perform at these concerts, but that it is also a good experience to play live for people.
"We do these concerts to prepare them for their careers ahead," Parkening said. "The more times they play, the better they improve and are more prepared for the next [concert]."
Junior Hope Mueller played Debussy's "Girl with the Flaxen Hair." Mueller explained that as Debussy was a composer during the Impressionist era, his music was "taking on a new form of creating harmony," and that this piece was "an example of [his] dissonant melodies."
Mueller, who is in her 13th year of guitar study, said Parkening's program is what brought her to Pepperdine.
"As musicians, we want to play as much as we possibly can, and this is a renowned guitar department," Mueller said. "My favorite part is studying with Parkening. I studied at a different school my first year, but I am blown away by the maestro's teaching."
Parkening was extremely supportive of his students during the concert. He was always the first to clap as each student took the stage and ended their piece, and he always clapped the loudest.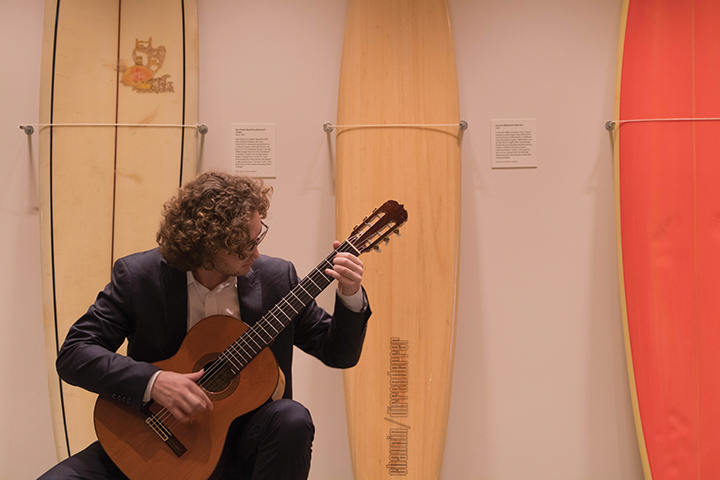 This concert, as is the same with previous guitar concerts, was recorded. Parkening said they do this not only for the student's personal use, but to help further their careers.
"It allows the students to better analyze their performance and improve for the next time," Parkening said. "We also use the recordings to send to graduate schools and for audition purposes … or for possible concert performances."
Parkening also mentioned the importance of the Pepperdine Christian mission as it pertains to the guitar program.
"[We] help students pursue the highest levels of personal excellence in mastering the classical guitar with the ultimate purpose of inspiring them to use their unique talents and abilities for the glory of God."
For those who missed it, these concerts occur every second Tuesday of each month, from 5 to 6 p.m. in the Surfboard Room. The students put on the same show the Friday of the same week at the Malibu Public Library at 3 p.m.
The next concert is Feb. 13.
_________________
Follow Maria Valente on Twitter: @maria_elise01